As you may have noticed, Christmas carols are now in regular rotation on many radio stations. If you're starting to get tired of all the "Jingle Bells" and "Santa Claus is Coming to Town," here are 10 festive alternatives that you may have never heard. They are all available for download on iTunes.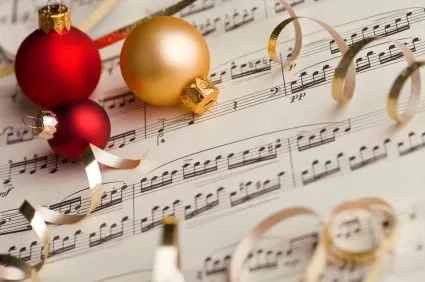 1. "A New York Christmas" by Rob Thomas: This song is a popular radio selection in New York, but you may not have heard it if you live outside the state. Even if you've never been to New York, the song will transport you right into the big city at Christmastime. Sings the Matchbox 20 lead singer: "I'm sending you a merry New York Christmas, and a prayer for peace on Earth within our time…"
2. "Candy Cane Christmas" by Darius Rucker: This smooth, sultry tune by the former Hootie and the Blowfish frontman will evoke warm, fuzzy feelings of sitting by a fire with a mug of hot cocoa.
3. "Christmas Wrapping" by The Waitresses: Just try not to move to the music when you hear this fun, rollicking tune by 80s punk band The Waitresses. The song tells the story of a harried, hard-working single girl who resolves to sit Christmas out one year. She laments her repeated, unsuccessful attempts to reconnect with a guy she met by chance the previous winter. But a twist of fate and a little magical intervention bring them back together for a holiday happy ending. I tend to listen to this feel-good tune over and over again!
4. "Christmasey" by Brian Wilson: You've probably heard the popular Beach Boys Christmas song called "Little Saint Nick." Brian Wilson, one of the original Beach Boys, recorded that tune and 14 others—some of them original songs—on his 2005 album What I Really Want for Christmas. Though all of the songs are great and have a breezy, Beach Boys feel, "Christmasey" is my favorite. It proves that you can get into the Christmas spirit even without snow or frosty temperatures!
5. "Keep Christmas With You All Through the Year": This song was featured on the 1978 Christmas special "Christmas Eve on Sesame Street," which my family and I watched several times each holiday season when I was a kid (it's a wonderful show for children, so consider buying the DVD). The show features some wonderful original songs. My favorite is "Keep Christmas With You All Through the Year," sung by an ensemble of children and adults. It reminds us to hold onto the spirit of love and giving all year long, not just during the holidays.
6. "Mele Kalikimaka" by Bing Crosby and The Andrews Sisters: You'll definitely know this song if you've ever seen the movie "National Lampoon's Christmas Vacation" (and if you haven't seen the movie, you must watch it now!) It's the song that's playing when Clark Griswold gazes out the window into his backyard, daydreaming about the swimming pool he hopes to put in. The song will make you feel like you're lying on a Hawaiian beach at Christmastime!
7. "O Holy Night" by Clay Aiken: Whether or not you were a fan of Clay Aiken from his "American Idol" days, there's no denying he's a vocal powerhouse. It's no surprise, then, that he delivers one of the most beautiful versions I've ever heard of this Christmas classic.
8. "The Twelve Pains of Christmas" by Bob Rivers & Twisted Radio: If you need a good laugh, download this parody of "The Twelve Days of Christmas"—an ode to the more annoying aspects of the holiday season. "The first thing at Christmas that's such a pain to me is finding a Christmas tree," the song begins. It then goes into other Christmas pains, including sending Christmas cards, hangovers, "five months of bills," and much more!
9. "There's Someone Who's Knocking at My Door" by The Salsoul Orchestra: This orchestra, formed in 1974 and disbanded in 1982, included up to 50 members. The band fused Philly Soul, funk, and Latin music into a danceable disco sound. My parents had the actual record of the band's Christmas Jollies album when I was a kid, and we'd listen to it every year on their turntable while trimming the tree. I liked this track best because of its catchy tune and the voices of the children singing it.
10. "White Christmas" by Lady Gaga: This holiday classic sounds refreshingly modern—and gorgeous—when sung by Mother Monster.