Believe it or not, folks, Halloween is right around the corner! That means it's time to start thinking about Halloween costumes for our little ones. Choosing costumes for my twin boys is always extra fun because I like to put them in coordinating outfits that fit their personalities. For their first Halloween, when they were only four months old, the boys were Winnie the Pooh and Tigger. Nate was Pooh because he liked to lie around and brood, and Matt was Tigger because he was always moving. Last year, they were The Tortoise and the Hare. Nate was the Tortoise because he couldn't yet walk, and Matt was the Hare because he was running all over the place.
This year, I'm hoping to get even more creative and hand make at least part of the boys' costumes. As I began to surf the Internet for inspiration, I found all sorts of cute and creative Halloween costumes for twins. Here are some of my favorites. Most of them would be easy to make, too!
Salt and Pepper: If you've got twins with—ahem—different personalities, these adorable costumes from Etsy shop TheWishingElephant are perfect!
Superman and Clark Kent: Now, if only you could decide which twin gets to be Superman…
Wall-E and Whale: I have a feeling these two were really proud to explain to people how their costumes went together!
Twinkies: These twins look simply edible!
Top Gun Pilots: I really love costumes that incorporate the stroller or wagon. You can do all sorts of variations of this idea, such as firemen in a fire truck, astronauts in a space shuttle, etc.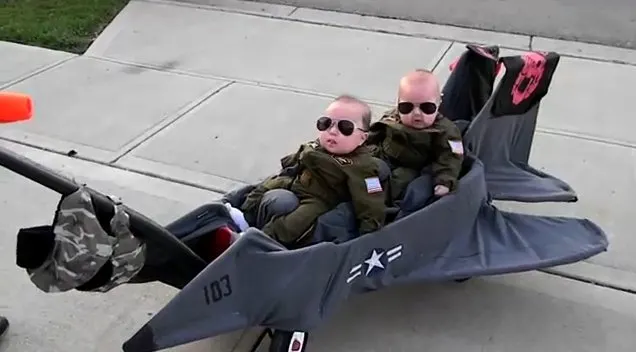 Sushi and Soy Sauce: I'm sorry, but the idea of dressing babies as a bottle of Kikkoman and a sushi roll is just irresistible! I love these outfits from Etsy shop TheCostumeCafe.
The Very Hungry Caterpillar and Butterfly: These are great costumes for little Eric Carle fans!
Pair of Dice: These are perfect, easy-to-make costumes for your perfect pair. You could customize the numbers on the dice to ones that have meaning for your kids.
The Wicked Witch of the West and Glenda, the Good Witch: Little girls would have a ball in these.
Milk and Cookies: What I love about this set of costumes is that there are so many variations that can incorporate siblings and parents. You could make Dad the Cookie Monster, Mom the milk, and the twins the cookies. The twins alone could be a cookie and a carton of milk. One twin could be the Cookie Monster and the other could be a cookie with a bite taken out of it. You get the idea!