If you are wondering how to fill all the free time your kids have this summer, consider having them volunteer. It is good for them, good for the community, and good for you as a parent to see your child giving back. It really can reinvigorate the whole family!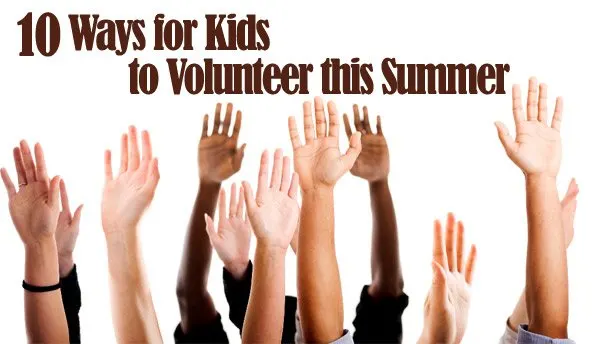 1. Young kids can decorate shoe boxes and fill them with toys/games for children in the hospital. The bulk of the work can be done over time at your home so it is perfect for the little ones. Call your local hospital to get information on what types of items are accepted.
2. Have them sign up for a charity based walk or run. It is a one time commitment so it totally works into a summer schedule jam packed with other camps and activities.
3. Eldercare facilities often have "toddler days" where even babies are welcome to join the residents in story ready, song singing, and the like. For residents without family nearby, this quality time can make a big difference.
4. Some domestic violence shelters and safe houses allow teens to come in and "babysit" the kids on site while the mothers attend group sessions or just take a break somewhere in the house. They usually only take female teens, but if that is something your daughter seems passionate about it is worth exploring.
5. Food banks are a good place to start volunteering with your young children. There are simple tasks they can help with, like sorting food types, counting cans, or putting one can of tuna in each bag.
6. Hospitals often have summer candystriper programs for kids as young as 13. I still remember my time volunteering at our local hospital when I was 13. It really can make a big impact on a child and is a valuable resource to the hospital.
7. Animal shelters are often looking for people to walk or play with the animals. This opportunity usually gets the younger set enthusiastic about helping, especially if they do not have a pet at home.
8. Take a nature walk around the neighborhood and pick up trash along the way. Kids will learn that they can make a difference with their simple actions.
9. If your kid is the crafty type, have them knit hats for cancer patients at your local hospital or pick an item to knit from Knit for Kids.
10. Don't forget to think simply. Have your little ones run a lemonade stand with a purpose where some or all of the money they raise goes to a local charity of their choosing.