Summer is here and the kids are home from school. It's time to get out and get active! Today we're talking about 15 fun summer activities for you and your kids!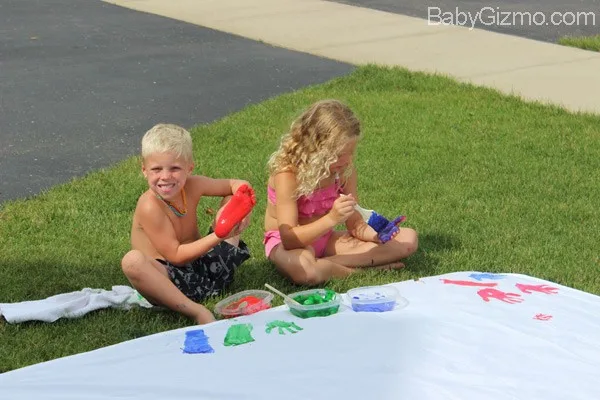 Beach it up.
There's no better summer activity then hitting the sand and ocean at the beach! Don't forget to pack some sunscreen!
Ice activities.
Have little ones? Activities with ice are the best way to keep them busy! We love these three ideas by Elle from What's Up Moms.
Backyard fun.
Get out the slip and slide, the sprinkler or just the hose and splash around in your own backyard for some free fun.
Local swimming pool.
Don't have your own swimming pool? I don't either. That's why we love to go to our local community one! You can save money by buying a pass and, while you're there, think about signing your kids up for fun swimming lessons.
Splash pad.
A few of the park playgrounds in our city have splash pads that run during the hot summer months. They are free and my son runs around for hours having a blast.
Outdoor adventuring.
If it's not brutally hot, take a hike or a bike ride with your family! Summer is a great time to get outdoors and get active.
Ice cream date.
Take your littles on an ice cream date this summer.
Museums.
If you need a place to cool off, check out a local museum. You get to learn and have fun!
Movies.
Stuff your purse full of treats and go see a movie!
Lake/River.
Live close to a lake or river? Spend the weekend on the water.
National Park.
Go camping or just go exploring. Get some bug catchers, magnifying glasses and binoculars and see what you find! (Or just tape two toiler paper rolls together and you have a pair of makeshift binoculars!)
Amusement Park.
While we tend to stay away from Disneyland during the summer because of the heavy crowds, if it's the only time your whole family is free, brave the crowds and go have some fun!
Farm fun.
Pick berries, feed the animals, spend the day exploring. Make a dessert, popsicles or smoothies afterwards with all the delicious fruits you picked!
Get to cooking.
Teach your kids new recipes. Even if it's just to make a s'mores snack (no outdoors necessary for these), it's great to get them in the kitchen with you.
BBQ and games.
Seriously, what's better than a summer backyard BBQ? Invite all your family, friends, and neighbors! Try playing one of these fun filled family games!
What are some of your favorite summer activities? Leave us a comment and let us know!