Let's face it, only a small percentage of the year's weather is appropriate for campfires and thus, s'more roasting. But does that mean we need to deprive our kids (and ourselves) of this decadence? No, not one bit! If you have an oven, you're in luck! Oven Made S'mores can be your dessert of choice all year long!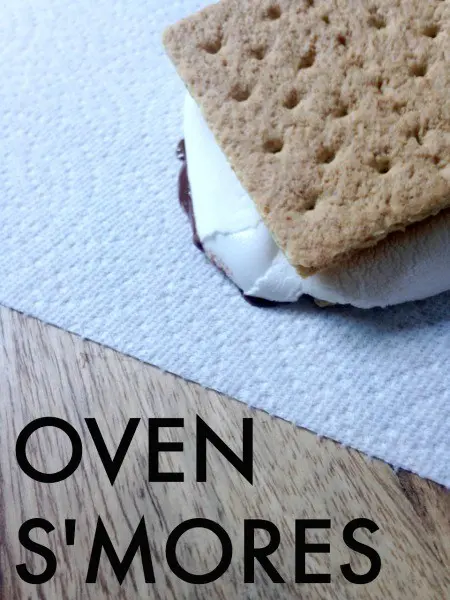 Here's how to whip up Oven Made S'mores in a few simple steps …
Lay a few graham cracker squares on a baking sheet.
Top with your choice of chocolate. This round of s'mores called for Hershey's milk chocolate, Ghirardelli dark chocolate caramel with sea salt and a Reese's peanut butter cup. YUM!
Add a marshmallow square on top. Is that not so brilliant that Kraft came out with marshmallow squares this year?!?
Turn your oven onto the high broil setting. Allow to warm.
Place your baking sheet and s'mores underneath the broiling and watch closely.
To turn your marshmallows a golden brown and melt your chocolate you'll want them to broil for 2-3 minutes.
Remove from the oven, top with the final square of graham cracker and enjoy!
Other S'mores Desserts
You can make all types of desserts with graham crackers, marshmallows and chocolate.
Air Fryer S'mores Crescent Bombs – Delicious s'mores pastries that are quick to make in the air fryer.
Oven Baked S'mores Bars – Quite possibly the best combination of s'mores with marshmallows, chocolate and graham cracker that you could ever make.
S'mores Cups – Easy-to-make, bite-sized S'mores Cups.
S'mores cookies – The fun flavors of a summer s'more and mix them into a warm, ooey, gooey cookie.
Peanut Butter S'mores Bars – Chocolate, marshmallow, peanut butter and a graham cracker crust. It's a perfect summer dessert.
S'mores Dip – A delicious chocolate and marshmallow dip that is perfect for graham crackers.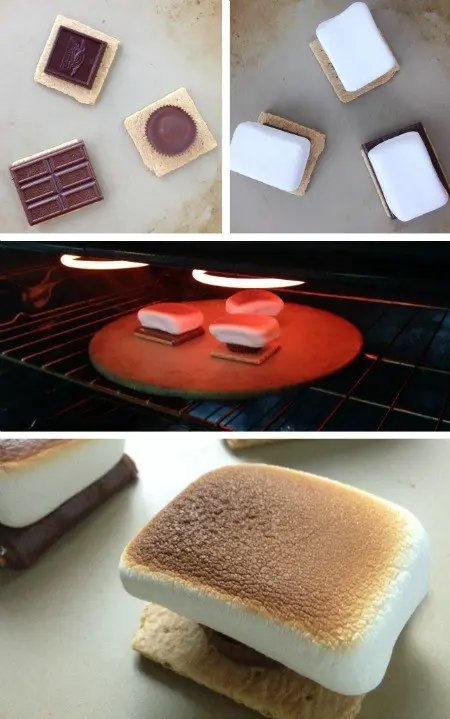 Too easy, right?
Now, tell me, who will be enjoying a s'more tonight without all the prep work of a campfire?