I am currently 27 weeks pregnant so you know, I'm getting there! I love shopping, I love fashion, I love staying on top of all the latest trends, I love clothes period. Needless to say, none of that has changed just because I'm pregnant. While there are some maternity clothes out there that are cute and fashion forward, this time around I am really making my wardrobe and the clothes I already own work for me for my pregnancy wardrobe.
The only actual maternity piece I've purchased is splurging on one pair of Citizens Of Humanity maternity skinny jeans. Every single other piece I wear is non maternity. In my eyes, when I spend money on clothes, I want to spend my money on clothes that I can wear whenever I want, not for only nine months. When I was pregnant with my son over four years ago, I went all out and bought maternity everything. Honestly, the pieces weren't that great or flattering and they all went in a donation pile once my son was here. I felt like I wasted a whole lot of money. Simply put, I love the clothes in my closet and I want to continue wearing them. It's easier than you think.
Here are my top 5 tips on making your wardrobe last during your pregnancy.
1. Do inventory.
Once your bump is big enough, take inventory. Try on every pair of jeans, every top, every dress. See what has the potential to work and what will never work. For example, all of my jeans still fit in the legs because I'm not gaining any weight there. Of course they don't fit over my belly though. I've got lots of jeans that are super low waist so I'm still able to wear them zipped and buttoned at 27 weeks. If you own lots of loose tees like I do, those will work perfectly for a growing bump! Same goes for most maxi dresses and loose flowing dresses. You'd be surprised at how many things will work for you that you already own.
2. Hacks.
Please tell me you've all heard of the rubber band trick? This will give your jeans a longer shelf life throughout your pregnancy. You can also look into belly bands that will help you wear your jeans the whole 9 months! You can also do button extenders and there's even online companies that will add stretch panels to your non maternity jeans if you send them in! Don't be afraid to experiment with a piece until you make it work for you!
3. Buy bigger sizes.
If you're going to shop but don't want to spend money on maternity clothes, buy bigger sizes. I tend to like looser fitting tees to begin with so I've actually made some purchases lately by just buying one size up from my normal size. This way everything I purchase will fit me throughout my pregnancy and I'll still be able to wear them after. Plus, they are pieces I love and not ones I'm settling for.
4. Extend the life of your bras.
Who else has boobs that grow five sizes when they are pregnant?! Am I the only one? I kid you not, I'm in a new bra size every month over here. Bra's aren't cheap so try to extend the life of them when you can! As a general rule, upgrade your bras when you're spilling out of the cup, extend them when its the band size that seems too small. I've been fortunate this time around that my band size has stayed the same but if you need a few more inches you can pick up bra extenders at maternity stores for less than $5! Way smarter than spending the whole $50 on a new bra you don't really need yet.
5. There's no law that says you MUST WEAR MATERNITY CLOTHES.
I swear I thought I HAD to wear all maternity clothes when I was pregnant with my son as my "pregnancy wardrobe". The very word "maternity" garners a huge price premium and you'll almost always save money by shopping at non maternity stores. I always think non maternity clothes are cuter so if you can make what you've got work for you, I always think the end result will be better, cheaper, and much more flattering on your cute figure.
The proof is in the pudding, right? Here are two photos of me rocking non maternity clothing while most definitely pregnant.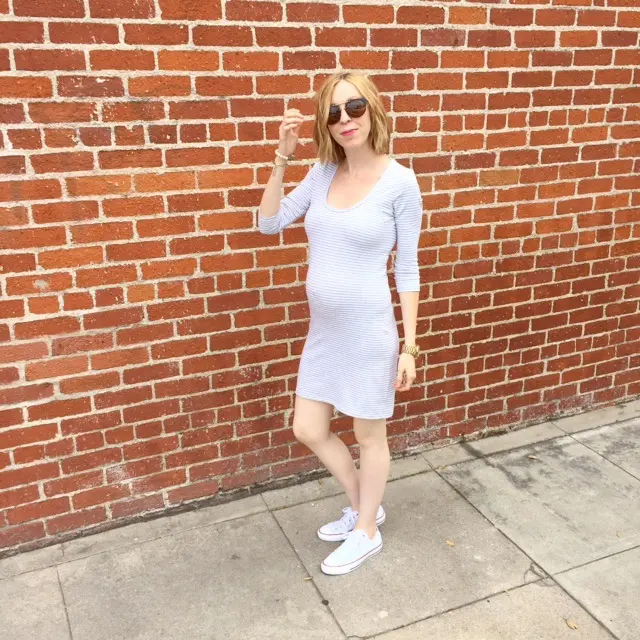 If you've got stretchy dresses, WEAR THEM. While I normally gravitate more to loose fitting clothes when I'm not pregnant, I think a good tight dress is always cute on a baby belly. Plus a stretchy dress and sneakers is just plain comfortable.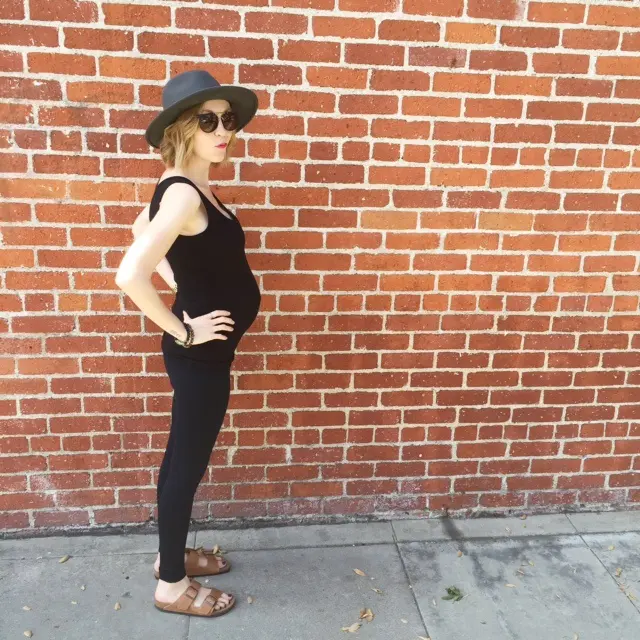 If you don't already have a pregnancy uniform, I'm issuing you one today. Go grab a pair of leggings and a tank top. Boom- uniform complete. Feel free to add a hat and birks to said uniform. Your leggings and tank top do not, I repeat, do NOT need to be maternity. In fact, I prefer a legging that doesn't go over my belly to tell you the truth.
I hope these tips, hacks, and photos helped you to see that you really can get a lot of life out of the clothes you already own when you're pregnant!
What do you think? Did you make your wardrobe work for your pregnancy wardrobe? Did you skip the "maternity clothes"? If you have any great tips to add to my list, please leave a comment and share them!