One of the most exciting parts of finding out you're pregnant is getting to decide on names for your child! But that's a daunting task to some parents-to-be. Many moms turn to their friends, Facebook mom groups, and baby websites to search for name suggestions, often following a trend or theme that will stand out to them. So for you pregnant ladies out there, we'd like to do our part in helping you during this important search!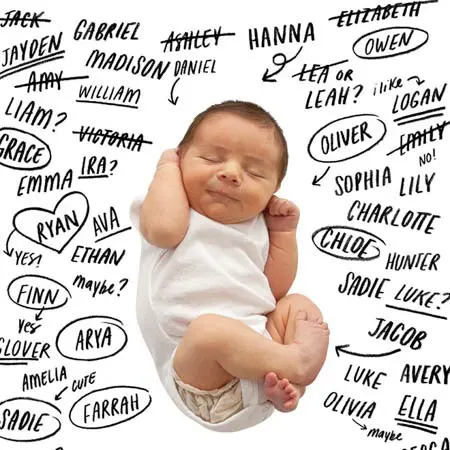 Here are 20 baby names for boys and 20 for girls that can be shortened into the cutest nicknames:
Girl names:
Abigail (Abby)
Victoria (Tori, Vicki)
Olivia (Liv)
Amelia (Millie, Lia)
Emmaline (Emme/Emmy, Emma)
Adalynn/Adeline (Addie)
Eleanor (El, Ellie)
Arabella (Bella, Ari)
Cecelia (CeCe)
Mirabella (Mira, Bella)
Penelope (Penny)
Veronica (Nika)
Theresa (Tessie, Tess)
Carolyn (Carol, Cara)
Evangeline (Evie, Eve, Gigi)
Fiona (Nona)
Bianca (B/Bee)
Elizabeth (Liz, Beth, Lizzie, Betty)
Tallulah (Tally, Lula)
Josephine (Josie, Joey, Jo)
Boy names:
James, Jamison (Jamie, Jim)
William (Liam, Will, Billy, Bill)
Joseph (Joey, Joe)
David (Dave)
Royal (Roy)
Jason (Jace)
Grantham (Grant)
Broderick (Brody)
Arthur (Art, Artie)
Beckett (Beck)
Jeremy/Remington (Remy)
Sebastian (Bash, Ian, Seb, Sebby)
Ezekiel (Zeke)
Everett/Garrett (Rhett)
Wallace (Ace)
Desmond (Des)
Lennox (Nox, Lex, Lenny)
Kenneth (Kenny, Ken, Kent)
Oliver (Ollie)
Ashton (Ash)
Which are your favorites on our list? What other names have you heard (or used) that can be shortened to cute nicknames?