I thoroughly stink at waking up in time to prepare breakfast for myself and my kids. No fancy scrambled eggs and toast around here! More mornings than not, I'm pouring bowls of dry cereal or handing them a mix of cheese/crackers/fruit to take in the car.
They're the lucky ones though, at least they get breakfast! I, on the other hand, rush through buckling everyone, checking the clock and realizing that there is most definitely not enough time for me to grab something for myself. So, when the immediate morning errands end, I sometimes swing through Starbucks and spend way too much on a coffee and breakfast. The egg bites have become a favorite of mine (such a health option/protein boost!), but at just shy of $5, they really add up!
I decided to try making my own egg bites. That way, while I prep the kid's breakfast on the go, I could microwave a pre-cooked breakfast of my own. So, I did, and they turned out splendidly!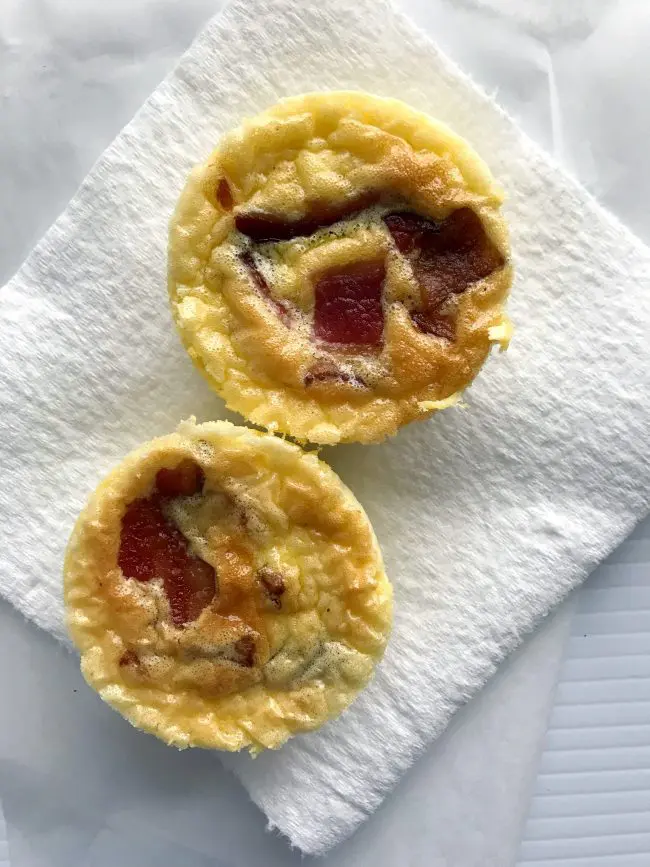 Ingredients
10 eggs

1 cup swiss cheese

1/2 cup cottage cheese

1/2 teaspoon sea salt

1/4 teaspoon black pepper

6 slices of bacon, cooked and chopped

Non-stick cooking spray
Directions
Preheat oven to 300 degrees. For this recipe, you'll be baking in a water bath because they make the eggs turn out 10x better, smooth and cooked well. Fill a cookie sheet with edges with water and place into the oven straight away.
Place eggs, cheese, cottage cheese, salt, and pepper in a blender and blend for 30 seconds or until frothy.
Spray a muffin tin well with non-stick cooking spray. Pour egg mixture into each space and top with chopped bacon. Carefully place the muffin tin in the water-filled cookie sheet. Bake for 30 minutes.
Check that eggs are completely set and allow to briefly cool before scooping each egg bite out of the muffin tin. Enjoy immediately or refrigerate/freeze for speedy breakfasts in the days that follow!