The new Star Wars film opened on December 15 and lucky us: today was a half day of school so my family got to see Star Wars: The Last Jedi (Episode VIII)! Wondering how it was? Want to know if you should take your kids? Here's my review of the movie.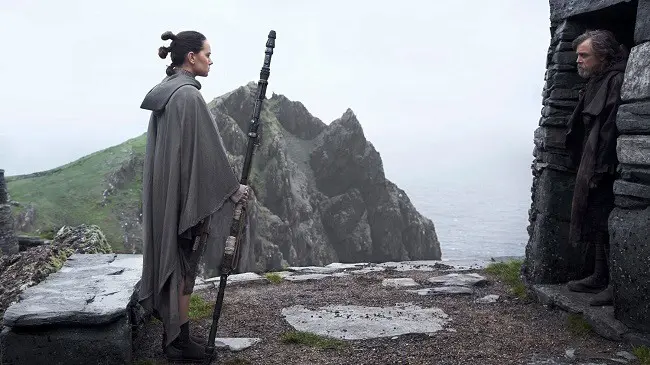 As noted above, this is the eighth installment in the Star Wars series. A quick plot summary: The Resistance fighters battle the First Order. It's the second movie of a trilogy, so there's no resolution. The end. Okay, I'm kidding. Not really, but here's a more thorough summary.
Plot 1: The movie opens as the Resistance fighters are evacuating their base, which is under attack by the First Order. The First Order follows them to continue the fight.
Plot 2: At the end of Star Wars: The Force Awakens, we saw Rey reaching out her arm to hand Luke Skywalker his lightsaber after she found him on the planet Ahch-To. When we first see Rey in The Last Jedi, we pick up at this same scene. We follow her interactions with Luke, who fears the strength of her power. He is adamant that he will not go back to fight with the Resistance.
Plot 3: After being seriously injured in The Force Awakens, Finn is revived and tries to meet up with Rey. Instead, he makes a new friend and they…um…go on adventure. (No spoilers!)
Plot 4: Supreme Leader Snoke is furious with Kylo Ren after the events of The Force Awakens. He continues to play Kylo Ren and General Hux off of each other. Hux is still crazy. Kylo hatches a plan to get back into Snoke's good graces.
Not a plot but a fun fact: There are a couple of cute animal species, too! (Yes, one of them is the Porg.)
That's a lot for one movie to handle—especially when you take into account all the subplots. However, this movie runs for 2 hours and 33 minutes, so it's got lots of time to resolve things. Like, a lot of time. There were several points at which I thought the movie was ending, but it just. kept. going. That sentence right there should give you a hint as to my opinion of the movie: I did not enjoy it. To be honest, I'm not a huge Star Wars fan, but I loved the Force Awakens (saw that one in the theater at least four times, not entirely at the kid's insistence) and enjoyed Rogue One. But this movie was long, meandering and confusing, had a million characters, and had a lot of build-up without a lot of payoff. When I expressed my opinion to my husband, however, he said, "You have no sense of epics." Apparently, he liked it.
I asked my six-year-old daughter what she thought, and she replied, "Awesome!" When I asked her about her favorite part and what she thought was the scariest part, she said, "I'm still thinking about that." Fair enough; it was a lot to take in.
Should you take your kid? This is a tough question to answer for this film. It's tense. There are a lot of explosions. People die (it's war, so what do you expect) although a lot of death is implied as you watch ships explode; however, there's also a great deal of focus on the losses. There are some intense hand-to-hand combat scene, and several (all?) of the main characters end up in mortal peril at some point in the film.
My favorite resource Common Sense Media suggests The Last Jedi is best for children ages 10 and up, and my husband I agree. While they have the same recommendation for The Force Awakens, this movie seemed to have a lot more violence and to be more intense. For those who have seen Rogue One, my husband compared the level intensity to that movie, which, based on the first scene and the ending, we have not let our daughter watch. I don't regret taking her to The Last Jedi, but I'm not exactly rushing to let her see it again.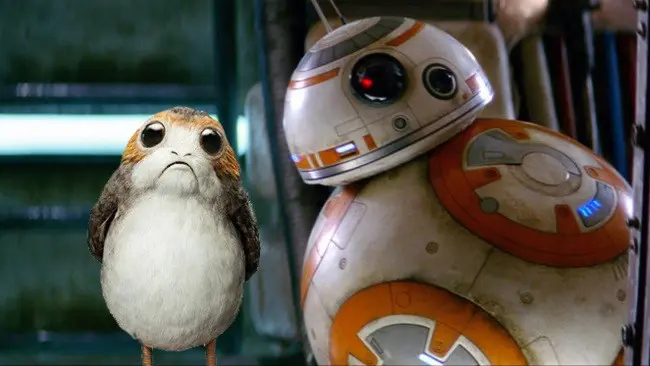 On the "pro" side, we have several strong female leads, including Leia and Rey as well as some new characters. Aliens aside, there's also a lot diversity in the casting for both lead and supporting characters. Those who have enjoyed the previous Star Wars movies will be excited to see old friends like Chewbacca, C-3P0, and R2-D2 along with newer favorites like BB-8. Even in this violent movie, there are a couple of explicit messages about patience, saving versus destroying, and not lashing out in anger. Common Sense Media offers a guide for conversations to have with your children after seeing the movie. Oh, there are the Porg. Squee!
Bottom line? In my opinion, this isn't the best of the Star Wars films, but it's not the worst. I think that the film is better for older kids, both because of content and length. But Star Wars fans and lovers of action films will enjoy it.