I love the Christmas traditions my family practiced growing up, and it's so fun creating new ones with my own kids. One of my favorite traditions is eating Chinese food for Christmas Eve dinner. My great grandmother started this when she and her husband would come visit my grandparents and take them all out for Chinese food, since it was more expensive back then. When they stopped coming, my grandmother started making it every year. Then, my own mother made it for years. Now, to simplify, I just buy some for our own little family each Christmas Eve. I love it because it's unique to us, born from normal circumstances and made special over the years. And another great perk is there's less clean up when we get take-out, instead of cooking a big meal the day before we will have another big meal!
As I've looked for new traditions to start with my growing little family, here are five that I thought were especially cute that you might like to use, as well:
Deck the Halls: If you're up for it, surprise the kids with the house totally redecorated for Christmas day. Through the night, move decorations around, trailing lights up to their rooms, if possible, and set out the gifts you've held back (whether they are from "Santa" or family). If you'd rather not have to redecorate, you can adjust this tradition by decorating the house in the night so it's ready when the kids wake up on December 1st. What better way to kick off the Christmas cheer?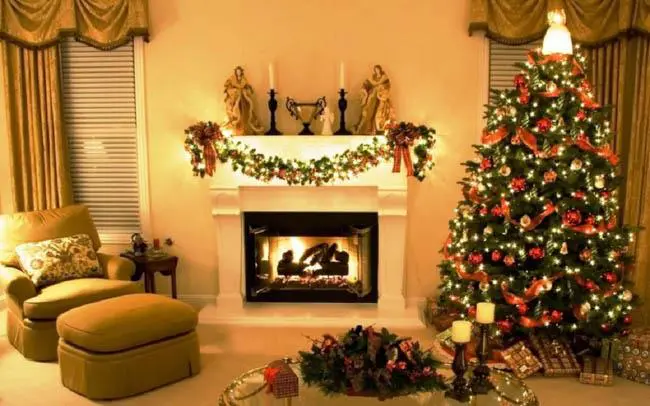 Personalize an ornament: Each year, my grandmother would make a Christmas ornament for us grandkids. When she had to stop doing that, my mom would buy us an ornament that related to something big that happened in the year. Now, in my own little family, we've continued this tradition. It's fun to decorate our tree each year with memories of previous years. To make it even more special, you can make ornaments with your kids and personalize them. If you choose to make your ornament, doing so as a family while watching a Christmas movie would be fun!
For the reindeer: If you already practice the tradition of leaving food out for Santa, this tradition will be easy to fit right in. Choose whatever food your kids would think Santa's reindeer would want on Christmas Eve and leave it out on the porch for them, or by the chimney for Santa to bring up to them on the roof. Some options could be making "reindeer bones" (homemade dog treats that can then be repurposed for the family pet when the kids aren't looking) or "reindeer dust," which is oatmeal mixed with glitter. The glitter helps the reindeer find their treat easier!
12 Days of Christmas—Nativity set: Purchase a nativity scene that has at least 12 separate pieces. Wrap each piece and pair it with a scripture about Christmas/the Nativity. The 12 days leading up to Christmas, secretly deliver one piece each day, ending with the baby Jesus on Christmas Eve or Christmas day. This is a sweet tradition that will help your kids remember the reason for the season, and show them how great it can be to give without getting any recognition for the gift. And the recipient will now have a full set nativity scene!
A Hard Floor: To remember what that first Christmas must have been like for Mary, Joseph and Jesus, forgo your comfy beds and sleep together as a family on the floor on Christmas Eve. Young kids will find it fun and different, but as they get older, they will begin to understand the significance a little more, as you all begin feeling it your backs. A new respect and understanding will develop for what this sacred family must have endured that first, special Christmas.
What are some of your favorite holiday traditions your family practices?