If I was a betting mama, I'd say we might see a spike of little girls named Elsa in the coming year; maybe even little boys named Sven or Kristoff. As with most celebrities (and I think many Disney characters fall into that category), the general population trends after them. And with good reason! Especially with Disney, these are fabulous characters with exciting stories and often times, good morals who provide excellent role models for children and their parents. So … why not name your baby after them?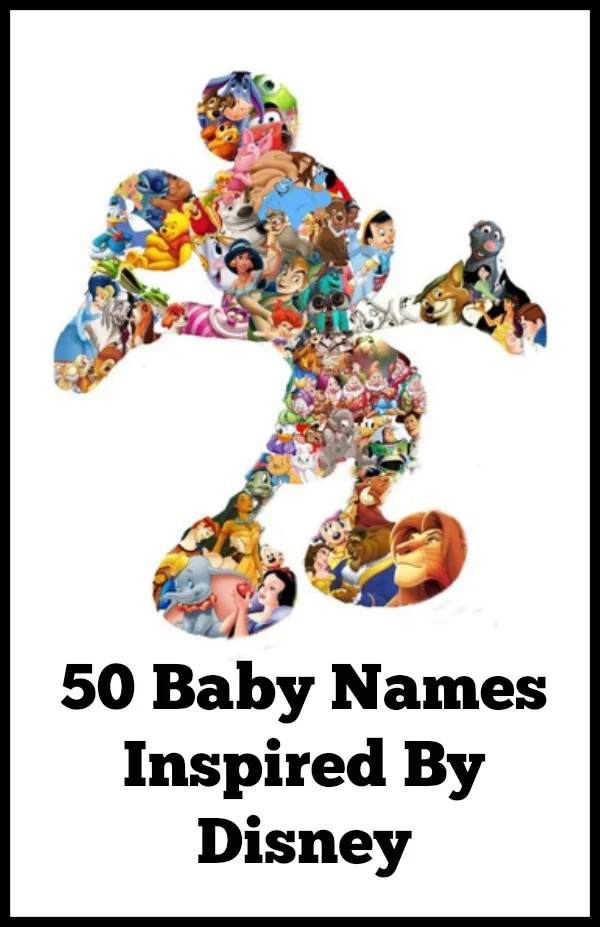 That's right, today I'm sharing 50 baby names inspired by Disney!
First up … the boys:
Robin – Winnie the Pooh/Robin Hood
Finn – Cars 2
Max – Cars 2
Flynn – Tangled
Ryder – Tangled
Forrester – Bolt
Henry – The Princess and the Frog
Gus – mouse from Cinderella
Mickey – The one and only Mickey Mouse
Lewis – Meet the Robinsons
Oliver – Oliver & Company
Peter – Peter Pan
Sebastian – The Little Mermaid
Sven – Frozen
Amos – Fox and the Hound
Felix – Wreck It Ralph
Sullivan (Sulley) – Monsters Inc.
Elliott – Pete's Dragon
Maximus – Tangled
Otto – Robin Hood
Winston – Oliver & Company
Arthur – Sword in the Stone
George – Peter Pan
Louis – The Princess and the Frog
Milo – Atlantis
And now, a peek at some beautiful girl options:
Belle – Beauty and the Beast
Aurora – Sleeping Beauty
Dory – Finding Nemo
Fauna – Sleeping Beauty
Daisy – Daisy Duck
Winifred – The Jungle Book
Alice – Alice in Wonderland
Bianca – The Rescuers
Moira – Peter Pan
Colette – Ratatouille
Jane – Tarzan
Marie – Aristocats
Violet – The Incredibles
Elsa – Frozen
Willow – Pocahantas
Daisy – The original Daisy Duck
Megara – Hercules
Adelaide – The Aristocats
Adella – The Litter Mermaid
Calliope – Hercules
Esmeralda – The Princess and the Frog
Jane – Tarzan
Penny – 101 Dalmatians
Giselle – Enchanted
Flora – Sleeping Beauty
What's your favorite Disney inspired name – either from the list or a different one?