So you've got your kid's school shopping lists all accounted for (and my oh my, what a list that is!), but before you head to the store for said school supplies I wanted to pop in and remind you to add a few extra things.
No, no, not because I'm trying to break your back to school budget. Girl, I KNOW how much you're shelling out for specific brands, fun backpacks, and more, but because I want to help you save. Maybe not now, but down the road for sure.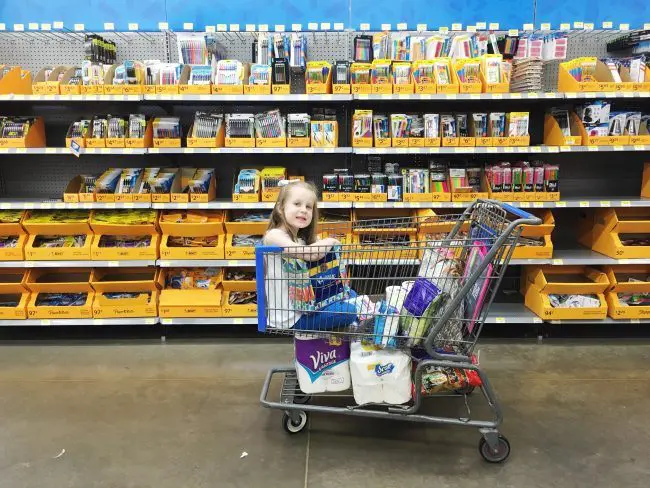 You see, back to school season is the perfect time to stock up on office supplies, homework helpers, and craft corner essentials for home! Because, as I'm sure you've noticed … back to school prices > any other time of the year prices!
As you tally your lists for crayons and more, consider adding these extras to your shopping cart and over the course of the year, you'll definitely save on things your family needs!
SHARPIE MARKERS
These are my go to for birthday signs and lunchbox notes. I love the boldness of a Sharpie and the back to school savings on solids and metallics can't be beat!
SCISSORS
Are scissors always disappearing at your house? I finally decided to buy each family member their own pair and, with my Sharpie, write their name on it. Now we are all responsible for the safe keeping of our own pair of scissors 🙂
PAPER PRODUCTS
Tissues and paper towels always seem to go on sale during back to school season, we use these year round and back to school is the perfect time to fill my garage stash.
BAGGIES
You know those baggies that have zip tops? I adore those for home organization, especially my kid's Legos. Grab a box (or ten) while they're on sale. You can use them for lunches and just about everything else.
PENCIL POUCHES
Ok, these are fantastic for storing puzzles. I bought a handful last year and am going back for more soon. They take up way less space than boxes and my kids can easily access them from a basket in our toy closet. They're usually right around $1 at Walmart.
CRAYONS, COLORED PENCILS, AND MARKERS
I do a clean sweep of our family craft zone every back to school season and toss broken crayons, re-sharpen salvageable pencils, and let go of dried out markers. Then, I add in fresh, new sets to boost everyone's creativity! I'd much rather pay the sale price for these items than full price when we really get desperate.
INDEX CARDS
For roughly 50 cents a pack you can have the best, sturdy little notecards for leaving love notes to your spouse, writing grocery lists, and jotting down memos.