Summer's just begun (heck, official summer hasn't even started yet!), which means there's plenty of outdoor play time ahead of us. Everyone knows that one of the best ways to head off summertime crankiness is water play, so let me help you with that by telling you about eight awesome water tables.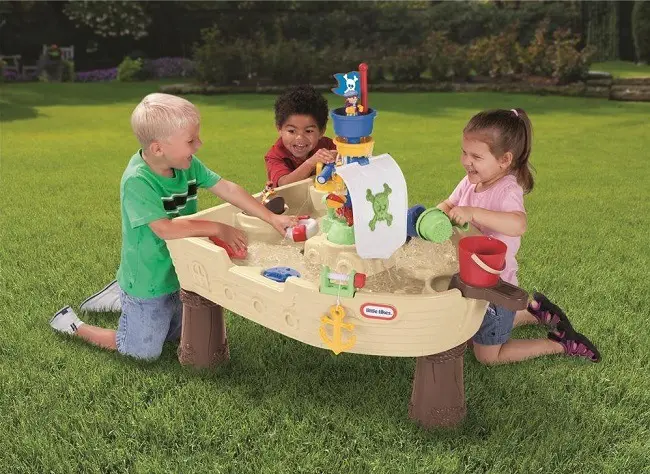 Little Tikes Anchors Away Pirate Ship Water Play Table: If you're looking to go all out with a theme, this is the table for you! There's a water cannon that actually squirts water and the water in the table can be moved via a pump or by pouring. And did you see the anchor can raised and lowered, too? Make it a dream Friday or Saturday and spend the day playing outside with the pirate ship, then make some popcorn and treat the kids to a movie; Disney just released the 65th Anniversary Edition of Peter Pan. ($84)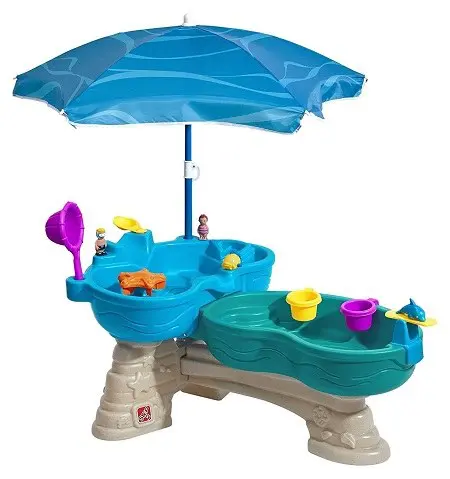 Step2 Spill & Splash Seaway Water Table: Can someone hit me with a shrink-ray so I can hang out in this table? Kids can create a waterfall from the upper pool to the lower pool, and the lower pool includes a diving board. The umbrella provides extra sun protection when using the table outside, but it can be removed if you've got the table set up in the shade, or if you're a brave soul who uses water toys in the house.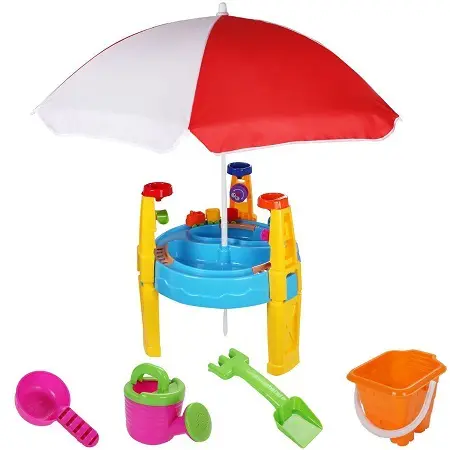 Costzon Kids Sand and Water Table Beach Play Set with Umbrella & Accessories: This table is cute, but what really caught my attention is that it's a smaller option and it's easy to breakdown. Those two features make it a great choice for small spaces like apartments or townhouses. Toys and generously-sized umbrella included. ($46)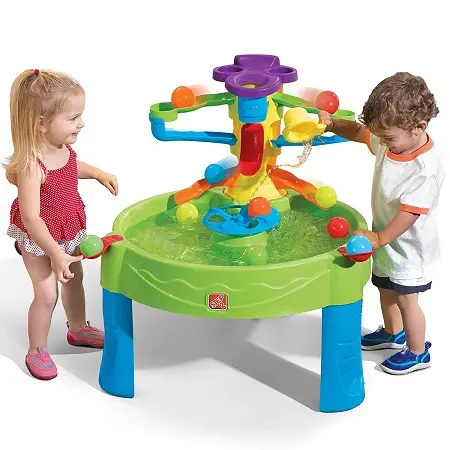 Step2 Busy Ball Play Table: Like a ball pit but with water! Okay, not quite, although that's an awesome idea. Anyway. I love that this table offers something different from what so many of us think of when we think of water tables. And, of course, if you're looking for those scoops, buckets, and waterwheels, you can always introduce additional toys to the table. ($36)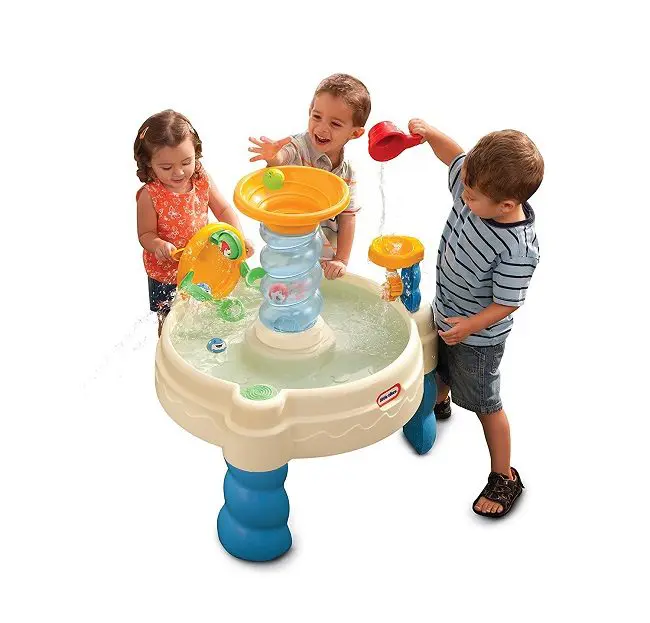 Little Tikes Spiralin' Seas Waterpark Play Table: There are so many fun activities on this table—from the dual water wheels to the spiral tube in the middle to the Ferris wheel—that your little one is sure to be entertained for hours. Or at least many minutes; I'm not in the business of making promises I can't keep. Seriously, though, the different "stations" at this table do provide a variety of different things to do, in addition the fun of just splashing around. ($55—but this best-selling table was on sale for 25% off at the time of this post's writing, and was just $42)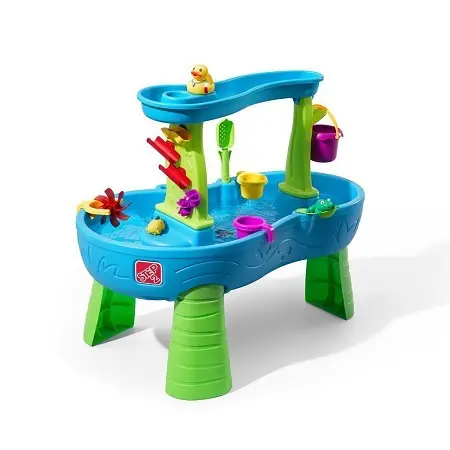 Step2 Rain Showers Splash Pond Water Table Playset: I love these double-decker water tables! One of the things that sets this table apart is the maze, the parts of which are rearrangeable. That's an available accessory that I kept finding for the (very) expensive classroom water tables, but that I wasn't seeing in the more affordable home tables. However, be aware that that accessory only comes with the Deluxe Pack. As a matter of fact, all the accessories—the water wheel, the rain maker, the scoops, the bucket—are part of the Deluxe Pack. If you only get the Basic Pack, all you'll get is the table itself. (Deluxe Pack – Toys Included: $115)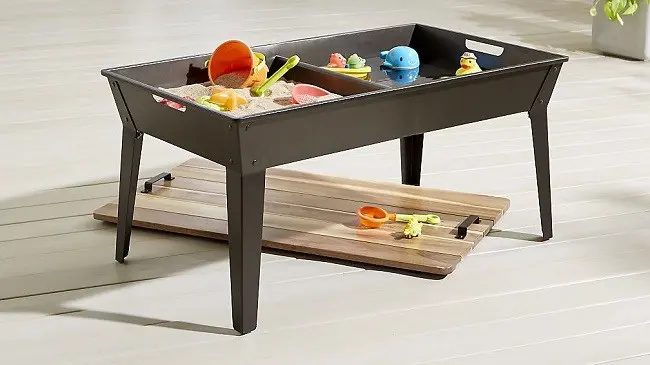 Crate and Kids Sand and Water Table: Now if you have declared that a large plastic monstrosity shall never become part of your décor inside or out (I'm not here to judge you; I see you and we are part of the same tribe), then this may be the water table solution you're looking for. I present to you the sand and water table from Crate and Kids: two rectangle bins—one for sand and one for water—covered with a wooden top when not in use. If you shudder at the idea of the sand and water mixing, go crazy and fill both sides with water. Or sand. Your choice! Add some fun toys (water wheels and bath toys are great options) for play time, and then store them away when not in use. ($319)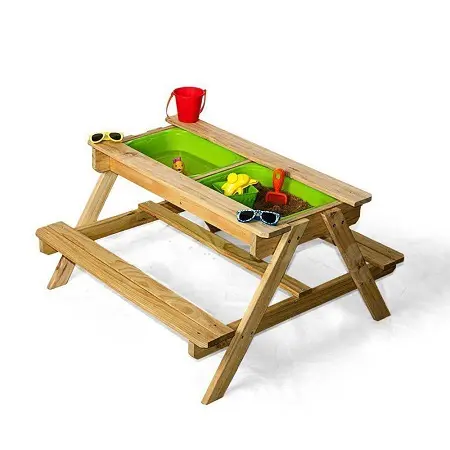 WonkaWoo Endless Fun Sand and Water Table: Okay, non-plastic-lovers. You'll be relived to know that right after I found the fancy Crate and Kids table above, I happened upon this little number at Wayfair. Much less expensive, and a cute picnic table, too! There's a middle panel that removes to expose the bins; one side is wood, and the reverse is a chalkboard. ($79)
So there you have them: eight awesome water tables to choose from! There's bound to be one in there that's just right for your family. Happy splashing!