In February, we get to celebrate National Chili Day! Let's check out these eight tasty chili recipes you can make in honor of the day! Or, you know, for any reason, really, since the cold weather has made a sudden return—brrr!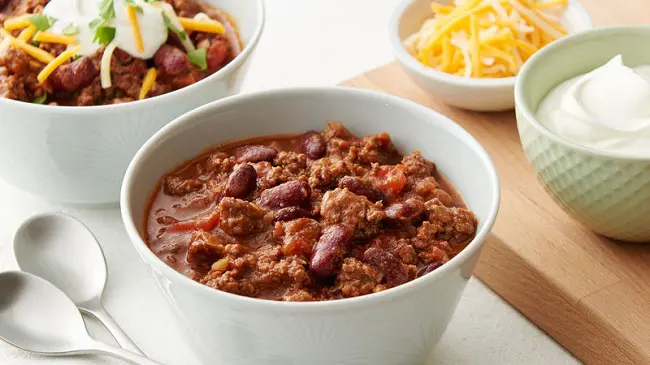 Classic: You can't go wrong with the basics, and this chili is as unfussy as it gets. I usually make this on Halloween, when we have our 1,000+ trick-or-treaters come by. It's easy to keep warm in a Dutch oven on the stove, so we can eat in shifts as we have time. And it's one of my mother-in-law's favorite dishes when she comes to visit, so you know that it may be simple, but it's gotta be good!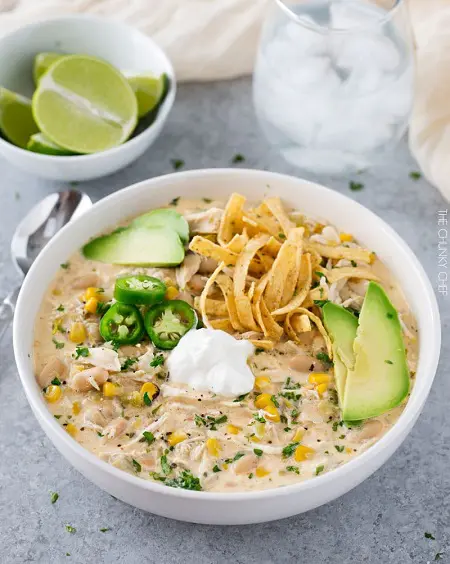 Creamy Crockpot White Chicken: This amazing—and easy to make—white chicken chili is my family's current favorite. My husband's not usually a fan of white bean chilis, but he makes an exception for this recipe. (It's also in my February meal plan!)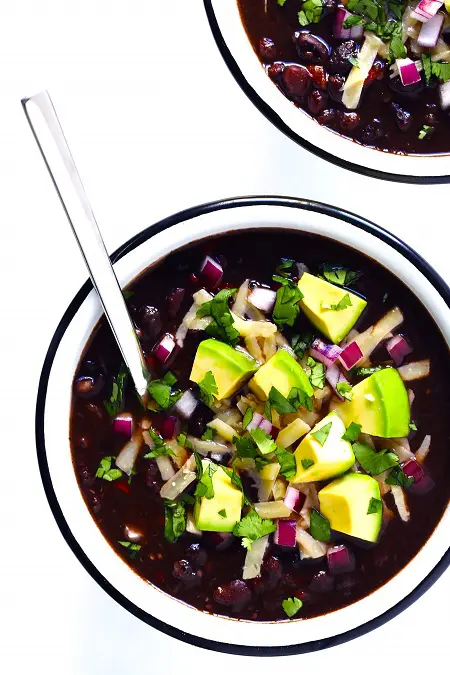 Black Bean: This recipe is vegan and gluten-free, but you can add some ground beef or turkey if you prefer meat with your meal. It's full of Mexican flavors, so put a fun chili spin on Taco Tuesday by serving this up with tortilla chips for dipping. Oh, and did I mention that it's an Instant Pot recipe (with slow-cooker and stove top options)?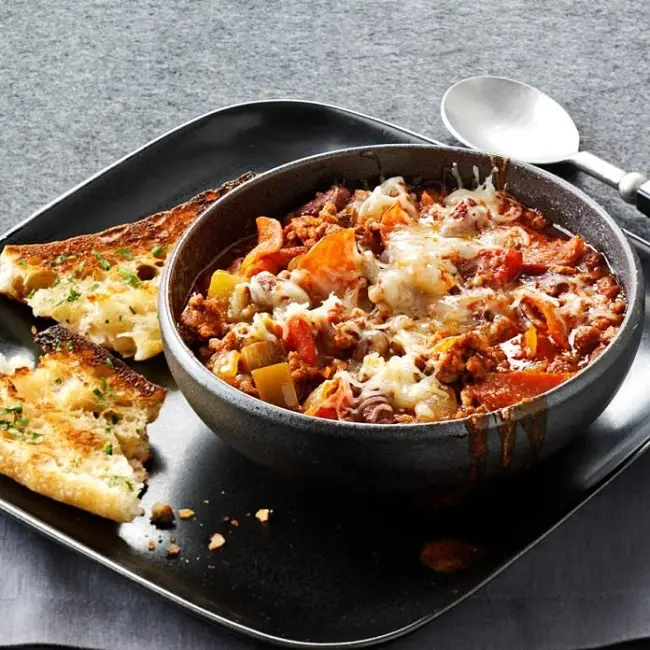 Pepperoni Pizza: Speaking of chilis that can do double duty, how about letting this pepperoni pizza chili fill in on Pizza Friday? Serve with some garlic bread on side and you're all set. (Also, if your family prefers less heat to their chili, there are several places you can swap out "hot" ingredients for more mild options.)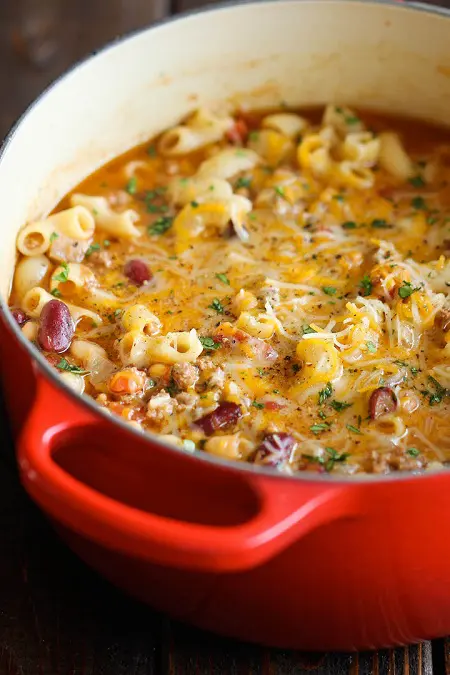 Chili Mac and Cheese: My grandma makes a soup that reminds me a lot of this dish. Minus the cheese—why, Grandma, why?! Anyway, anything that reminds me of grandma's cooking automatically gets included on any recipe list I put together because my grandma is a great comfort food cook.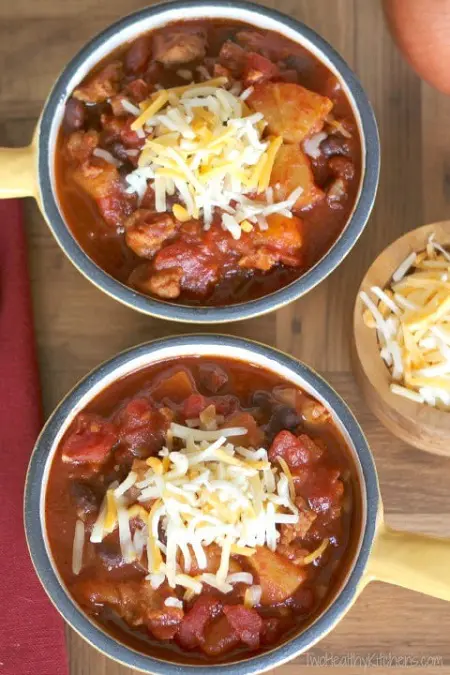 Crazy Pineapple: As I'm sure you got from its name, this chili introduces pineapple to the mix, which plays nicely off the spicy flavor. And for those who don't like beans in their chili, the recipe also suggests swapping out the beans for additional meat.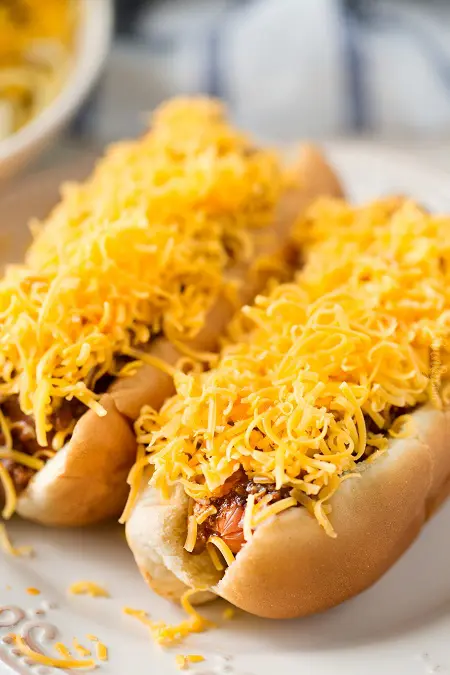 Cincinnati-Style: Have you ever had Cincinnati-style chili before? If not, don't make the mistake someone I know did when they tried it for the first time and ask for a bowl of it. No, this chili is meant to be eaten over something. For example, as a coney if you eat if on a hotdog with shredded cheddar cheese, mustard, and onions; or as three-way with over spaghetti with shredded cheddar. Serve with oyster crackers on the side.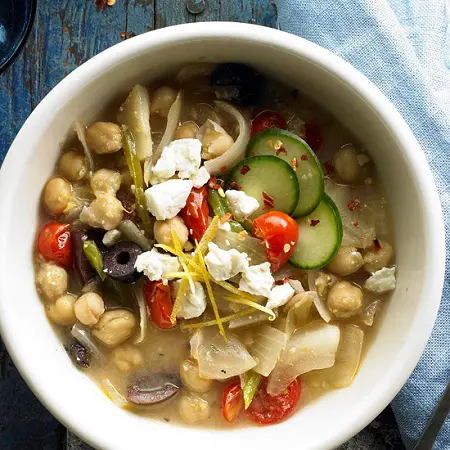 Mediterranean Chickpea: And finally, I'll leave you with something completely different. This chili subs out kidney beans, black beans, or great northern beans for…wait for it…garbanzo beans! This is a light, fun, chili worthy of the warmer weather that keeps teasing us. Spring is coming, and here's a dinner ready and waiting for it!
Which of these recipes are you most looking forward to trying? Tell us in the comments!
More Soup Recipes for you.