Hello to the most unique school year EVER! So many school districts are launching the year in remote schooling phase – ours is one of them – and it sure is taking some adjustments!
I have done my best to stay on the up and up for my kids … "A different way of learning is fun!" and "Won't this be cool?" But, well, we all know it's going to have its moments. Eek! Buckle your seat belts, we are in for a wild ride!
To better facilitate this year like no other, take a moment to peruse this list of supplies that just might make your remote schooling experience a little bit better. Many/most will serve a family well even when school resumes in person! Whether you have a preschooler, kinder, elementary student, or beyond I'm sure you'll find these bonus school supplies well worth the investment.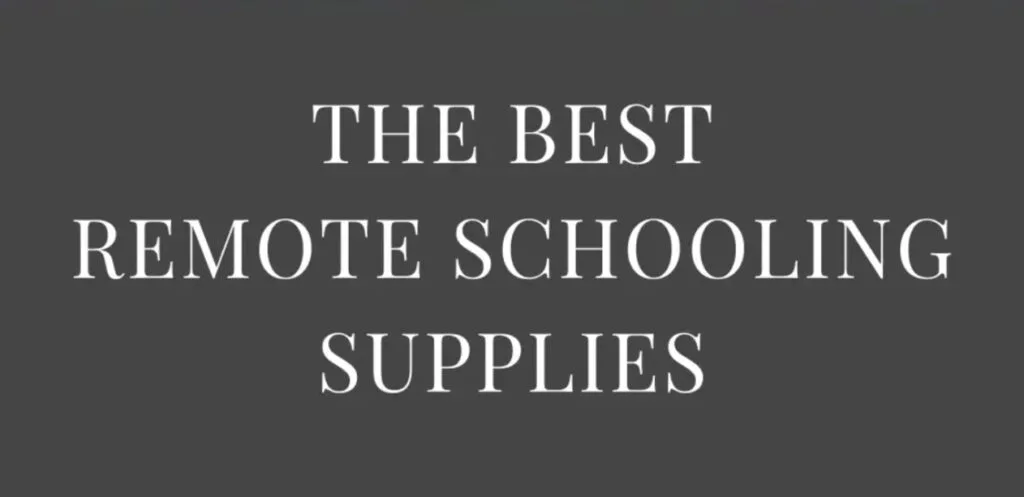 Hands down, this is a winner. Fast and efficient! It keeps writing pencils (which, by the way, these are the best) and colored pencils ready to work.
This may sound like a splurge, but once you become a laminatin' mama, you'll never go back. I have this exact one and it's three years strong.
This year is a bit stressful, yes? Be sure to fill your own "personal development" hours as a remote schooling parent with some encouragement. Sarah Mackenzie's book "The Read-Aloud Family", as well as her podcast is a great starting place. If you don't feel like you have time to read, snag it on Audible.
Are you always dripping in kid's art projects? Have them create on postcards and then practice their handwriting and address skills by mailing off their darling creations.
One of my kiddos struggled a lot in mastering multiplication tables. This DVD was a wonderful resource for practice.
It doesn't have to be this exact one, but a communal space for markers, scissors, and glue make getting work done 10x easier.
Kids are on the computer more and it's important to protect their precious eyes!
A Morning Basket
Despite what your school district is guiding you to do, it centers the family well to begin together with breakfast and a reading or two. It could be a devotional, book of poems, or a chapter book you dive in to together as a family. Lots of homeschool folks call this a "morning basket" and they rotate through a handful of books as a family to kick off the day.
It's hard to stay on task! Use a visual timer for kids when they need to commit a specific amount of time to flash cards or reading practice.