Oatmeal is a fall staple. The perfect breakfast to kick off back to school mornings.
It is warm, filling, and for many of us, a comfort food. Slowly, but surely, I'm convincing my children that oatmeal is the greatest when it comes to breakfast choices. And, one by one, they're coming around. But it isn't because I make an amazing bowl of oatmeal. It's because I'm the master of topping choices!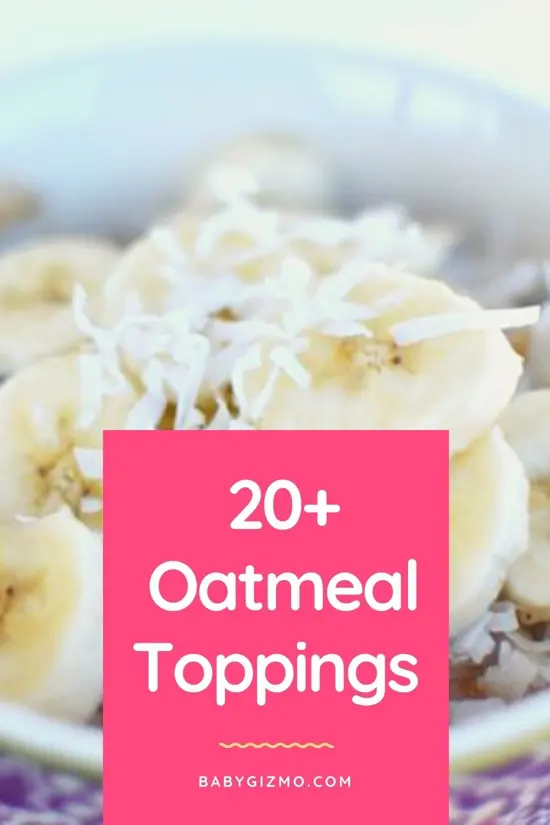 And let me tell you, kids LOVE to take control of their meals with things like toppings. Plus, let's be realistic, no one really likes a plain bowl of oatmeal. That's just mush! But, when topped with a blend of nuts, fruit, and other favorites, it becomes something fancy; something everyone will love.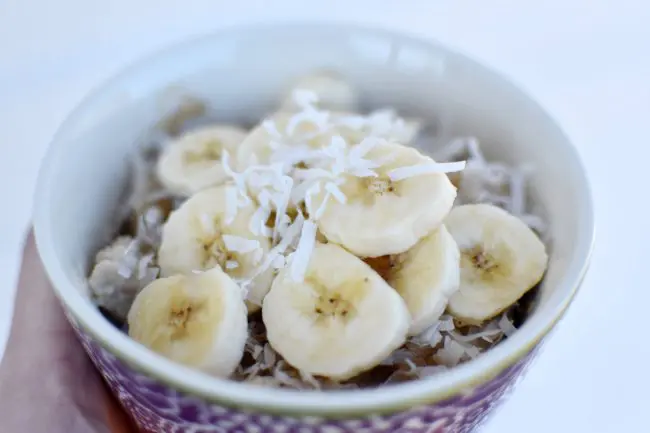 Featured above we have my personal favorite — brown sugar, chia seeds, banana slices, and unsweetened shredded coconut.
My daughter is all about the PB&J — peanut (or almond) butter and a swirl of homemade jam. She's definitely riding the back to school wave.
My son attempts to turn his oatmeal into a dessert — mini chocolate chips, honey, and whipped cream on top. But who am I to complain? He's eating oatmeal!
The toddler? He will gobble up anything and walks from chair to chair begging for bites 🙂 My kind of kid… an oatmeal buffet!
Now it's time to get your oatmeal topping creativity flowing! Here's a list of 20+ oatmeal topping ideas. Chime in with your own and let's rock the oatmeal breakfast together this fall!
Nuts: Chopped pecans, slivered almonds, hazelnuts (which pair perfectly with peaches!),
Nut Butters: Peanut, almond, sunflower, etc.
Nutella
Shredded coconut
Fresh Berries – blueberries, strawberries, blackberries, raspberries
Jam
Seeds: Chia, pumpkin, pomegranate, flax
Brown sugar
Mini chocolate chips or butterscotch chips
Dried Fruit: Cranberries, apricots, cherries, raisins, mangoes
Fresh Fruit: Diced apples, peaches, pears, sliced bananas, nectarines
Spices: Cinnamon or pumpkin pie blend
Sauces: Hot fudge (to celebrate making it to Fridays!), caramel, hot buttered rum
Lemon curd
Orange zest
Maple syrup, and, our other favorite, boysenberry syrup
Honey
Healthy Add-Ins: Wheat germ and protein powder
Marshmallows
Whipped cream
What are your favorite oatmeal toppings?