Air Fryer Toasted Ravioli Recipe
Our Air Fryer is at it again! After the Air Fryer Donuts and the Air Fryer Crunchwrap Supreme, it's back! If you have ever been to St. Louis, Missouri, you probably know what toasted ravioli is. I grew up in St. Louis and it's basically a staple in my hometown. Italian restaurants, pizza places, the grocery store freezer section, you can find it EVERYWHERE.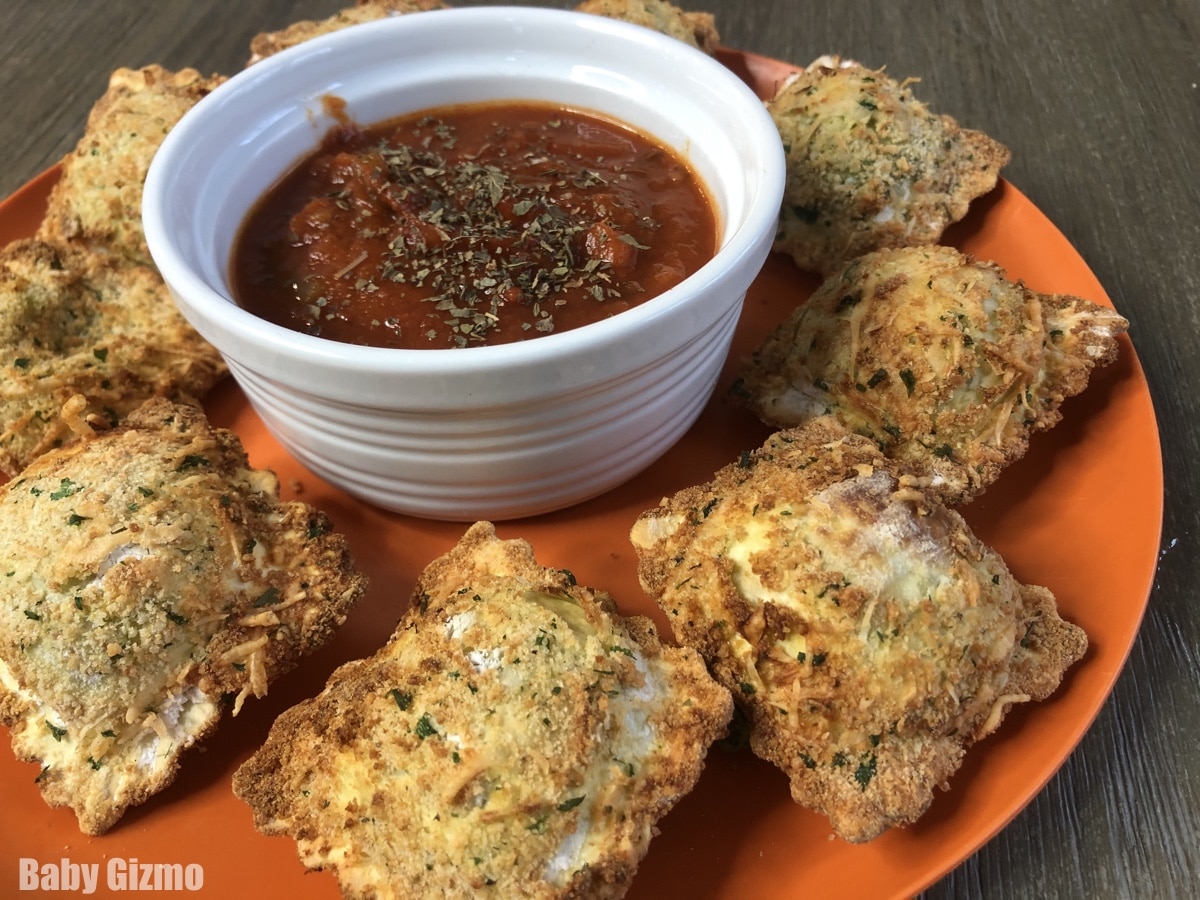 The only caveat is that as soon as you leave St. Louis, it's as if this delicious appetizer never existed. You can't find toasted ravioli anywhere. When you ask grocery stores in other parts of the country, they act like you have two heads.
To save you the conversation at the grocery store, here is how it will go:
"Toasted Ravioli? What's that? Is that some type of pasta for the toaster?"
"No, it's basically like breaded and fried ravioli that you dip in marinara sauce. But you don't have to fry it. You can bake it too."
"Umm…no. But we have ravioli in the freezer section and some in the can section by Chef Boyardee."
"Thanks but that's not it. Thanks anyway."
What is Toasted Ravioli?
Toasted Ravioli is traditionally ravioli that is breaded and fried and dusted with parmesan cheese. It is usually accompanied by a marinara sauce for dipping and can be an appetizer or we like to make it a full entree. The ravioli can be meat or cheese ravioli, or we've even see buffalo chicken toasted ravioli, it doesn't really matter. It's what you prefer.
History of Toasted Ravioli
Toasted Ravioli is popular in St. Louis for good reason – it was started there!
Toasted Ravioli was created and popularized in St. Louis, Missouri at two restaurants, Mama Campisi's and Charlie Gitto's. Both are located in an Italian-American neighborhood, "The Hill".

Most accounts of toasted ravioli trace its origins to a predominantly Italian-American neighborhood of St. Louis, The Hill. Supposedly, a ravioli was accidentally dropped into the fryer at Mama Campisi's by Chef Fritz. "Mickey Garagiola, older brother of Major League Baseball Hall-of-Famer Joe Garagiola, was actually at the bar during the mishap and was the first to taste the accidental treat." Shortly thereafter, the item began appearing on menus across The Hill.

Source
Kids love Toasted Ravioli
One year when we were visiting family in St. Louis, my kids were introduced to toasted ravioli. They absolutely loved it and wanted more. As soon as we headed home, they were sad to leave the toasted ravioli behind. Ever since that first time, they have always wanted toasted ravioli at home. My son even jokes about loading up the frozen toasted ravioli in coolers and transporting it home because he loves it so much.
Since they don't sell toasted ravioli in any of the grocery stores we've been to in North Carolina, I had to get creative. Why not make my own?
Now, I don't have a deep fryer (that's how they cook it at the restaurants in St. Louis!) and wouldn't deep fry anything at home anyway so I had to come up with a different solution.
The air fryer to the rescue!
I knew the air fryer could tackle this job and make the toasted raviolis we wanted. I wasn't wrong. The air fryer really stepped up again.
What are the Benefits of an Air Fryer?
No oil is required so it is a lower fat, healthier type of cooking compared to deep frying.
Easy Clean Up.
Super quick. Many things cook in less than half the time as your conventional oven.
It produces a similar crunchy texture to foods that deep frying would result in but with way less fat and calories.
What You Need to Make Toasted Ravioli
1 package refrigerated ravioli
1 cup Italian Bread Crumbs
1/4 cup parmesan cheese
2 eggs, beaten
1/2 cup all-purpose flour
basil (for sprinkling)
DIRECTIONS
Preheat Air Fryer to 350 degrees. Combine bread crumbs and parmesan cheese.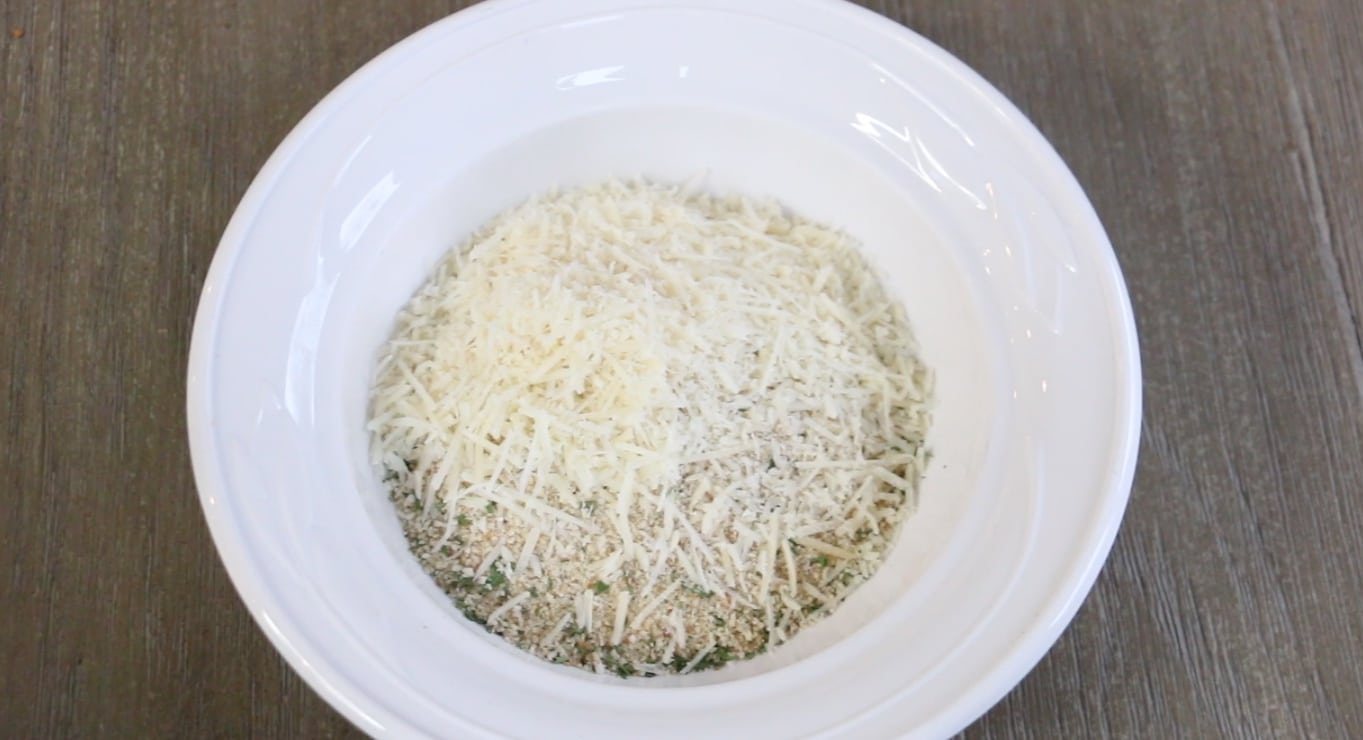 Dip ravioli in flour and coat both sides. Lightly shake off excess.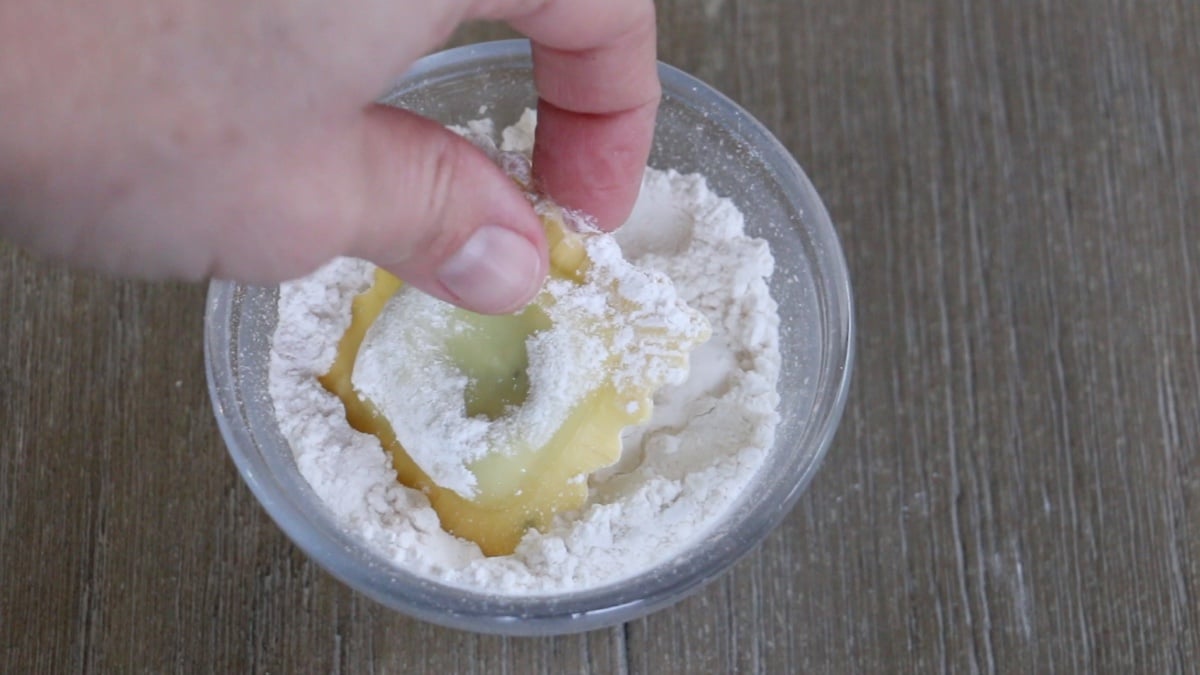 Dip ravioli in beaten eggs.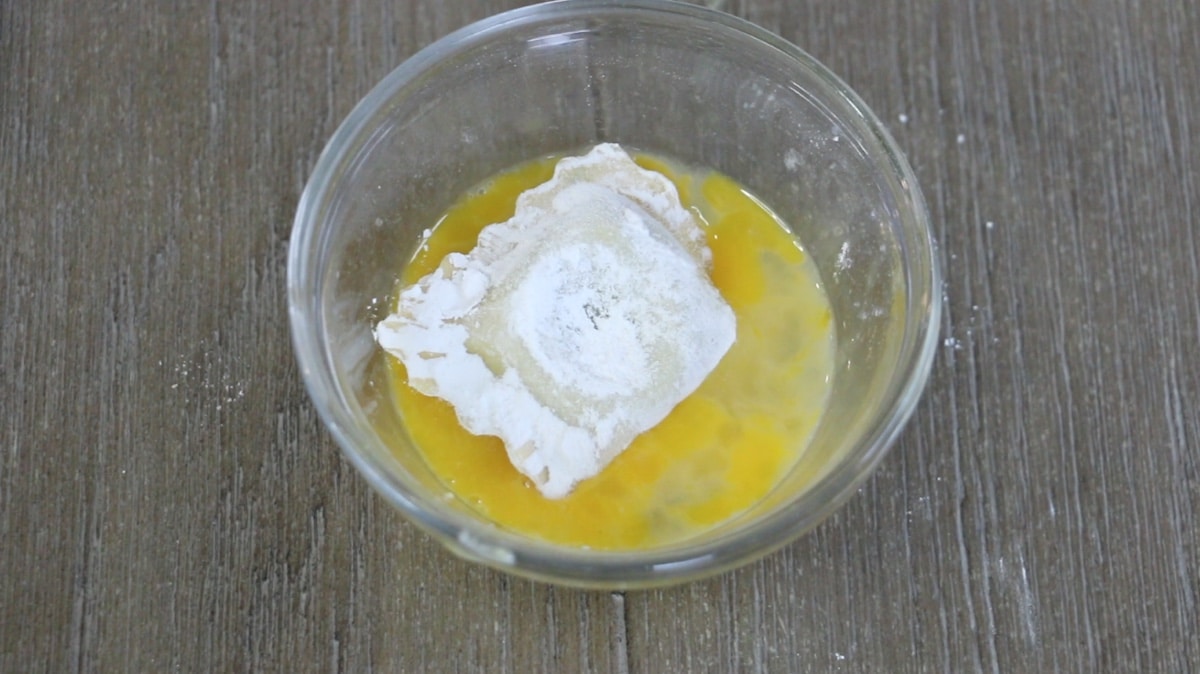 Then dip ravioli in bread crumb cheese mixture.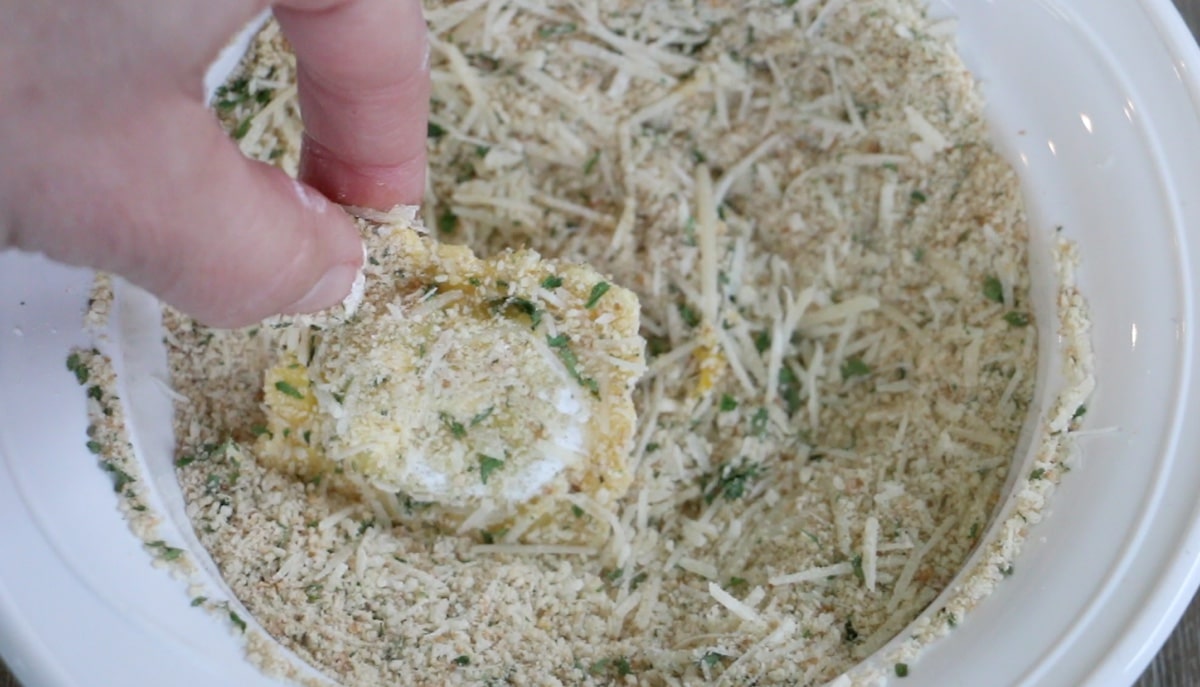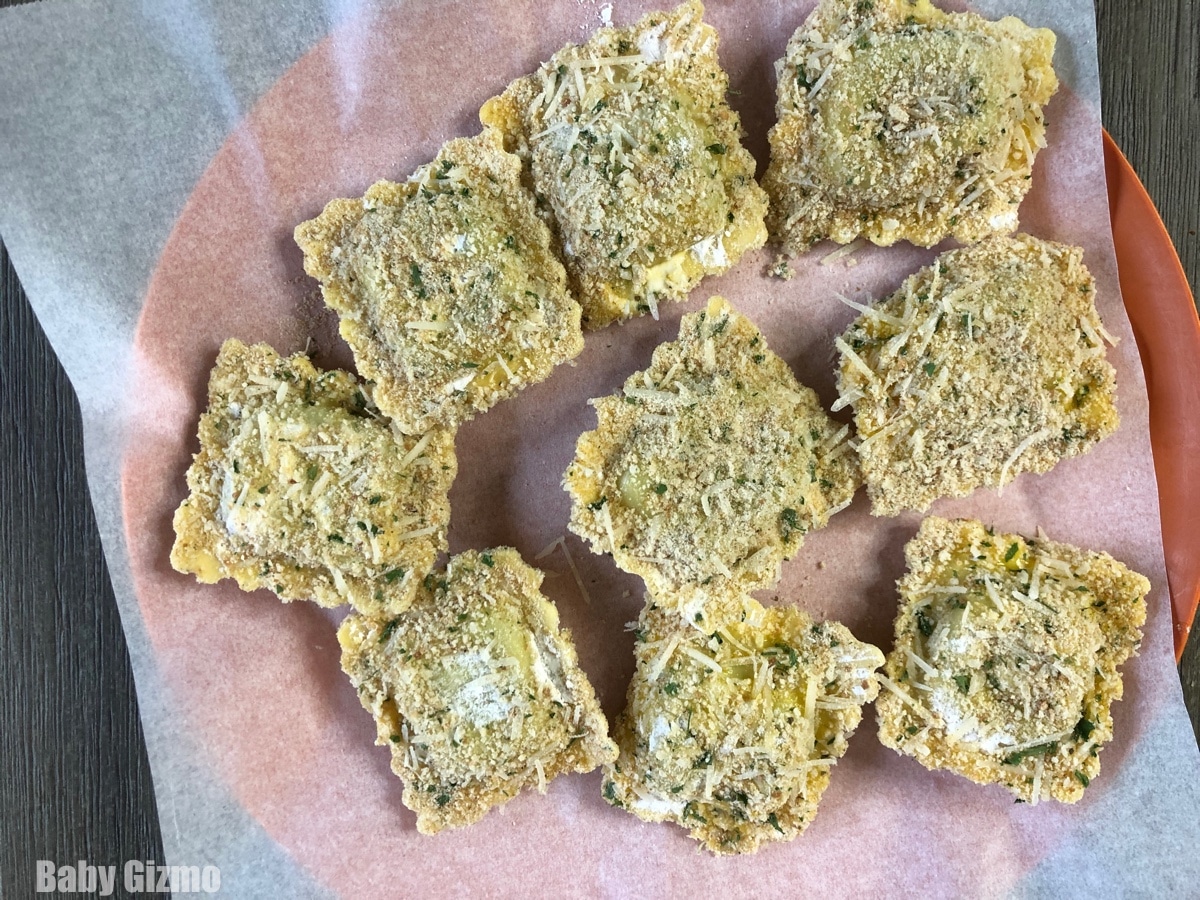 Place breaded ravioli in air fryer basket in a single layer and lightly spray with olive oil cooking spray. Air bake for 4-5 minutes and golden brown.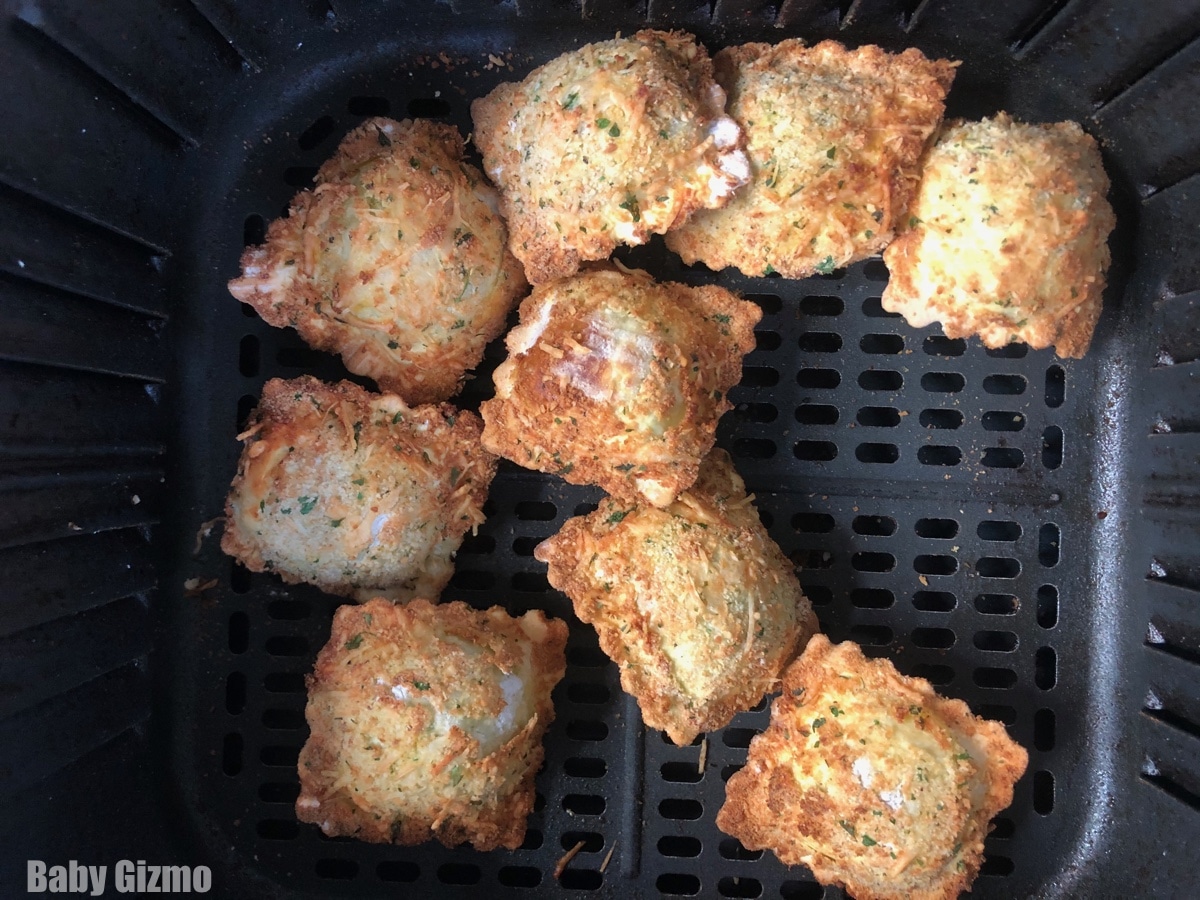 Serve warm immediately with marinara sauce.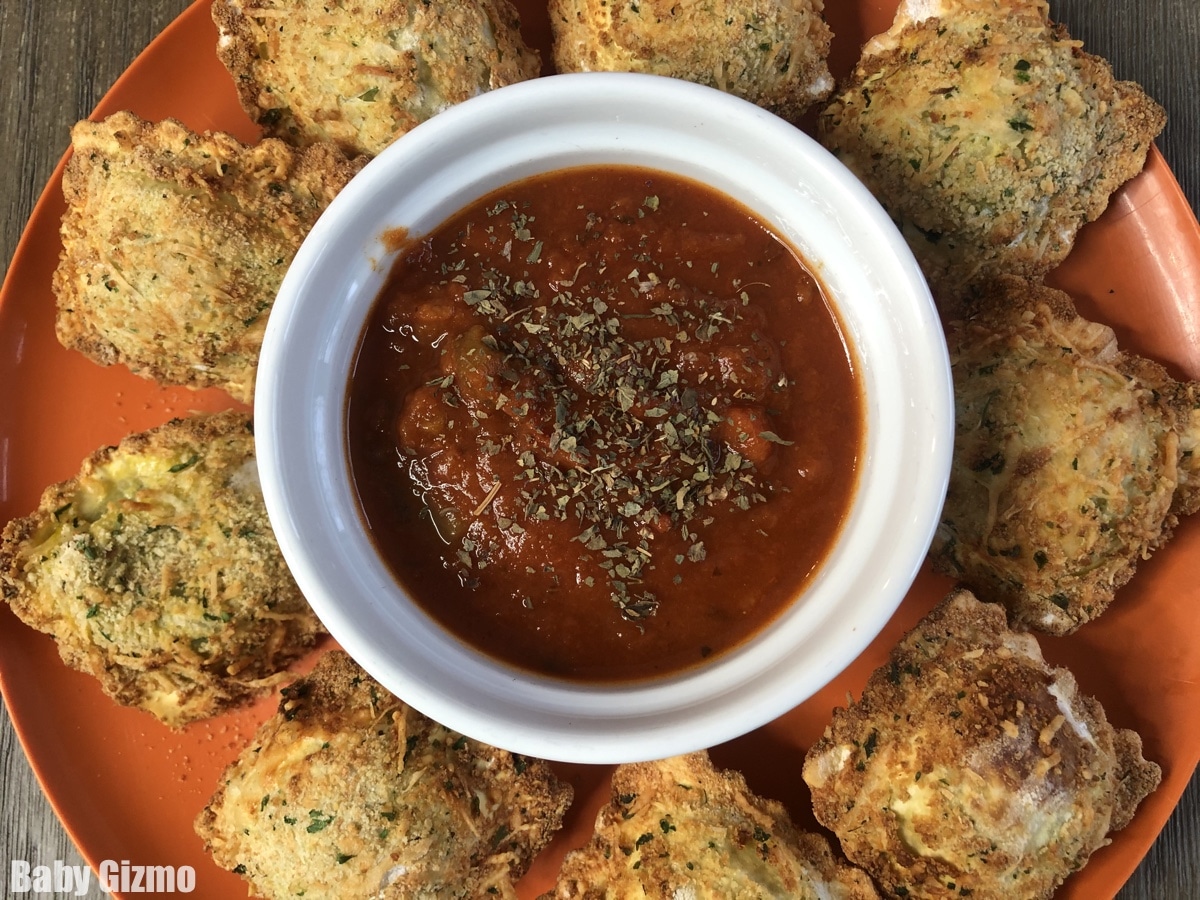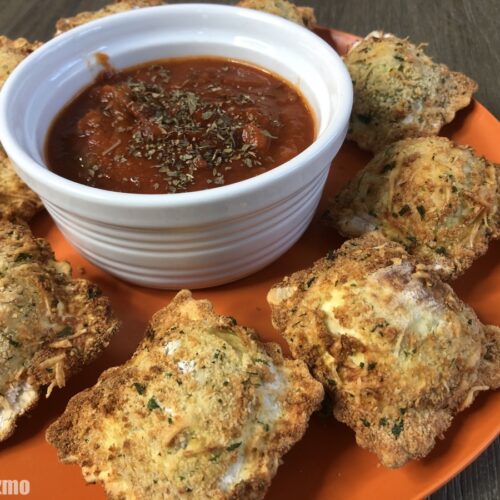 Air Fryer Toasted Ravioli
A delicious version of the St. Louis famous Toasted Ravioli made in the air fryer.
Ingredients
1

package

refrigerated ravioli

1

cup

Italian bread crumbs

1/4

cup

parmesan cheese

1/2

cup

all-purpose flour

basil

for sprinkling

2

eggs

beaten
Instructions
Preheat air fryer to 350 degrees.

Combine bread crumbs and parmesan cheese in a bowl.

Dip ravioli in flour to coat both sides. Lightly shake off excess.

Dip ravioli in beaten eggs.

Dip ravioli in bread crumb and cheese mixture.

Place breaded ravioli in pre-heated air fryer. Lightly spray with olive oil cooking spray. Air fry for 5 minutes and golden brown.

Serve warm immediately with marinara sauce for dipping.
Nutrition
Calories:
309
kcal
Carbohydrates:
41
g
Protein:
14
g
Fat:
9
g
Saturated Fat:
3
g
Trans Fat:
1
g
Cholesterol:
83
mg
Sodium:
647
mg
Potassium:
81
mg
Fiber:
3
g
Sugar:
2
g
Vitamin A:
150
IU
Vitamin C:
1
mg
Calcium:
105
mg
Iron:
7
mg