I have the perfect recipe for your 4th of July BBQ: Armadillo Eggs! Armadillo eggs? "Sounds like something from Bizzare Foods with Andrew Zimmerman," I hear you cry. Don't worry, I'm not giving you a recipe for an actual egg from an armadillo. This delicious southern dish is cream cheese stuffed jalapeños wrapped in ground beef or sausage meat. It's like a meatball stuffed with a jalapeño popper. You get the crunch of the jalapeño with the gooeey melted cheese oozing out.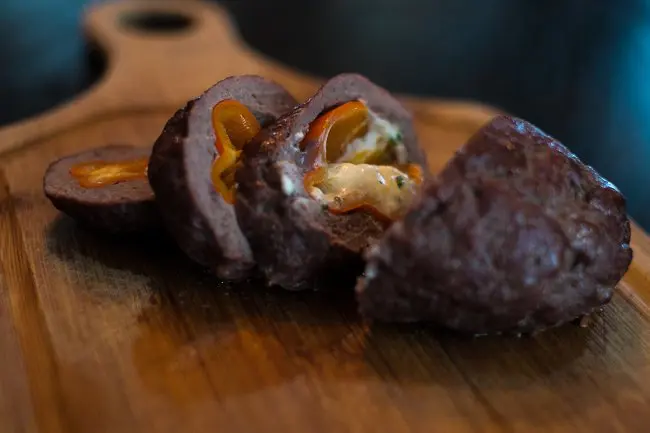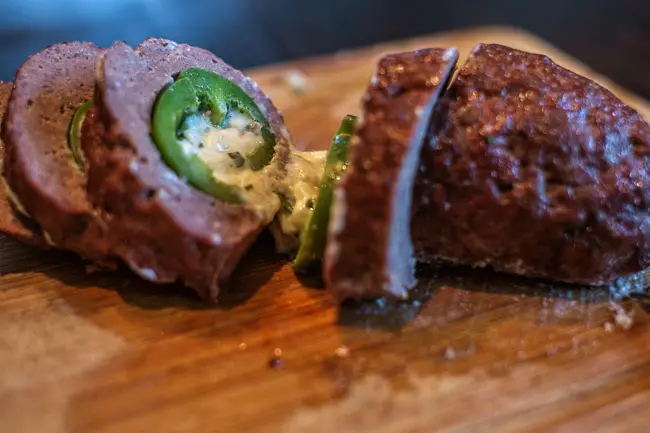 If you follow the paleo diet or have a wheat intolerance, and miss jalapeño poppers, this recipe will be your best friend! If you can't handle the heat of a jalapeño or if you want to make this more of a family friendly dish that your children can have as well, you can use a sweet mini pepper as a substitute for the spicy jalapeño. My kids loved it and I'm sure you and your family will too!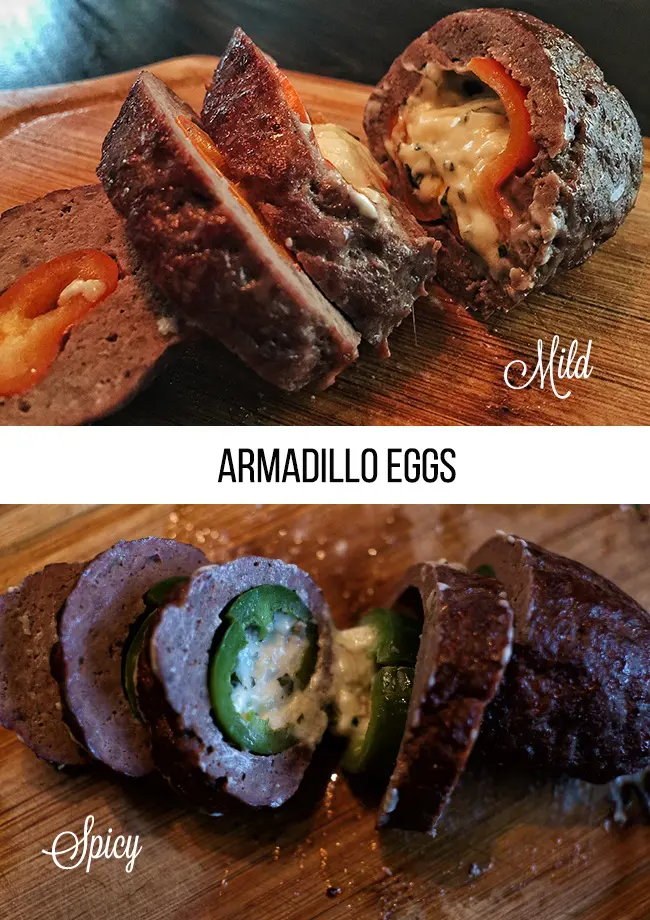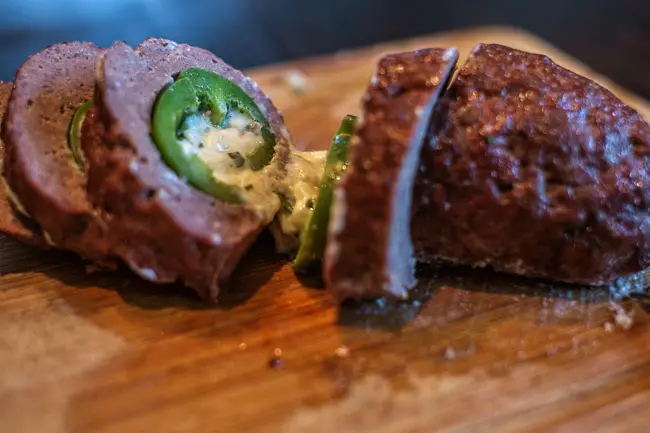 Armadillo Eggs
Cheese stuffed jalapeños wrapped in ground beef.
Ingredients
For the Filling:
4

Tbsp

cream cheese

2

Tbsp

cheddar cheese

1

Tbsp

chopped parsley

1

tsp

onion powder

1

tsp

garlic powder

salt

pepper
For the beef:
1

lb

of ground beef

1

Tbsp

garlic powder

1

Tbsp

onion powder

1

tsp

cumin powder

1

tsp

smoked paprika

2

Tbsp

Worcestershire sauce

1

egg

optional for binding

salt

pepper

4-5

jalapenos or sweet mini peppers
Instructions
Mix the cream cheese, parmesan cheese, parsley, onion powder, garlic powder, salt and pepper together in a bowl.

Cut off the top end of the jalapeno or mini sweet pepper. Remove the seeds so the core of the jalapeno is hollow. Fill the pepper with the cream cheese mixture.

(Tip: Here's an easy and mess free way to fill the jalapeno – Put the cream cheese filling in a ziplock bag and squeeze the mixture to one corner of the bag. Twist the top bag so the filling doesn't spill out the top. Cut a small piece off the corner of the bag. You now have a piping bag!)

Mix the garlic powder, onion powder, cumin, smoked paprika, Worcestershire sauce, egg, salt and pepper into the ground beef. Take about a quarter pound of beef and make it into a thin flat disc, like a thin burger. Put the stuffed jalapeno on top and wrap the beef around the jalapeno until the jalapeno is completely covered. Repeat for the remaining jalapenos.

Bake at 350 for about 30 minutes or grill on indirect heat at 325 for about 30-45 minutes. Transfer to a cutting board and slice into disks. Enjoy!
Nutrition
Calories:
417
kcal
Carbohydrates:
8
g
Protein:
25
g
Fat:
32
g
Saturated Fat:
13
g
Trans Fat:
1
g
Cholesterol:
145
mg
Sodium:
275
mg
Potassium:
545
mg
Fiber:
1
g
Sugar:
2
g
Vitamin A:
833
IU
Vitamin C:
20
mg
Calcium:
130
mg
Iron:
4
mg
Wishing you and your families a wonderful 4th of July!
Rubina Umarji is the owner and executive cake artist of Rubina's Cake Shoppe . After the birth of her son in 2009, she left her career in engineering to focus on her two passions: her family and her edible art. Since then, she's had the opportunity to showcase cakes and gourmet confections to thousands of dessert loving clients as well as over 100 of Hollywood's hottest stars and has had her cakes featured on television. Now her days are focused on teaching cake decorating classes to all ages. Her favorite students are her two children, ages 3 and 5. She frequently writes cake decorating tutorials and recipes on the Rubina's Cake Shoppe Blog (www.rubinascakeshoppe.com/blog).