My daughter and I are flying to Disneyland for a girl's only adventure this fall and I'm absolutely giddy with anticipation. At just 2 weeks shy of her 5th birthday, this will be her first visit and I just know it will be absolutely magical!
We're going as budget as possible and with that, I've been researching how to keep our souvenir line item in check. As much as I want to drop $60+ on Elsa or Anna gowns at the park, I'm due with baby #3 in the winter and the midwife bill has to be paid somehow!
So, these are the 5 items I will be purchasing BEFORE we leave for Disneyland. They'll come along with us and help make our time at the park extra special without adding extra cost to our getaway!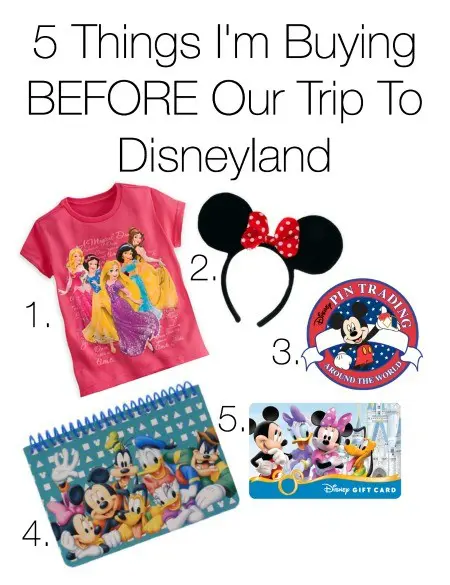 ONE – You can't go to Disneyland without a fun character tee! I scored our at the Disney Store at our local mall over the weekend for just $7 each! There are sales online too! Target and other shops also carry Disney inspired clothing so be sure to plan your outfits ahead of time so you don't end up with a $50 or $60 Disneyland sweatshirt.
TWO – Ears! I can't think of anything better than a mother daughter Minnie Mouse ear photo so you can bet I ordered us a set on Amazon.
THREE – Have you heard all the rage about trading pins? I'm honestly quite excited to do this myself, but instead of buying a lanyard and pins from the park at $7-15 a piece I ordered a pack from eBay. They just arrived and some will definitely go into our "keep" pile and others are ready for trading!
FOUR – I'm not sure if my girl will be brave enough to ask characters for their autographs, but in the case that she is, I'll have a simple autograph book ready to go. There are many choices on Amazon and Etsy.
FIVE – A Disneyland gift card with a set amount will allow my daughter to choose something special from our visit. Beforehand we'll discuss how much she has and what that might allow for. It may be a few small things or one large thing … the choice will be up to her!
On top of saving a percentage on each of these items by pre-buying from places other than Disneyland, I'm also able to space out our vacation expenses in the months before we actually go. Sounds like a win, right?
Have you pre-bought items before a Disneyland trip? Tell me what I might be missing that you buy before your trip!
MORE DISNEY ARTICLES
Disney World Animal Kingdom Africa Wild Trek
How to Survive Disney With Kids