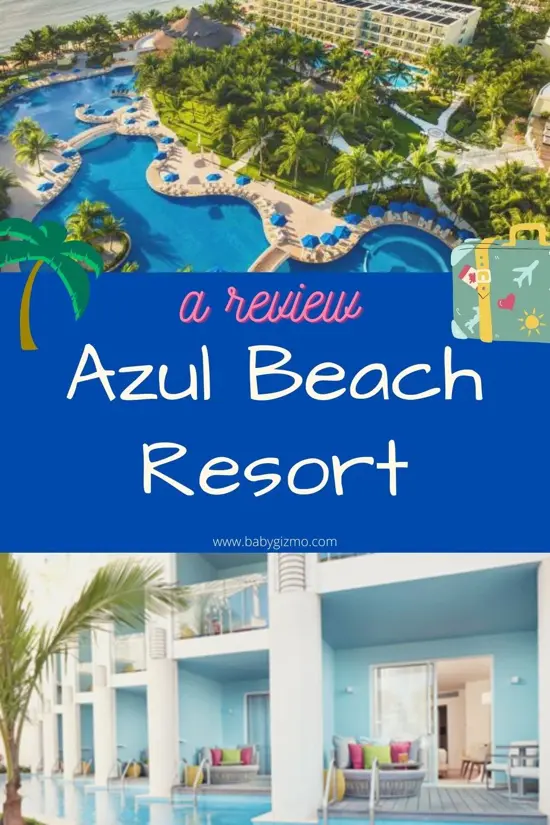 Hi everyone! I'm Sonya Lee! I'm Hollie's good friend from Fisher-Price (see our photo below!) and we just spent 3 glorious days last week at the Azul Beach Resort by Karisma in Riviera Maya, Mexico. Now before Hollie does her in-depth review and her faaaancy video on the resort, I wanted to beat her to the punch and do a quick "Resort in Review from a Kid's Point of View" before she does hers. If you aren't first, you're last, right? Ha! I'm so first on this one, Hollie!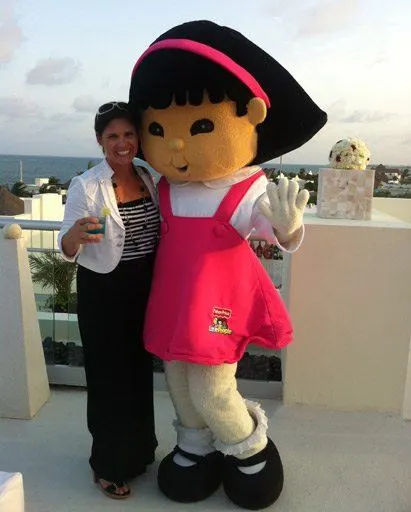 I wanted to show you all my favorite things at the Azul Resort that makes it fantastic for kids like me! First, I want to mention that this is a gourmet-inclusive resort! That means that everything is included. The food, the drinks and the activities! The "gourmet" means that the food is seriously delicious!
Second, I wanted to tell you that since Fisher-Price began their partnership with Karisma Hotels, it is THE place to take kids. Who doesn't like Fisher-Price, right?!? They keep kids in mind from the beginning of the vacation until the end.
When you arrive there is a special place just for us kids to "check-in" to the hotel too! Plus, while the parents are sipping their champagne drink, we are given a chocolate smoothie to enjoy. Yum!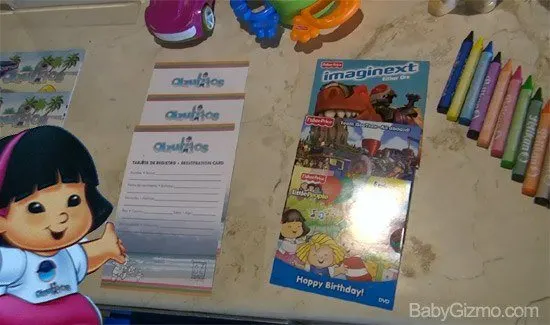 During our check-in process, we are presented with the Toy Lending sheet. It lists all the toys (from Fisher-Price, of course!) that are available to check out and take to your room to play with. Tons of toys to choose from. Here are just a few: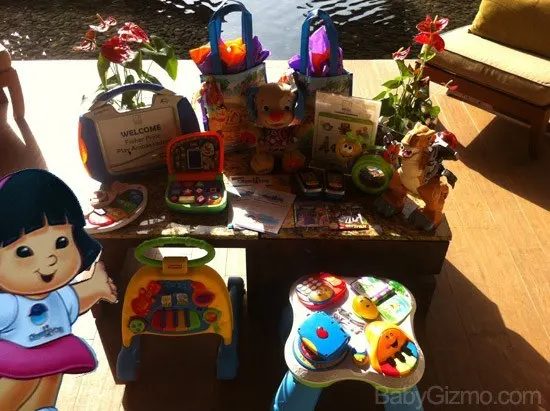 Next you'll head to your room! Let me just say that the Family Suites are awesome. Room to sleep 5 (that couch pulls out!) and you have plenty of space so you aren't on top of your parents.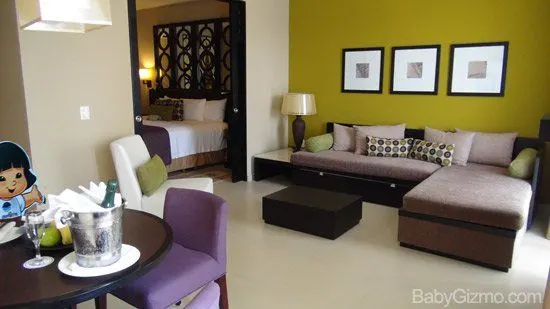 The bathroom is pretty sweet too! A huge bathtub that you can fill with tons of bubbles!

If you can talk your parents into it, I highly recommend getting one of the swim-up hotel rooms. Yep, you can literally swim right up to your room's balcony from the pool. Coolest. Thing. Ever.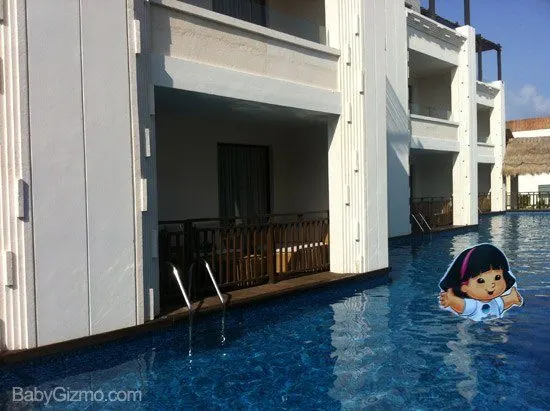 When it's time to eat, the Azul Beach Resort really takes us kids into consideration. There are plenty of booster chairs for the little guests like my brother. Or if your family has one of the tiniest guests, they have super duper high chairs to use too!
Speaking of the littlest crowd, Azul has Gerber baby food at the restaurants so that mom and dad doesn't have to bring their own. How cool is that?!?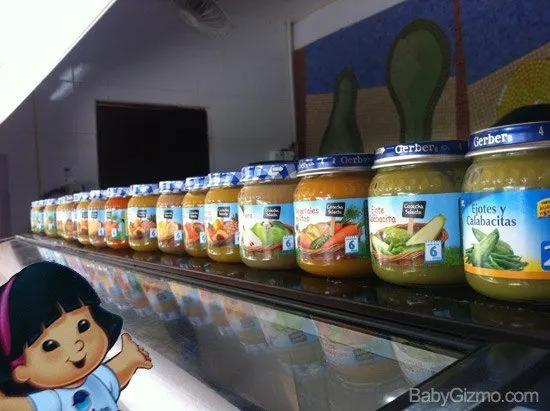 For the bigger kids (all of us who don't eat baby food!), there is a special table with treats and pint-sized items just for us!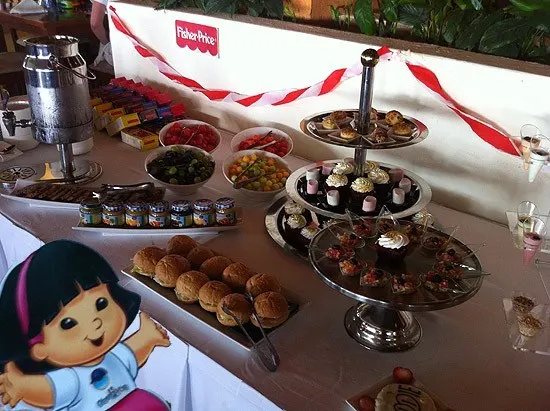 You know how we can't sit still at restaurants, right? We seem to get ants in our pants as soon as our butt hits our dining chair? Oh wait, is that just me? Either way, Azul has us covered. They have a toy table at the restaurant for us to pick some toys to keep us quiet…errr…busy while mom and dad eat their meal. And better yet, the Azulitos Club staff are in the main restaurant to take us to the kids' table with toys to keep us busy while mom and dad eat in peace. I'm not going to lie – mom LOVES this!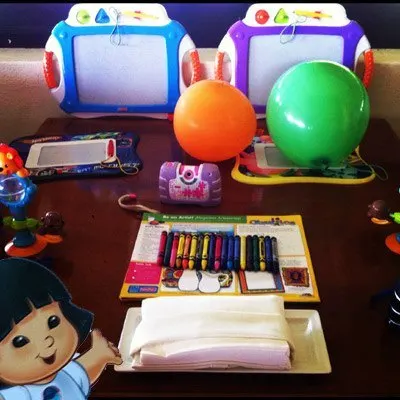 There is a special place for kids to go at the resort where we can have fun and just be kids. It's a HUGE room full of toys, bean bags, a TV, a bathroom our size and did I mention TOYS! It's called Azulitos Club and mom and dad can drop us off there to play while they go do something boring…ummm…I mean something adult like just laying in a beach chair. This is just part of it but believe me it is the coolest place for kids to be! Look at the wall of toys! Azul Resort, have you been reading my diary?!?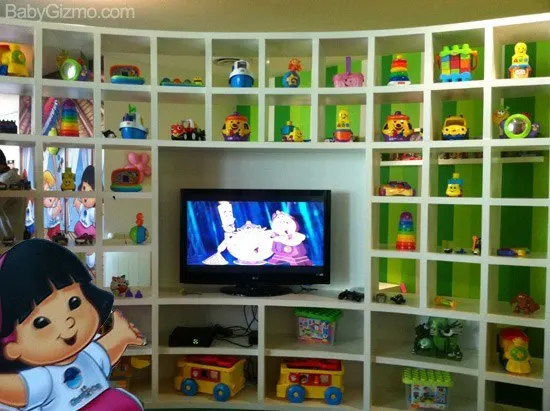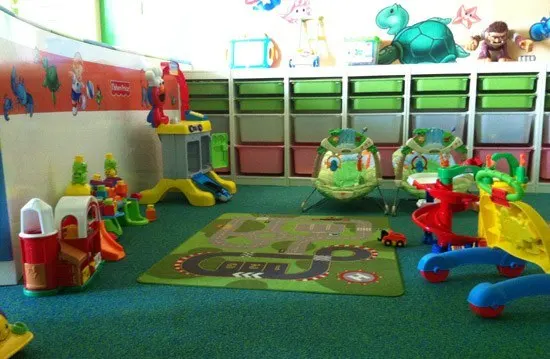 If you have little ones in your family and your parents need an all-terrain stroller to hit the beach or maybe walk the resort, they have that too! Yep, they have all-terrain strollers that you can use and they have organized stroller work-out classes on property.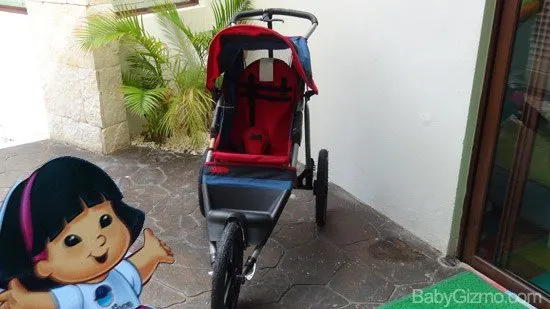 Besides the Azulitos Club, my favorite place to be at the resort is on the beach. Yes, the resort is ON THE BEACH! I love that! And you know when your mom won't let you pack all your sand toys in your luggage and you end up trying to build a sand castle with an old, dirty Solo cup that you found at other resorts? Yeah, Azul Beach Resort thought about that too! They have two big baskets of sand toys right there on the beach for us to play with. They have seriously thought of everything here!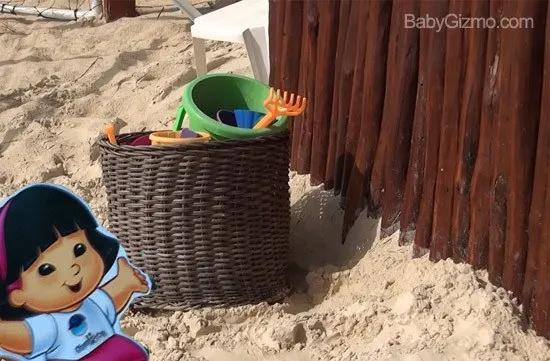 There is also a huge playset right on the beach that we can play on while our parents are laying right next to it on a beach chair. It's a win-win for everyone.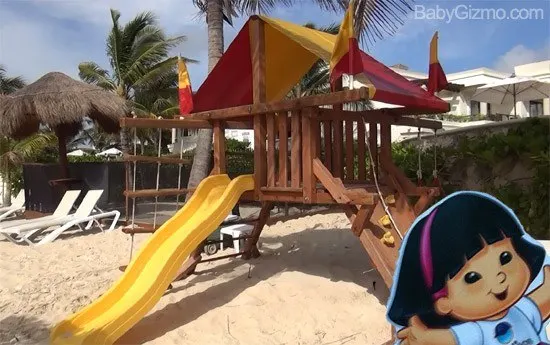 Don't worry, I'm not all about the toys and playing! Okay, most of the time I am, but I do like the view from the beach. Isn't that amazing!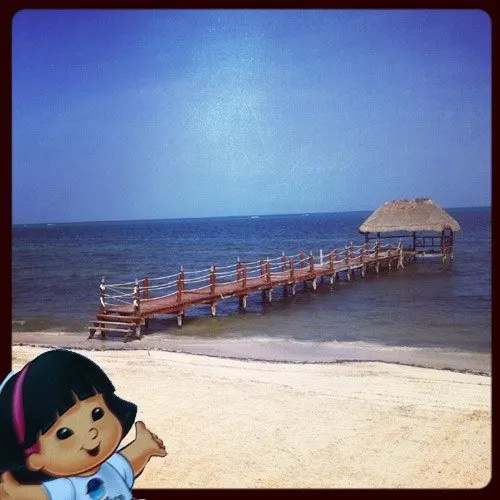 Another thing I love that isn't toy related is the huge beach beds on the beach! These things are awesome and our whole family can fit on them.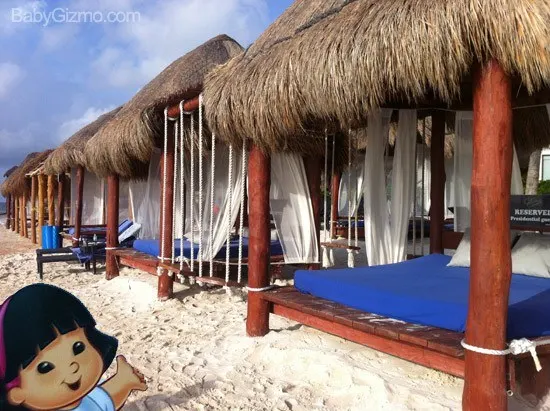 There is so much more for kids to do from the swim-up rooms to the huge chess board to the fun entertainment that I can't show you. I don't want to spoil all Hollie's fun! You know she was there to cover it for you and I can't take all the fun away. 🙂 I'll just leave you with a photo of my brother, Hollie and I (my brother won't stop bothering me about being in this post too! Ugh, brothers!) and tell you that this place is totally awesome and you should beg your parents to go!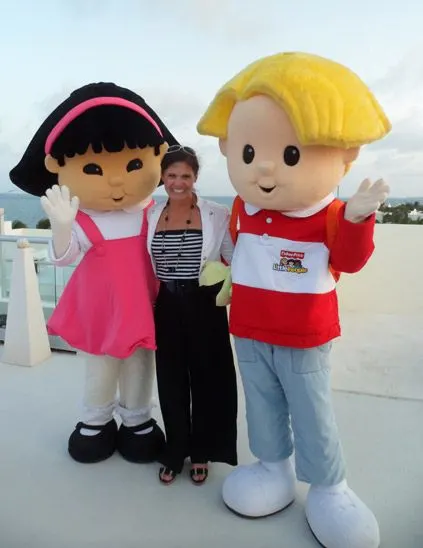 If your parents want more information on the Azul Beach Resort by Karisma, just tell them to visit the Azul Beach Resort Website.
Here is Hollie's Video Review of the Azul Beach Resort:
xoxo,
Sonya Lee
*Disclosure: I am an official Fisher-Price Play Ambassador. As always, all my statements, opinions and comments are my own.