The Mima Xari is a brand-new (to the US!), luxury, modern stroller, that provides a smooth, gentle ride for your child and grows with your baby. Mima's patented "carrycot inside" system means that Xari can be used either as a pram or a toddler stroller. The innovative system means that, when not in use, the carrycot is stored inside the seat unit itself.
The reversible seat means that baby can face the parent as well as face forwards and discover the world. With a compact and easy fold, innovative EVA material that is easy to clean, and an included rain cover and two covered baskets, this is a head-turning stroller.
SEAT
This head-turning seat is made of an innovative EVA material that is not only easy to clean, but is durable and creates a sort of protective barrier around your child. The seat is 13 1/2″ wide with a 20″ seat back and a short 21″ from seat back to top of canopy. A comfy seat pad complete with a 5-point harness is included in the "Starter Pack" that you need to buy to actually use the Xari stroller (watch our video review for more a complete explanation).
The seat is reversible, sports 3 recline positions with a one-handed lever and also has a removable, swing-away baby bumper bar.
One of the best and most unique features of the Xari is that the bassinet is stored inside the seat. That's right – you unzip the seat and a full size bassinet is in there. No need to store the bassinet separately!
HANDLE
The Xari handle is adjustable up and down from 33″ to 43″ from ground to handle. We love that the handle is covered in leather and not foam!
CANOPY
The canopy on this stroller is probably different than any other canopy you have encountered with its three panels that fold into themselves. It's a decent size, but we can guarantee that some parents will like it and some won't. Oh yeah, like its luxury stroller counterparts, it is also missing a peek-a-boo window.
WHEELS
When you spend this much on a stroller, the last thing you want to do is deal with a flat tire. That is why the Xari rolls on no-flat wheels! These aren't any old cheapo wheels as they are highly resistant removable wheels, with sport shoe technology so that they never deflate.
I have to say that the maneuverability on this stroller is fantastic. It's definitely a one-handed push and the front swivel wheels can turn on a dime. This is a luxury, lifestyle stroller so it is best on smooth surfaces but we have to say that it even glides along snow well. Not 2 feet of snow but the kind of snow on a mostly shoveled sidewalk.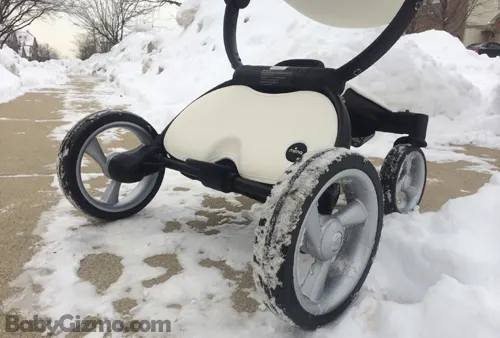 FOLD/UNFOLD
The Xari can be folded with the seat attached (win for a luxury stroller!!) but if you remove the seat, the chassis is very lightweight and even sports a carry handle. Just make sure you watch our video review on how to fold it though so that you don't mess up your handle bar.
ACCESSORIES
Luxury strollers sometimes are just begging to be dressed up. The Xari has a "Winter Outfit" accessory that is sure to turn heads on the street. It includes a warm fur trimmed hand muff, canopy cover, wind protector, fur trim for the front of the canopy and a super cozy foot muff. If you thought the Xari was fancy before- just wait until you see it dressed up for the winter cold. Amazing! There is also a great cup holder (sold separately) that we highly recommend you add to the stroller as well.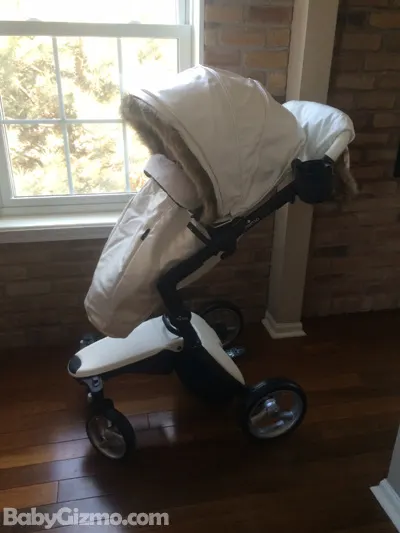 WRAP-UP
Since our video review on the Xari is quite long (we didn't want to miss anything!), we kept this written review a little shorter. We highly recommend you watch the video so that you can see this luxury stroller up close and personal.