The holidays are such a magical time to be preparing for a baby. Thinking of baby names, folding little winter clothes, and enjoying all the Christmas cookies with little guilt!
Three years ago, I experienced it all. With a December 28th due date, I ate my fill at Thanksgiving, enjoyed all the pre-Christmas festivities, and then settled in, wondering if I'd have a Christmas baby or if he would hold on until sometime in the New Year.
If you have a little one on the way and are still waiting to stumble upon the perfect name, perhaps some of these subtly, holiday-inspired names will strike a chord!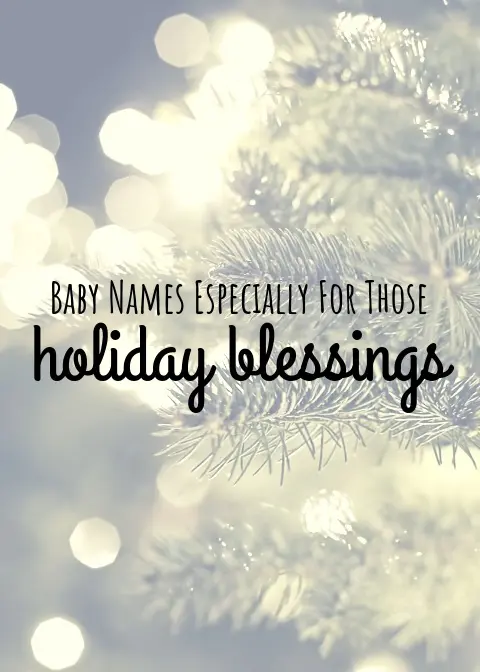 Alegria – European Portuguese for "joy"
Amaryllis – A Christmas flower, nickname Amara, Mary, or Lissie
Benedict – Latin for "blessed"
Bianca – Are you dreaming of a white Christmas? Bianca means "white".
Carywyn – Means "a blessed one who is thankful"
Celeste – Means "heavenly"
Demetria – The goddess of harvest
Douglas – After the tree
Eve – For none other than Christmas Eve
Friede – German for "peace"
Gwenyth – Means "to be blessed or thankful"
Hollyn – A fun spin on Holly
Jasper – Means "bringer of treasure"
Juniper – Means "of the winter tree"
Luca/Lucia – Means "bright light"
Lux – Another "light" meaning
Maize – In reference to Thanksgiving
Nima – Means "a blessing"
Noble – Another tree reference that doubles as a virtue nod
Noel/Noelle/Noella – Means "the Christmas festival"
Paz – Spanish for "peace"
Sena – Means "to be blessed"
Shay – Means "a gift"
Starria – Like a star
Whittaker – Means "white field", and I love the nickname "Whit"
Winter – Because, 'tis the season!
Do you have any favorite baby names that tie into Thanksgiving, Christmas, or New Year? Share with us!