When it comes to baby names, I've always been a dreamer. During my elementary school days, I fell in love with the name Chrysanthemum. I just knew that someday I'd gift a daughter that amazingly long and beautiful name inspired by nature.
Alas, I do not have a little Chrysanthemum, but ever since I've been fond of baby names with ties to the physical world. If you're on the lookout for a fresh name for your baby, use this list as a launching point to find your little one's perfect first or middle name.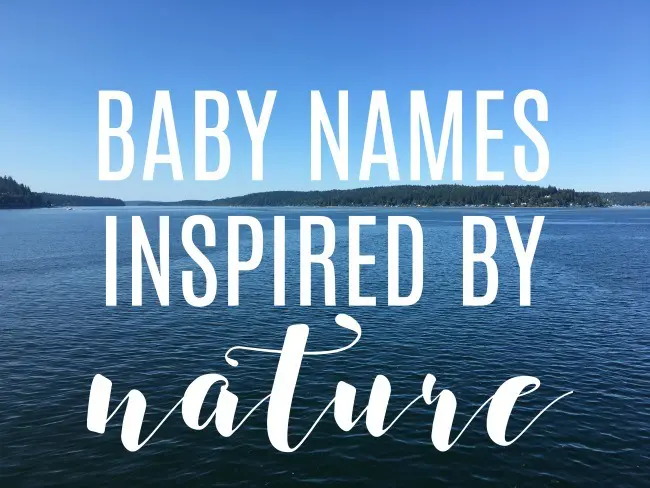 1. Think Topography
Grab a map and start studying! So much will inspire you with unique baby names. A few I stumbled across were …
Lake (or Laken, or Laker)
Ridge (or Cliff)
Stone
Alder, Birch, Aspen, Cedar, Maple, Sequoia (any and all tree names are perfect)
Clay
West (and yes, North, East, and South are options too)
Heath (meaning "a moor")
Meadow
Savannah
Terra/Terran (meaning "earth")
2. Think Water
Maybe because I've always lived near the sea, but water inspired names make me swoon. And there are so many options that work for both boys and girls! Consider adding these to your baby name list …
River
Ocean
Seamus
Gale
Bay
Misty
Marina
Reed
Harbor (one of my favorite unisex names)
Cascade
3. Think Flowers
Let the garden be your guide! Floral names are timeless and absolutely gorgeous. I could probably lost 100 here, but I'll leave you with these darling 10 …
Fern
Rose (or Rose type names like Rosalie, Rosemary, Rosamund, Rosalind)
Ivy
Azalea
Acacia
Camellia
Violet
Poppy
Magnolia (love the nicknames Maggie and Nola with this one)
Daisy
4. Think Weather
Don't worry about being too hippie. Your baby can rock any weather name you love! In fact, let the sky (and beyond!) be your limit. I'm particularly fond of these few …
Rain (or Rainy)
Breeze (or Breezy)
Nova
Sky
Celeste
Luna
Stella/Stellan (meaning "star")
Aria (meaning "air)
5. Think Locations
What's the most picturesque place you've ever visited? Did you get engaged at a park? Have a first kiss on top of a particular city peak? Scroll through your family moments and you just might come across a beautiful location that deserves new life in your baby. Here's a few I love …
Isla (a Scottish island)
Adelaide (Australia)
Houston (Texas)
Rainier (a PNW mountain)
Indiana (the state)
Paris (the city of love)
Helena (Montana)
Zion (a hill in Jerusalem)
McKenna (a beach in Hawaii)
6. Think Animals
It doesn't necessarily have to be your favorite animal. It can be something that embodies characteristics you love or have a mythical connection. These are all great ones …
Bear
Hawk
Dove
Bird/Birdie
Phoenix
Fox
Pike
Wren
Was your favorite nature inspired name included here? If not, share what nature baby names you love most!