Baby showers are a great way to "shower" moms to be with presents and love. They are also a fun way to get together with friends and play games. Today I wanted to share ten fun game ideas for you to try at the next baby shower you're having or throwing.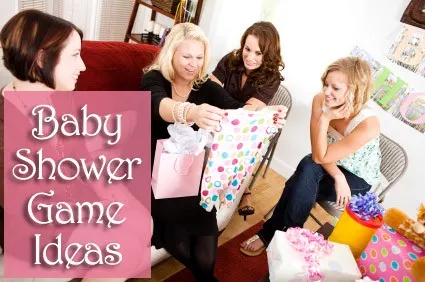 1. Guess how big mommy's belly is. Every guest is given a piece of string and asked to cut it to the length they think will wrap perfectly around that baby bump.
2. Poopy diaper game. Smash different candy bars in diapers. Pass the diapers around and have every guest try to guess what each candy bar is.
3. Most popular baby names. Gather a list of the top ten most popular baby boy and girl names and have guests try to guess them.
4. Nursery rhymes. Type out popular nursery rhymes on sheets of paper but leave part of the rhymes out for guests to fill in.
5. Celebrity babies. Gather pictures of celebrity kids and see who can name the most. Bonus if they can name the kid PLUS their celeb parents.
6. Guessing game. Fill a baby bottle with jelly beans or another kind of candy and have everyone guess how many pieces are inside. Winner gets to take home all the candy!
7. Baby fact game. Gather a list of baby facts such as- how much did the largest baby ever born weigh and what is the number of the most babies born to one mother in her lifetime? (Fun facts- the largest baby ever born weighed 23 pounds 12 ounces. The woman who gave birth to the most babies had 69 children!) Ask guests these questions and see who gets the most right answers.
8. Guess baby's future birth stats. Have everyone make a prediction on what baby's weight and height stats will be at birth. Keep the predictions and mail the winner a gift when baby comes!
9. Best baby names. Each guest thinks up their best baby name and the mom chooses the winner. Obviously she is not forced to name her child this but could possibly use it as a back up name 🙂
10. Drink your formula. Fill baby bottles with juice, soda, or milk and give one to each guest. Ready, set, go… See who can finish their bottle the fastest.
I hope you will be able to use a few of these ideas soon! Leave me a comment and tell me your favorite baby shower game!