If your kids are anything like mine, they live for snacks. I honestly think my kids like snacks more than full meals! That means I want snack time to pack a punch. A punch of protein that will sustain them through their schoolwork and beyond. Browse these delicious back-to-school snack ideas that are packed with protein and you will be sure to find a winner for Monday through Friday snack time.
I bet you'll even find some options for yourself … after all, moms need snacks too!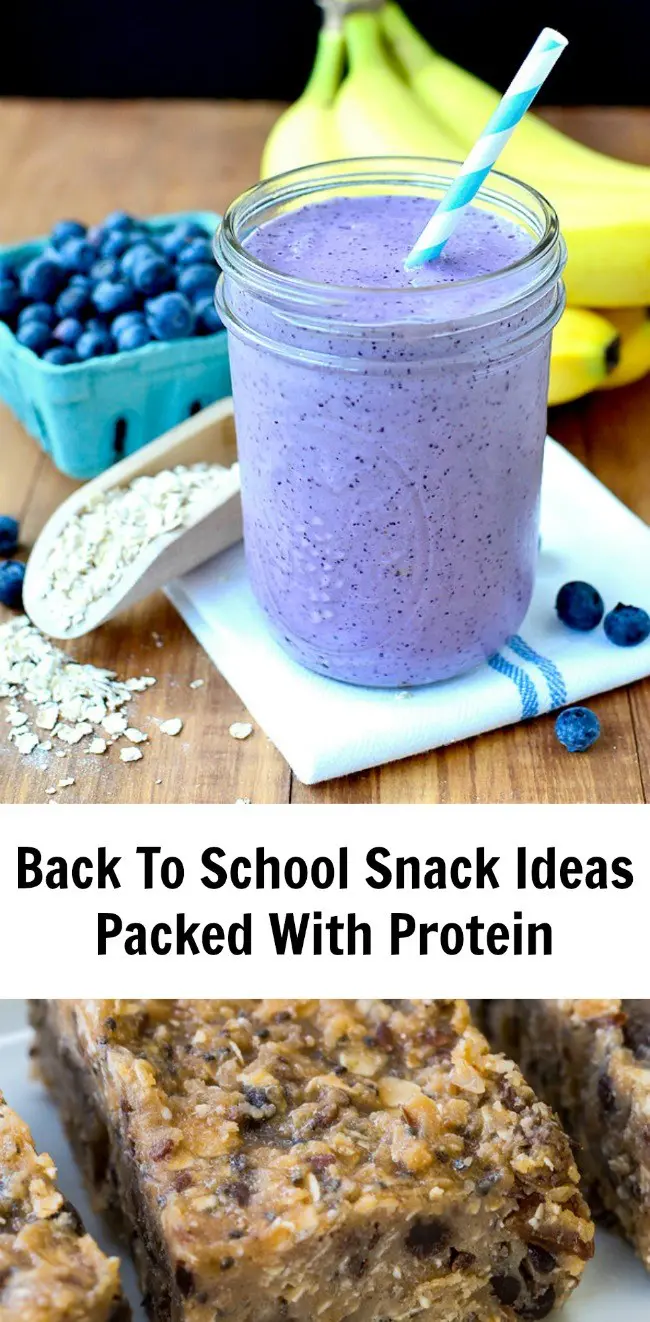 Blueberry Muffin Smoothie — I'll be making double of this, some for me, some for the kids!
Hard-boiled Eggs — Slice 'em, dice 'em, or eat them whole. Let your kids choose a sprinkle of salt or paprika for extra flavor.
Nutella and Banana Sushi — Sub another nut butter for a boost of protein.
String Cheese — Everyone's favorite!
Larabars — Clean eating has never tasted so good! What is your favorite flavor?
Trail Mix — Make your own or buy a pre-made combo. Trader Joe's has some of our favorite blends.
Hummus and Carrot Sticks — Start your kids on hummus early and they'll love it for life!
Yogurt — My kids adore the honey vanilla flavor from Greek Gods.
No Bake Bars — Homemade granola bars seem time intensive, but they're delicious and can be kept in the freezer for quick, healthy snackin'.
Beef Jerky — Try one of these brands.
Quesadillas — Fast to fix, yummy to eat!
Energy Bites — This basic recipe can be modified for quite a few different flavors.
Tuna or Chicken Salad and Crackers — Kids love to dip and rather than something sweet, give them a fabulous protein dip with a tuna or chicken salad mix!
Peanut Butter and Jelly Sandwiches — A classic favorite!
Overnight Oats — Follow this basic recipe and then add your favorite mix ins!
CLIF Zbars — My niece and nephew gobble these up like dessert! Thankfully, they're packed with protein!