It's time for Chocolate Bird Nests Treats! Spring has officially arrived as of March 20th! Are you excited as we are about the changing season? Goodbye winter! Hello sunshine and brighter days!
My daughter is thrilled. She's four and gets real amped up about the changing seasons. It's pretty darn cute as she marks off all the traditions of the each season as we cycle through the year. Hot on her list these days are "popcorn" trees, spring flowers, and all the new baby animals being born at the local farm we visit. Twin goats just this last week 🙂
In honor of spring and new life, we turned our recent no-bake dessert concoction into a sweet little bird nest! Here is how you can add a little spring to your menu this week too!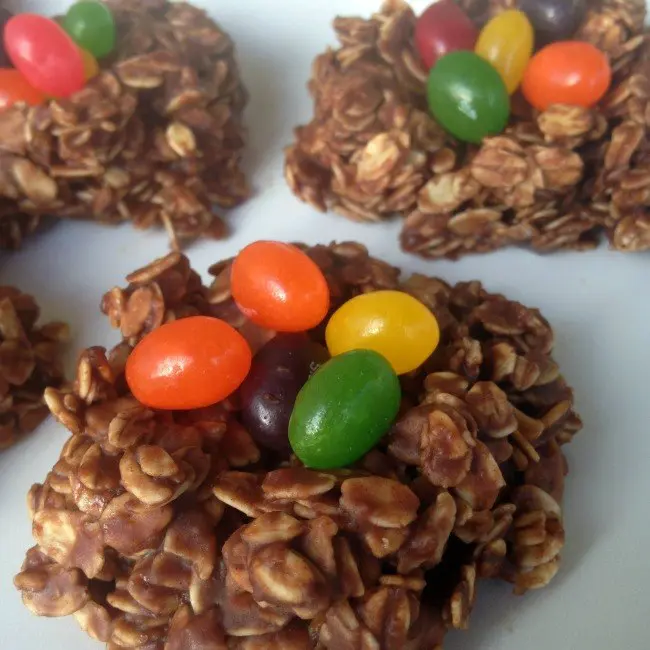 CHOCOLATE BIRD NEST INGREDIENTS
1 cup sugar
2 tablespoons cocoa
1/2 stick of butter
1/4 cup milk
1/2 teaspoon vanilla
1/3 cup peanut butter
2 cups oatmeal
Jelly beans
DIRECTIONS
In a saucepan, melt butter. Mix in sugar, cocoa, and milk. Bring to a boil over low heat. Remove your saucepan from the heat and stir in vanilla, peanut butter and finally, oatmeal.
With a cookie scoop (this is my fave!) plop your oatmeal dough onto a chilled cookie sheet or parchment paper. With a spoon, press the center of your cookie to create a little nest and with the help of your little one add in your jelly bean "eggs."
These are no-bake cookies so allow them to cool and firm up before eating! Happy spring enjoying your chocolate bird nest treats.
MORE COOKIE RECIPES
Gluten Free Peanut Butter Cookies
Gluten Free Almond Coconut Cookies