Note from Baby Gizmo (October 15th, 2017): A previous version of this article credited Donna Gill Allen for the hand washing experiment, based on a Facebook post of hers that went viral. However, it has since been discovered that she is not the original poster and creator of the experiment. The picture and word-for-word explanation belong to the original poster, Courtney Lee Simpson. Simpson created and conducted the experiment with pre-k students in November 2014 and shared the content to her Facebook page the month after. This article has been updated to reflect it's true origins and credit the original teacher.
Back when I was teaching, I loved these types of lessons: the ones where no curriculum or textbook mentions the topic, but it's a life lesson that kids need to remember. The ones you get to use a visual that emphasizes your point. It's all part of being a great teacher: going above and beyond the expected. And that's what Courtney Lee Simpson did when she created a simple, yet incredibly effective experiment to show her students the importance of washing hands.
Simpson, a teacher in Oak Ridge, Tennessee, first conducted her experiment in 2014 with her pre-kindergarten students. Shortly after, she shared this picture and explanation on Facebook so other teachers could take note!
Her photo shows three slices of bread labeled "controlled," "clean hands," and "dirty hands," along with an explanation for the experiment. She writes:
"To all my teacher friends this is the grossest yet coolest experiment. I did this while teaching about germs and how they spread. You use three pieces of bread. You let all the kids see you put a piece of bread in a baggy with a glove on hence "controlled" then you wash your hands and put a piece of bread in a baggy for "clean" last but definitely not least you pass a piece of bread around and let every kid in class touch it then you put it in a baggy and label it dirty."
The accompanying picture says it all: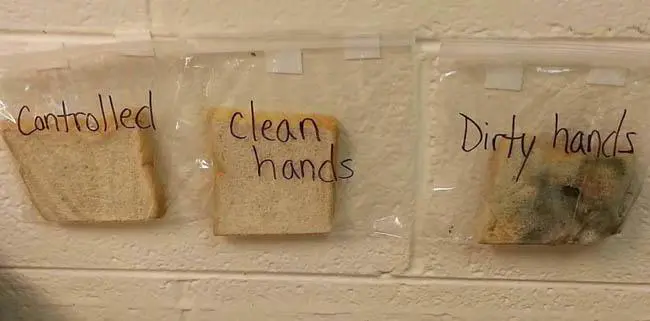 "Watch how the bread changes over time due to germs. It is so cool and a great way to teach the importance of hand washing."
In case you aren't aware (oh man, I hope you're aware…), washing your hands is one of the best ways to reduce the spread of germs and disease. It's also incredibly easy and doesn't take very long at all. It's important to teach our kids this ourselves, from the start, and to not rely on the hope that an awesome teacher like Simpson will come along to drive the point home for us.
Since her lesson is so simple, it's a great one for even little kids, like my 3 year old, to learn about germs. It gets the point across without (hopefully) turning her into a germ-obsessed worrywart. You can do the experiment yourself, taping the bread bags to the mirror in the kids' bathroom so they see it every time they use the toilet. (Just don't forget to take down the moldy bread eventually…)
And with flu season fast approaching, this lesson is a great reminder to us ALL, not just our kids. Here's some great advice on how and when to wash your hands effectively.
Don't be gross; wash your hands.