It's week 2 of our Building a House with Pinterest series. In case you are just joining us, this is an 8-9 week series of posts giving you an inside look at my life right now building a house with Pinterest inspiration. This is the first house that we've actually had built and gotten to pick everything inside from floors and cabinets, to lighting and design details. This IS a big deal, so along the process, I've turned to our friend Pinterest many, many times for inspiration and ideas.
While last week was the kitchen, today is all about our family room. We have a very open floor plan so our "family room" is right off the kitchen. This is the room that the family will gather in for TV in the evenings, and where we will welcome friends into our house. The house doesn't have a "living room" because honestly we don't need one, so this is THE gathering room.
When you walk in our front door there is a foyer that leads right to the family room. Since it is one of the first rooms guests will see, it needs to look good. I'm struggling with the decor because I want it to be comfortable but to look chic.
PAINT:
I know I said we'd talk about things like paint after we've moved in, but I wanted to set the tone for what the family room will look like. I've already picked out a couple of color schemes that I plan to use in the house. For the front foyer and family room, here are the front-runners.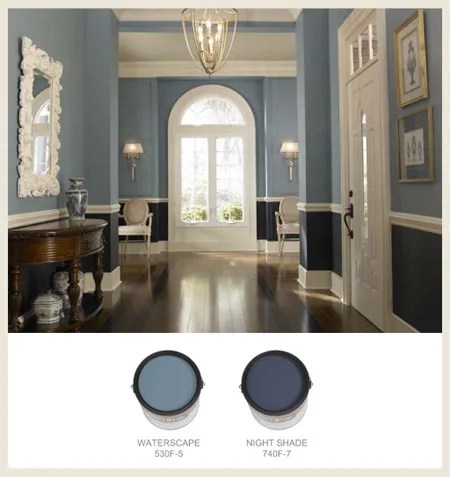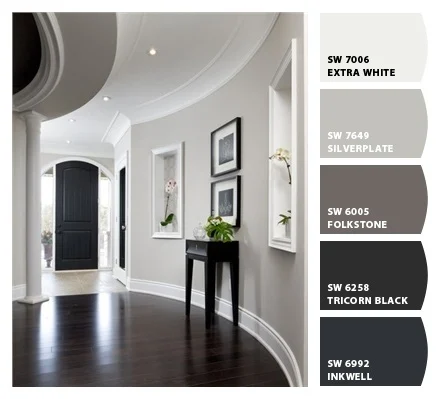 Remember the floors are a hand scraped dark brown and the trim will all be white so I think these colors would look amazing!
Let's talk about the family room as a whole for a minute. My last two houses had a two-story family room (great room) but I'm kind of over that now. Sure, it looks grande and all, but honestly, compared to a regular family room, it isn't very cozy. My neighbor walked into my old house and said that my family room had the hominess of Walgreens one day. Yeah, we are good friends and I love her honesty, and I didn't completely disagree with her. So, I'm super happy that this new house just has a regular family room. No double story, waste of space, kills-my-heating-bill family room. Just a perfect, cozy (but still grande!) family room.
This photo below is my inspiration for the whole room. I have to skip the cloth, white couches because I actually will live there with three kids, but this type of coziness!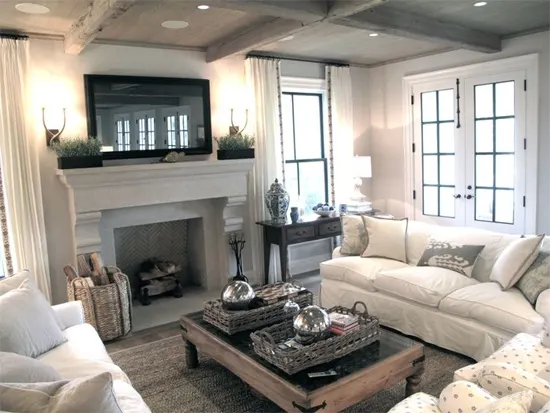 CEILING
One of my must-haves in the family room for this house is coffered ceilings. I think they just look amazing if done correctly. This is one of the upgrades we added. I just knew that I had to have ceilings like the ones below.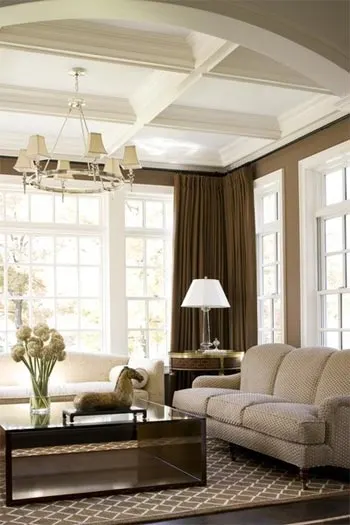 FIREPLACE
The photo below has one of the coolest stone fireplaces and I took this photo in a work-in-progress model home when we were house hunting! And although we absolutely love the stone around it, this is one of the things that didn't make the final cut for the house so that we could stay within budget.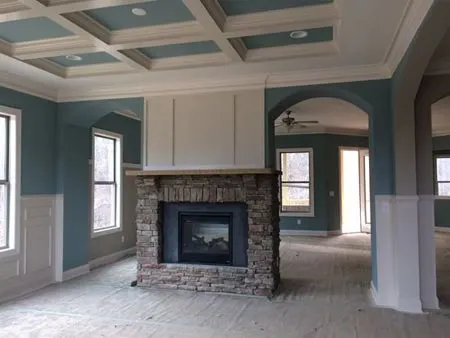 We ultimately decided to stay with the regular fireplace with black granite surround that was included in the house price. Luckily, we will have two huge built-in bookcases on the sides of the fireplace in our house.
CURTAINS
This is another detail that will be finalized and completed after we move in but I wanted to show you the type of curtains I plan to have for the family room. We have a bowed out wall of windows that are gorgeous but will need to be dressed up with window treatments. I don't plan to cover them with blinds because that just seems like a waste with a wall of windows. We're going for ceiling to floor (almost) simple drapes that will hang to the sides but will be able to be close if need be. I am even considering making my own but that might be a long shot. I have a sewing machine and tons of ideas from Pinterest but I'm seriously lacking in the sewing/craft skills deaprtment. These blue curtains in the photo below are my inspiration.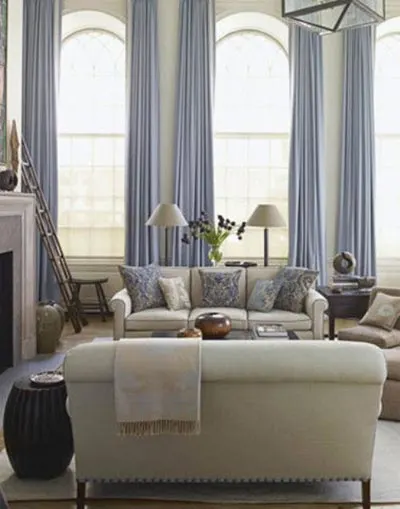 That's about it for the family room. This is one of those rooms that definitely needs to be re-visited when we move in and start to decorate.
Do you have any amazing family room ideas that you'd like to share? Leave us a comment and let us know.