Some of you already know that my family is in the middle of a big move. After struggling to sell our Chicago home for over 3 years, this past January it finally happened! We had been living in a staged, for-sale home for so long that I overheard my 4 year old giving showings on his Fisher-Price Imaginext Batcave! Yeah, hearing that one afternoon didn't break my heart or anything….!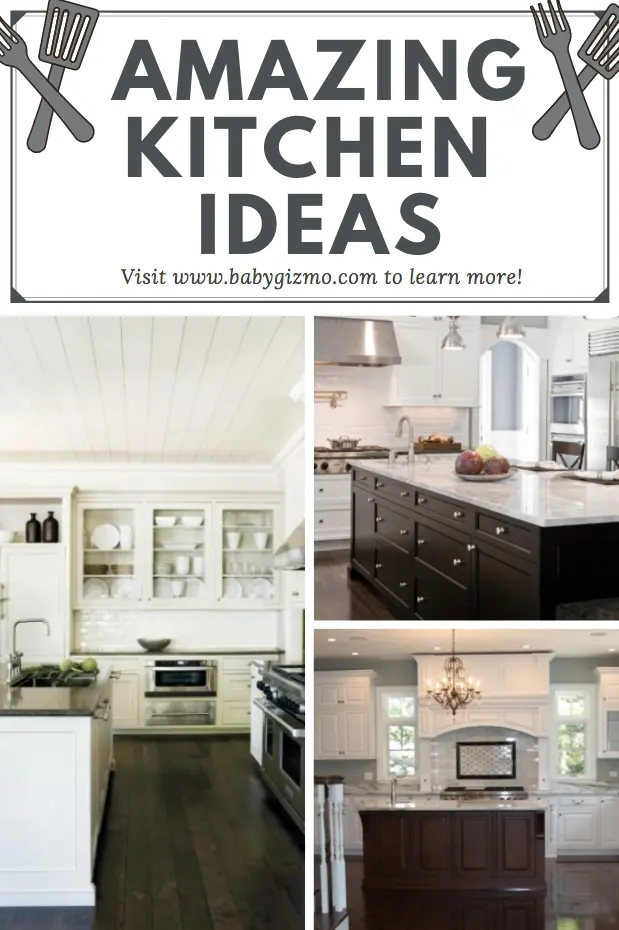 So, finally it sold and we can finally move on. You see, my house was for sale longer than Pinterest has been around! That's right, all those awesome ideas that I collect on Pinterest, I couldn't do a single one to my house because I kept thinking, "but we might sell this week!". And the weeks, months and even years went on and on. So many ideas and no where to execute them.
Until now.
Well, until June. Our old house closed in January but we decided on a new build in our new, soon-to-be home state of North Carolina so we aren't heading cross country for a couple more months. That's right, people, we are headed to the South. Okay, not the deep South but south of Illinois!
The greatest thing about our new house is that it was a complete blank canvas. We got to pick everything for the inside – carpet, cabinets, wood floors, paint, lighting, appliances…everything! Then once we move in – the decorating really begins. So many pins (Pinterest), so little time!
Many of you have been with me for years, and I know this isn't baby gear, but I thought it would be fun to take you along for the ride. Give you a little inside look at my life right now.
For the next 8-9 weeks (the time before we move in), I'm going to do one post a week dedicated to one room in my new house. Basically to show you how I have used Pinterest to help design my house until this point.
This week we are starting in the heart of the house – the kitchen.
Antique White Cabinets
I've always had dark cabinets in my homes up until this point so I thought it was time for a change. I didn't want bright white cabinets, so we decided on the trendy antique white that many new builds are sporting these days, similar to the cabinets in the photo below from Pinterest.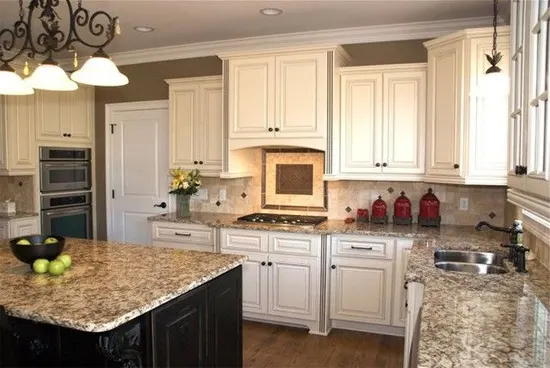 Keeping up with the trends (whether that is a good idea or not!), we also decided to do the mis-match thing with the island being a different color than the cabinet perimeter. In contrast to our antique white cabinets (not the stark white ones below!), we choose to go with a very dark brown island like the photo below.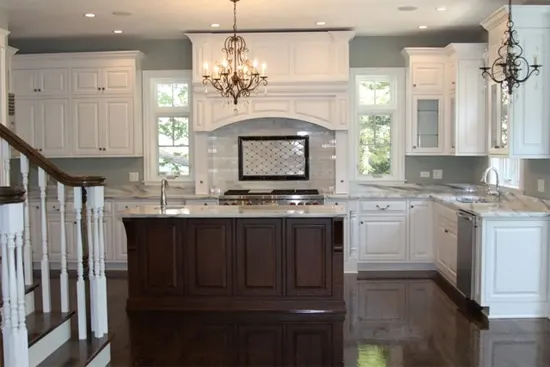 Counter tops
The house includes granite counter tops and we even got to pick the color. While dark counter tops look really sharp, I fell in love with these white counter tops below as soon as I saw this photo. I love the way the counter tops looked next to the rich, dark island. This is the photo that I took to the designer. Unfortunately, counter tops that are white, were not one of the options with my builder unless I wanted to special order VERY expensive granite, which I did not. So, we settled for granite that was a little darker but still in the "light counter top" family.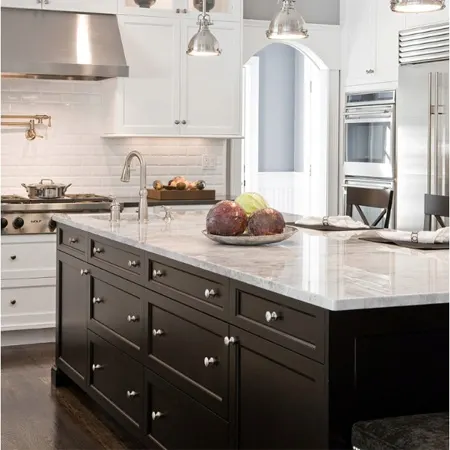 Dark Hard Wood Floors
Our wood floors will be hand scraped dark brown planks (4″ wide, I think) that we decided would work perfectly with the two-toned kitchen. I knew that I didn't necessarily want a shiny wood floor like the photos above because of scratches from 3 kids, so when I saw the floors in the photo below, I knew that is what I wanted.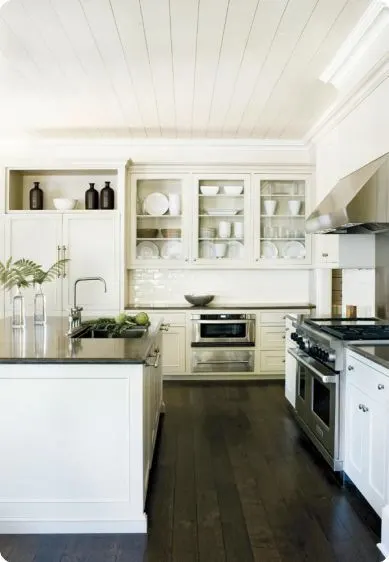 Island Lighting
In our last house, we had three small hanging lights over our kitchen island that were pretty blah. We spent 6 years in that house talking about how we wanted to upgrade the lighting and just never did. This was our chance to get good lights from the get-go. The two hanging lantern lights in the photo below were our inspiration. We selected lights that were similar in size but shaped slightly different.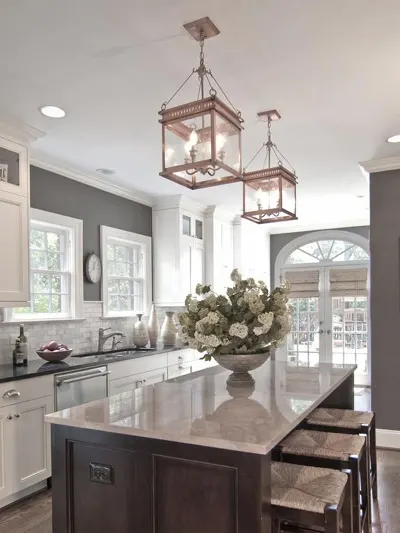 Backsplash
So many decisions to make in a kitchen. Next it was time to turn to the backsplash. I liked the stone backsplash from the house next door to our new house (yes, that is the neighbor's house) but I wanted to mix it up a little bit and so we went with a smaller stone design.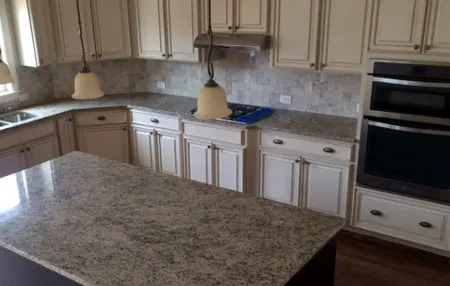 Sink
I had no idea until I was standing in the builder's design center that I was able to pick my sink too! It just didn't even cross my mind. The big choice was one sink or two. I've always had two sinks so that I could clutter up one side with a dish dryer which was constantly filled with clean drying dishes. I asked our Baby Gizmo Facebook peeps and people were very passionate about either their double sink or their big ole' "farmer" sink. It was a 50/50 response so I went with a change up again and chose the big sink. I may regret not having a second sink to clutter up with dishes when I get lazy, but hey, that is what my dishwasher is for, right?!?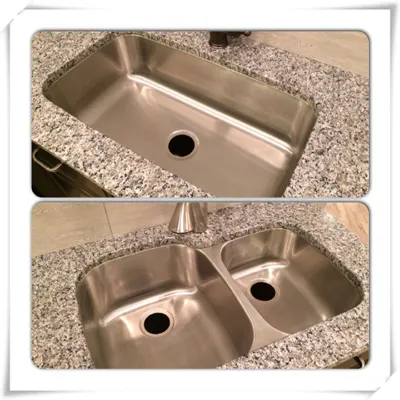 Extras
All the extras such as what type of island stools, paint color and pantry organization we want will come after we move in. That doesn't mean that I'm not already looking and planning though. While I wouldn't know how to cook with most of the spices below, I absolutely love how they are set up in this kitchen. The flour and fruit bins are a little overkill though.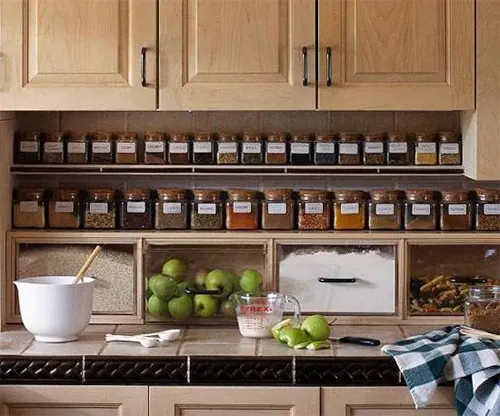 That is it for the pre-selection of the kitchen for now. We'll re-visit the kitchen design in late-June after we move in and we have to make it our own.