Shortly after school started, my daughter had her annual eye exam. As she was finishing up, I asked her optometrist about blue light blocking glasses and whether they'd be useful—especially if my daughter ends up switching from in-person learning (where they're doing a lot of computer learning anyway) to full remote learning if the COVID-19 situation changes in our area.
The optometrist was 100% on board and suggested we use our insurance benefits to purchase a pair that day. However, she'd also said my daughter might need glasses later this year, so I decided to save our benefits for that and shop around for the blue light blocking glasses. There was one company standing out in my mind, though, courtesy of the fact that their ad kept popping up in my social media: CalmOptics. The ad included a demo showing how the glasses blocked blue light.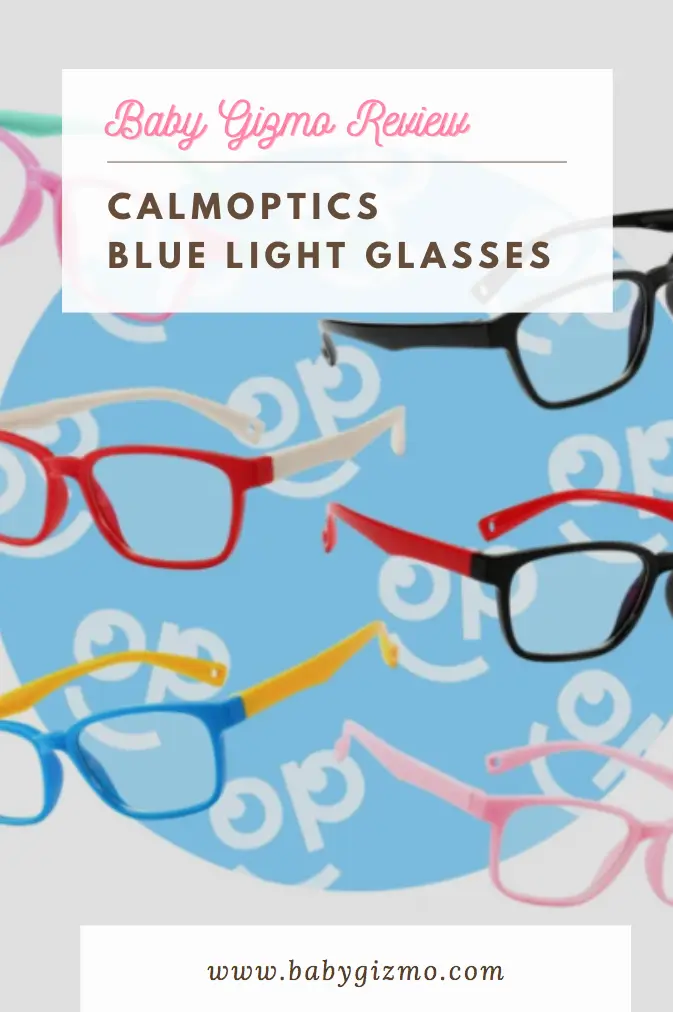 So, I hopped over to their website, which is a nice sleek site that's easy to navigate. Not only were the glasses on sale, CalmOptics was also having one of those "the more you spend, the more you save" sales, so my husband and I decided to get two pairs of glasses for my daughter (one for home and one for school), and we each picked out a pair to try.
The selection is limited, which I actually found helpful—no agonizing over which frames to pick! After all, these aren't my everyday frames that I'm wearing everywhere and which need to complement my face shape perfectly and accent my eyes, etc., etc. On the evening of September 9, I placed my order for four pairs of glasses for a total of $137.43 including taxes (shipping was free) and received a confirmation email saying my order was preparing for shipment. Three minutes later I got an email saying my order would be on its way soon and including a button to track my order—yay!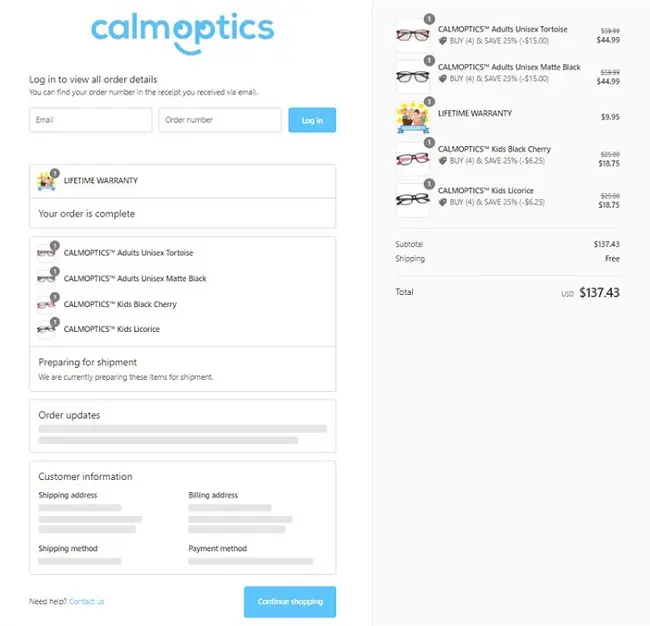 Y'all, I was so looking forward to reviewing these glasses for you, and my daughter was so excited to get her very first pair of "glasses." Instead, I'm going to tell you why you should not be ordering from CalmOptics.
After a few days of waiting for a shipping notice, I clicked on the order tracking button and was informed that my order was preparing for shipment. I waited some more. After 14 days of waiting for my items to ship, I reached out to CalmOptics. By the way, there is no way to reach them other than email. No phone number, no chat, just email. Their response to my email that my items hadn't shipped was that they would check with their courier, which made no sense because, uh, my items hadn't shipped.
I waited three more days and followed up. The same representative (who I theoretically dealt with throughout this matter) responded with apologies and informed me "Due to the high demand for our products, some of our inventory has been placed on backorder, which has caused the shipping times to be extended. I want to sincerely apologize for this inconvenience as we understand the frustration.
We have been notified that our new inventory will be arriving to our warehouse (located in Arkansas, USA) on September 21. We are fully prepared to begin shipping out packages again on September 23. If you are comfortable with waiting the extra time, we will make sure that you have your order expedited out to you as soon as our stock arrives." Sounds good right?
Well, September 23 came and went, and I still didn't receive a shipping notice. In the meantime, I noticed my credit card had been charged within a couple days of making the purchase, not when the items shipped, as is customary—especially when an item is on backorder. So I did some research.
CalmOptics has had 79 complaints made against them to the Better Business Bureau since their file was opened in April of 2020. I read through the complaints, and from what I read, everyone was complaining about their delivery process: orders were placed, people were charged, and products weren't delivered. On Twitter, if you search for "CalmOptics," you get tweets complaining about products that haven't been delivered—stories like mine.
After doing this research, I decided I didn't want to keep waiting for my glasses, which I was becoming more concerned were never going to come. On September 27, I requested a refund of my order. On September 30, I received a reply from CalmOptics saying that my order was processing and would be shipping out to me, at which time my tracking number would update.
I again requested my order be cancelled. On October 3, the representative replied saying that orders which are in the process of fulfillment cannot be cancelled. I replied and stated that I planned to get both my credit card company and the Better Business Bureau involved. I received a reply the same day informing me that my order had been cancelled, and two days later the credit for my purchase appeared on my credit card. I'm glad I was ultimately able to get the order cancelled, but honestly, my card shouldn't have been charged until the items shipped.
I've seen other people online who actually have the glasses to review and there are people with positive comments about the glasses on social media. It makes me sad because they're cute, they're a good price, and I was really looking forward to trying them out. But after what I went through trying to obtain glasses from CalmOptics—and knowing that there are many other people out there with similar stories—I'd recommend ordering from a company with a more reliable delivery process.