Sometime around kindergarten, loose teeth start happening and the tooth fairy begins her work for the next few years! It's exciting and monumental and another thing moms and dads need to remember to keep the joy of childhood alive! So, rather than digging for cash, keep a small tote of cash free tooth fairy options in your closet. Easy peasy!
If your kids are anything like mine, they'll appreciate a small toy or gift just as much as money. And when the tooth fairy decides what is being gifted rather than bought with collected dollars they can control what treasures make their way into your home. Brilliant, I know.
Here are a few great cash free tooth fairy ideas. Some are very inexpensive and some closer to $15 – but all are fun options to celebrate those gap-filled grins!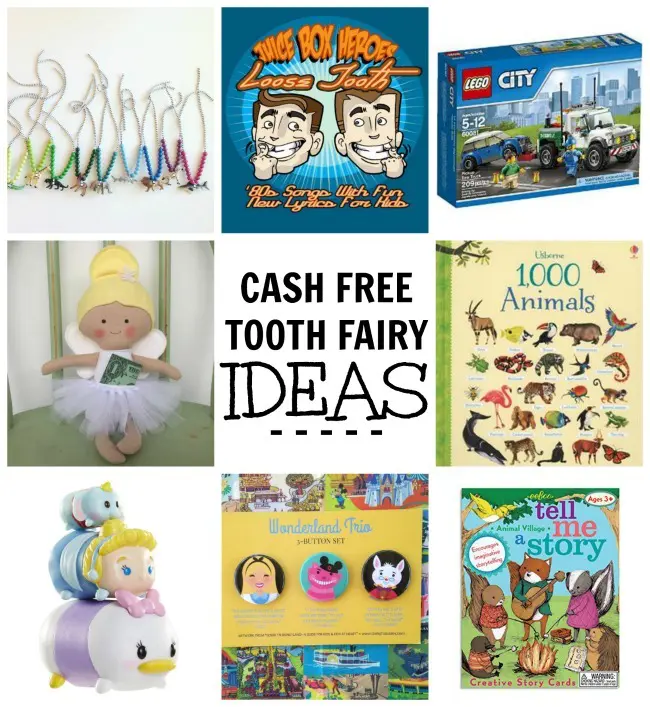 Juice Box Heroes Loose Tooth CD — 80's song with a kid-friendly twist? YES!
Legos — Always a win and a price point for a size teeth 🙂 We're especially fans of the mini sets.
Tooth Fairy Doll — Make the first visit from the tooth fairy extra special with this darling doll.
Usborne Books — All books are wonderful, but the ones by Usborne are extra amazing! We love the the 1,000 collection.
Tsum Tsum Vinyls — The stuffies are sweet, but our family has fallen in love with the cute little stackable vinyl version. In stores, they're usually only $5 for a 3 pack!
Buttons — Tooth fairy gifts don't have to be expensive! Celebrate lost teeth with a cute little button exchange featuring a character your child will love. Etsy is full of great options and they look so cute pinned on a jean jacket or backpack.
Tell Me a Story Cards — Lose a tooth, gain creativity! These cards are a fantastic solo or family activity.