Last week my 3 year old and I started a new bedtime tradition — we are reading our first chapter book!
I've been looking forward to this day for quite some time: the day when she was eager to listen and not get stressed that there were fewer or no pictures. I'm thrilled to adventure through our first book, Charlotte's Web, and move on to many, many more great pieces of children's literature.
We're only a few chapters in, but I'm already thinking of our next chapter book. I turned to my crew of trustworthy mamas for some recommendations and here are some of their ideas for preschoolers and young elementary age kiddos …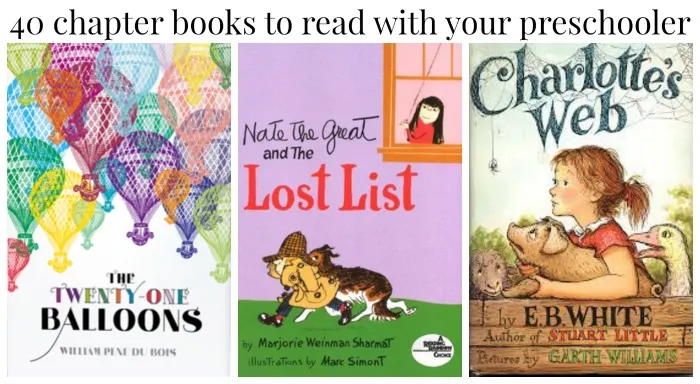 Reading is such an important part of language development. It enhances vocabulary, grows imagination and provides a great opportunity for parents to connect with their little ones in a meaningful way at the end of a long day. If you think your preschooler is ready … or even if you don't, give a chapter book a try – you might be surprised at how well a chapter book can hold their attention as you read aloud.
Plus, reliving childhood favorites is pretty magical for us parents too 🙂
What other books would you recommend for evening chapter book reading for the 3-7 year old range? We'd love to hear your input!