Chapter Books to Read With Your Preschooler
Last week my 3 year old and I started a new bedtime tradition — we are reading our first chapter book!
I've been looking forward to this day for quite some time: the day when she was eager to listen and not get stressed that there were fewer or no pictures. I'm thrilled to adventure through our first book, Charlotte's Web, and move on to many, many more great pieces of children's literature.
We're only a few chapters in, but I'm already thinking of our next chapter book. I turned to my crew of trustworthy mamas for some recommendations and here are some of their ideas for preschoolers and young elementary age kiddos …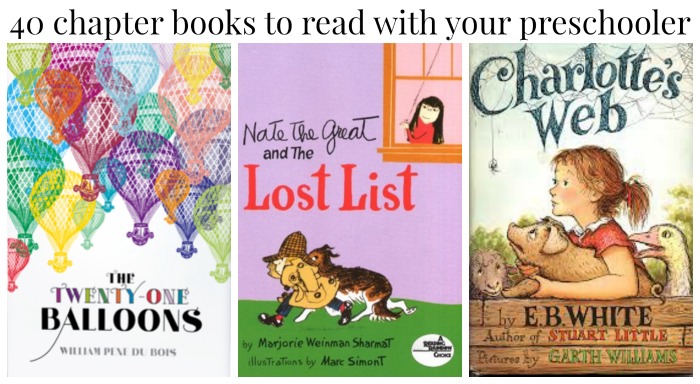 Magic Treehouse series
All of a Kind Family
Little House on the Prairie series
The Trumpeter Swan
Twenty One Balloons
Ramona series
The Fudge series
The Boxcar Children series
The Jungle Book
James and the Giant Peach
The Chronicles of Narnia
The Adventure of a South Pole Pig
Nate the Great
No Flying in the House
Mrs Piggle Wiggle
Peter Pan
Mercy Watson to the Rescue
Stuart Little
Hank the Cowdog
Roverandom
Pippi Longstocking
Freddy Goes to Florida
Wizard of Oz
The Magic Bicycle
Freckle Juice
The Mouse and the Motorcycle
Tales of Desperaux
Because of Winn Dixie
Hi! Fly Guy

Mrs. Frisby and the Rats of Nimh

Two Times the Fun
101 Dalmatians
Heidi

The Wonderful Flight to the Mushroom Planet

The Miraculous Journey of Edward Tulane

Amelia Bedelia series
Junie B. Jones series
Ballpark Mysteries
The Complete Tales of Winnie the Pooh
Reading is such an important part of language development. It enhances vocabulary, grows imagination and provides a great opportunity for parents to connect with their little ones in a meaningful way at the end of a long day. If you think your preschooler is ready … or even if you don't, give a chapter book a try – you might be surprised at how well a chapter book can hold their attention as you read aloud.
Plus, reliving childhood favorites is pretty magical for us parents too 🙂
What other books would you recommend for evening chapter book reading for the 3-7 year old range? We'd love to hear your input!