Okay, this isn't a recall of any kind (at least not yet!) but just a heads up to check your kitchen utensils! Our resident kid chef, Sawyer, discovered something very gross when he was making cookies this past weekend and he wants everyone to be aware of it.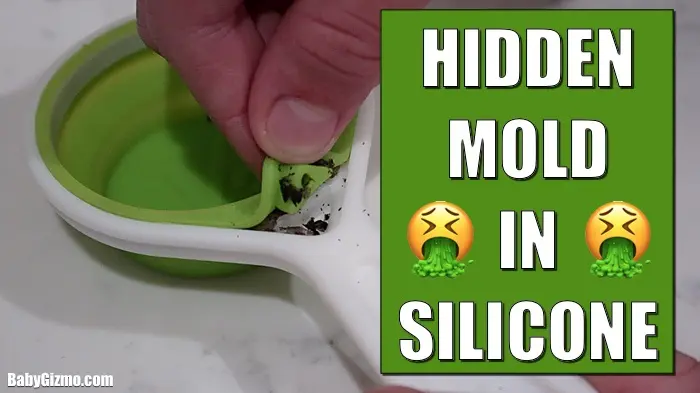 As he was washing our silicone measuring cups, he flipped one over and saw a little spec of black on the underside of the measuring cup right by the plastic rim. After more investigation, he uncovered an entire rim of hidden mold inside the plastic ring of the cup. Yep, mold was hiding in not just this one measuring cup, but 3 of our other silicone measuring cups as well.
While we thought we were properly washing these utensils (we usually put them in the dishwasher), we didn't realize that you can actually take them apart to really get them clean on the inside of the plastic handle where it attaches to the silicone cup. Without taking the measuring cups apart, food particles and water were being trapped in that space and growing mold without us even knowing it. GROSS.
We didn't feel comfortable cleaning out the mold to make it food safe again, so we threw away the affected measuring cups. The newer silicone cups that we had that had no sign of mold, we took apart and gave them a good washing. NOTE: Two of the "clean" measuring cups had to be thrown away, as well, because the silicone must have been brittle (from age??) and cracked when we took the cup apart making it unusable.
Needless to say, we are not going to be buying anymore silicone kitchen utensils like measuring cups in which mold could hide and maybe you shouldn't either. We are going to stick to stainless steel which may take up more room and might be more expensive but definitely won't have hidden mold in them.
Check out Sawyer's video below that shows you the silicone utensil's dirty, little secret.