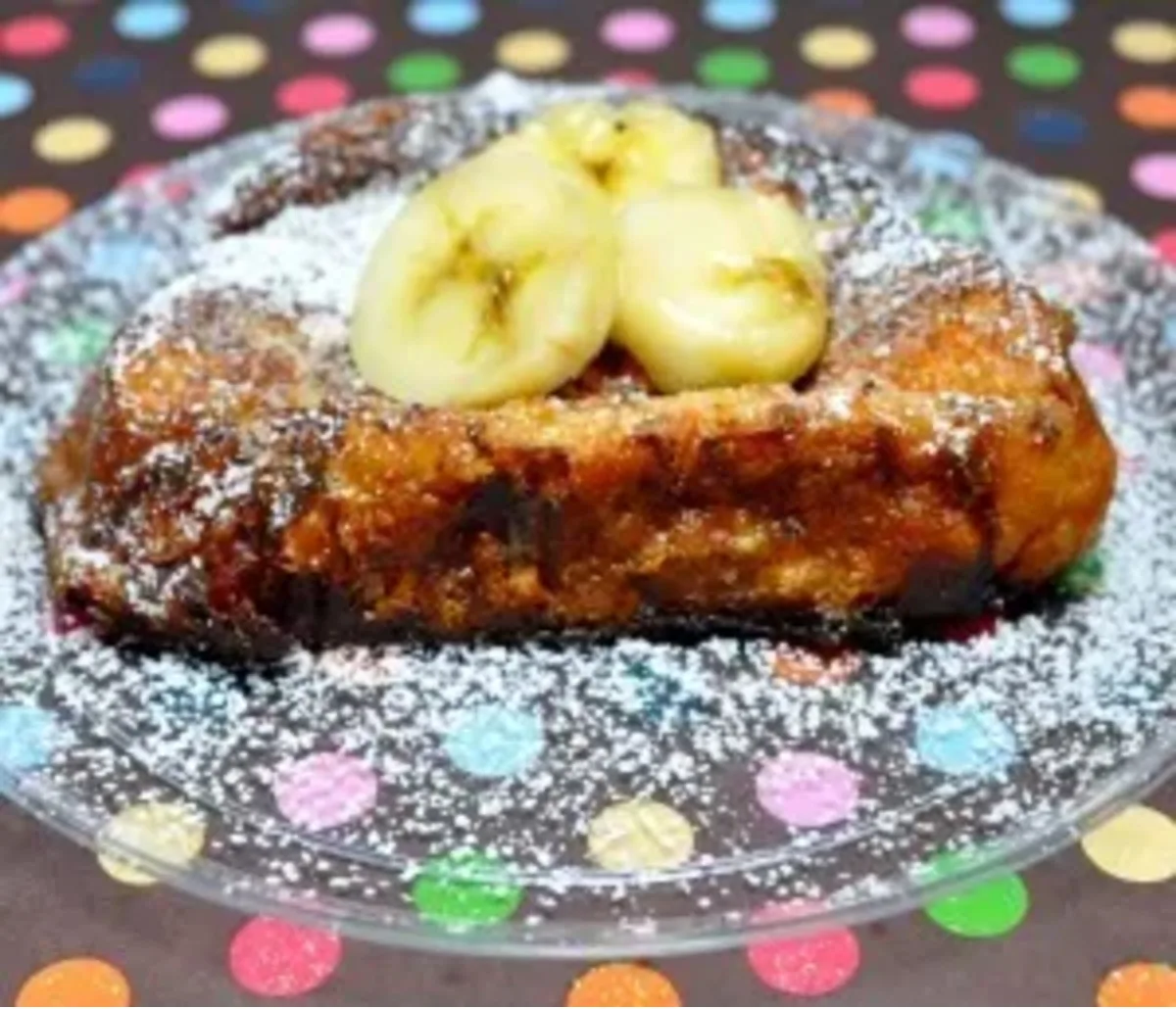 One of my weekend treats for the family is french toast stuffed with bananas and chocolate chips. The kids don't usually get chocolate in the morning so this is a real treat for everyone…who doesn't love to wake up and eat chocolate?
I was at Whole Foods, my home away from home, and I saw whole wheat challah bread in the deli section while I was waiting for my cold cuts. I was soooo excited to see whole wheat challah bread because I have never seen it before. Some people get excited over new clothes, I get happy with glee over new food items.
I grabbed the bread as if someone was going to steal it…I smelled it, touched it, and I practically ate it right there.
I took my new food find home and made french toast the next day. I cut a slit in the middle of the toast and stuffed it with fresh sliced bananas and chocolate chips. You can stuff it with anything you like- try strawberries and ricotta or lemon curd and blueberries.
You have endless filling options! I add pureed banana to the batter to make them taste really bananaee…is that a word? You can add whichever pureed fruit to the batter to pack a better punch of flavor. This is a great breakfast recipe if you have overnight guests… Warning! They may not want to leave after you serve them this type of french toast.
Ingredients:
1 Loaf of whole wheat challah bread
4 Bananas -2 slices, 2 pureed
2 cups of milk
4 eggs
1/4 cup chocolate chips
2 tablespoons of sugar
1 tablespoon of vanilla
1 tablespoon of cinnamon
2 tablespoons of butter
Method:
1. In a bowl, combine the milk, pureed banana, eggs, vanilla, cinnamon, and sugar.
2. Slice challah in thick slices and cut a small opening in the bottom of each one. Stuff with your favorite filling.
3. Soak bread in the egg mixture until the bread absorbs the mixture. 5 minutes should do.
4. In a pan, melt butter then cook the french toast for 5 minutes on each side until golden brown.
* Makes 8 slices of french toast