I've officially dubbed this year as the "Year of the Soft Clothes". Sure, there are other descriptions and words I'd like to use for 2020, but let's keep things happy and just talk about my favorite type of clothes to wear when I'm at home ALL. THE. TIME. Yep, spent a good deal of 2020 at home. In pajamas. Like the rest of you. It's time for Christmas pajamas, my friends!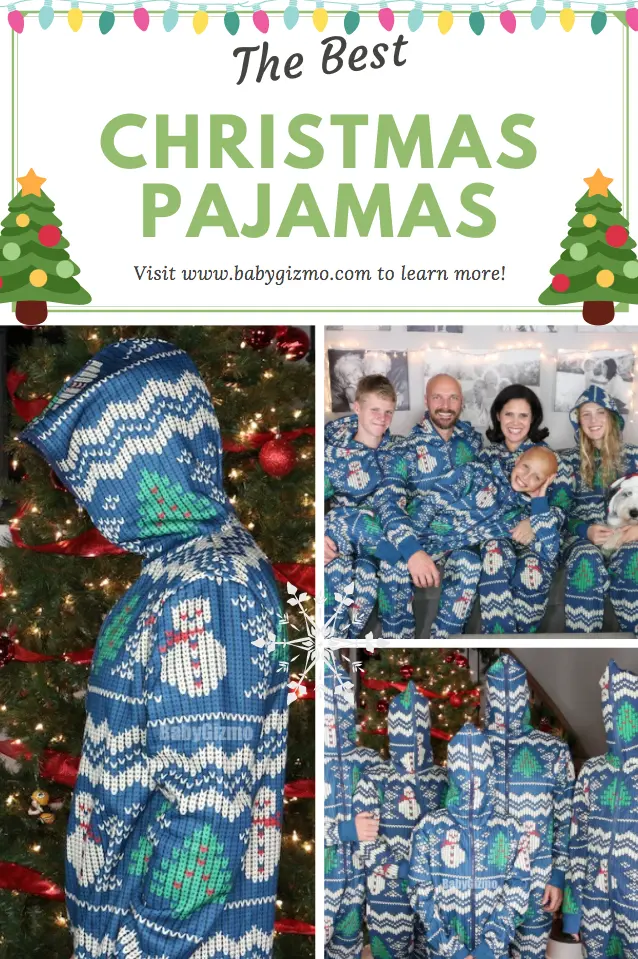 Now, that the holidays are rolling around, it's time to switch out of those day to day pjs and upgrade your at-home wardrobe to holiday pjs. I know it's not Thanksgiving yet but there are NO RULES to surviving 2020. Yep, for about 6 weeks, we all sport matching holiday pjs!
As you know, kids grow ALL THE TIME so we need new ones each year. I loved the holiday pjs ("50 Shades of Santa" by Shinesty) that we sported last year, so I knew where I was headed first to pick out this year's holiday pj attire. To my computer, of course. You thought I was leaving the house? Nope. Sure, Shinesty is known for their fun adult undergarments, wacky Christmas suits for men, retro ski gear and crazy sports gear BUT don't forget they have a super fun collection of Christmas Pajamas!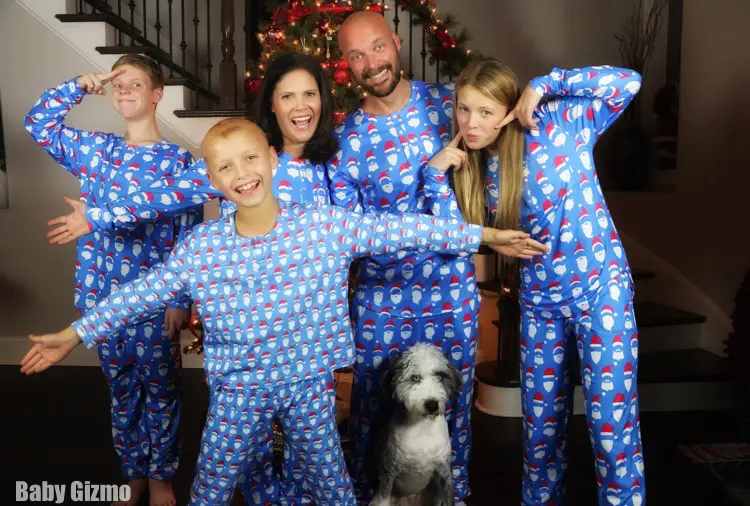 Last year, we sported Shinesty Santa pjs so I wanted to mix it up this year. When I saw the selection of holiday onesies, I was sold. One-piece, hooded, holiday pjs?!? Done. I picked out the Eggnog Aficionado print that featured a blue snowman Christmas scene that resembled a hand knit sweater. NOTE: The print just LOOKS like a sweater but it is not a woven fabric like a sweater. I actually prefer the non-sweater material because these pjs are super soft and don't weigh you down like a sweater.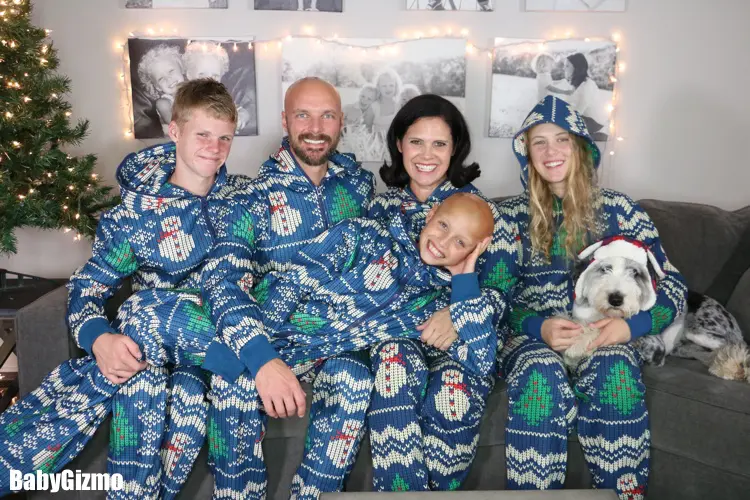 Everyone in the family got a onesie and they absolutely love them! Even the 13 year old boy wears it! If you've ever met a picky, 13 year old boy who knows absolutely EVERYTHING, you know it's a success when they actually willingly wear something that mom picks out.
NOTE: The Shinesty Eggnog Aficionado Onesies run BIG (so order smaller than you normally would!). My husband and older son are both wearing Men's Medium, Mom & Daughter are in Women's Smalls and the little guy is in the smallest we could order – a women's XS.
If you would like more information on the Shinesty Christmas pajamas, you can visit their website HERE.
Now, we just have to pick our favorite for our Holiday Card. Here are some of the options below. Plus, a few outtakes that won't make the card but sure are funny!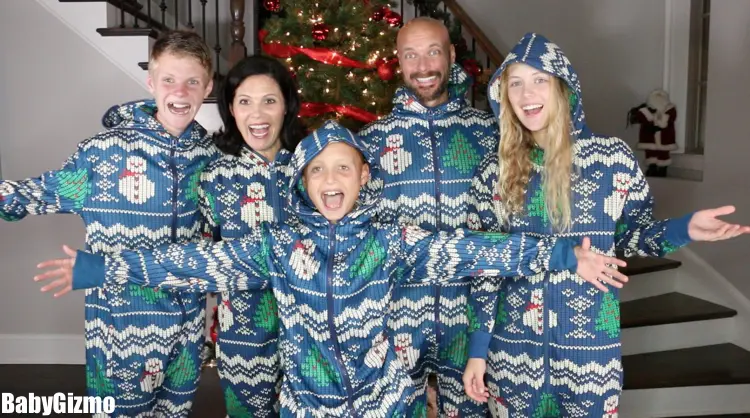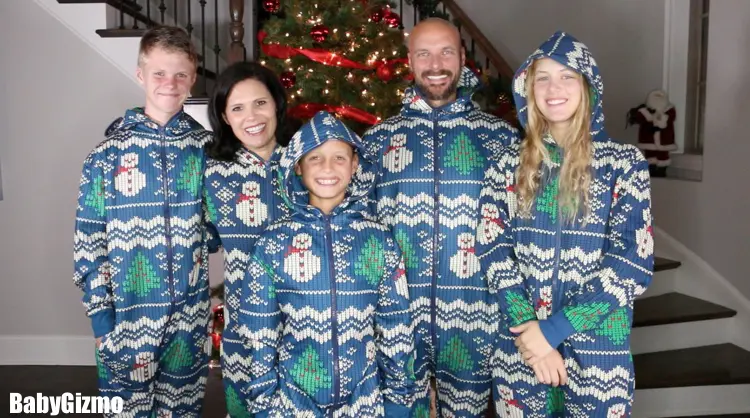 To be honest, we have no idea why the Shinesty onesie hoods zip all the way closed. But we had fun with it and made up our own reason – COVID Pajamas! Yep, no need for a mask when your entire face is covered. So very 2020, don't ya think?!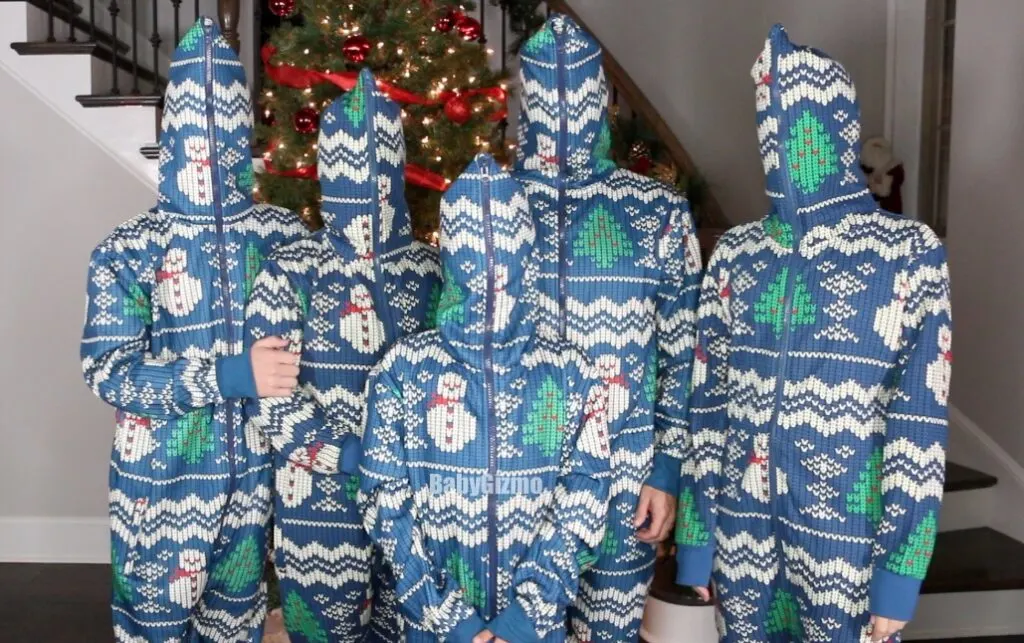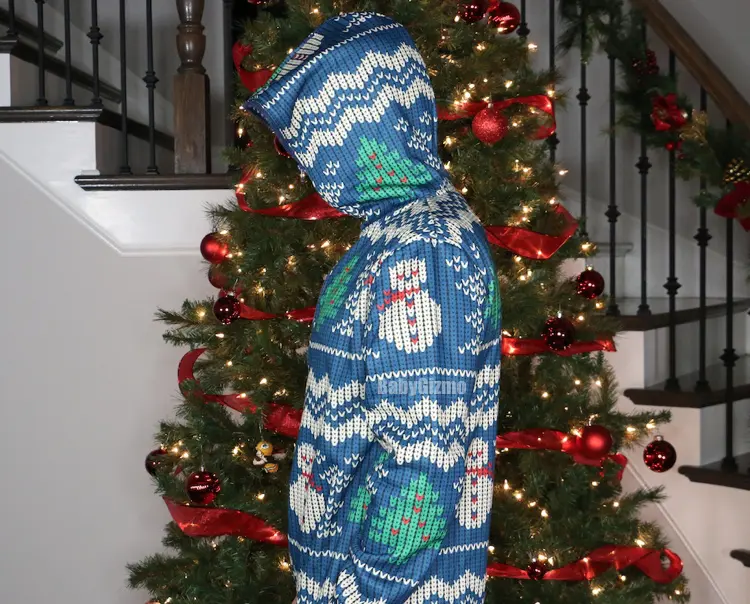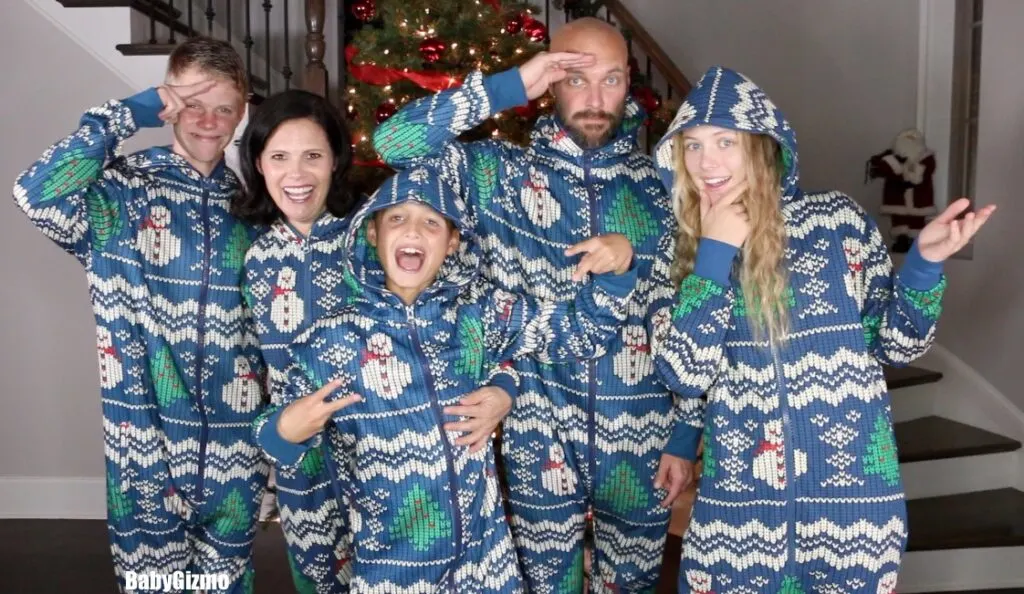 *Disclosure: Thanks to Shinesty for sending us family pajamas.