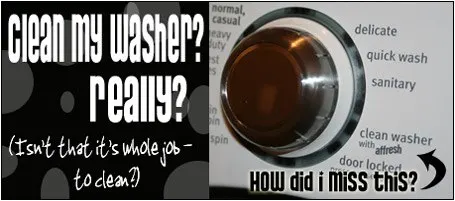 Ever thought of cleaning the inside of your washing machine? No? Yeah, me neither. I guess I just figured with an appliance that is in existence to solely clean things, that maybe it would just keep itself clean. I mean it's cleaning my clothes with soap every week, right? Doesn't that just keep it clean?
I have to admit that I've had my front loading washer for 2 years and never once thought of cleaning it. Since front loading washers seal when the door is closed, I was told by Sears employees to leave the washer door open after use to let it properly dry out. If I didn't, I was told the washer would start to smell and mold inside. Gross…so, that's what I do…leave the door open. Little did I know that leaving the door open wouldn't completely prevent my washer from developing an odor. It may reduce the amount of moisture in the washer and reduce any smell but won't remove the residue that causes it. I had no idea!
So, when I was offered to test some affresh washer cleaner by Whirlpool, I jumped at the chance. Honestly, I had no idea that it even existed. Remember the 2 years that I've never "cleaned" my washer? Yeah, no idea. So, when the affresh package arrived at my door, I thought to myself, "I hope this works in my washer because I have a Maytag not a Whirlpool". Little did I know that it not only works in my brand washer and every other brand of washer out there, but Maytag actually recommends it! Again, who knew? Maytag recommends it so much that there is actually an "clean washer with affresh" right on my washer. Yep, printed right on front and I never looked at it. Opps. I'm not great at laundry, okay?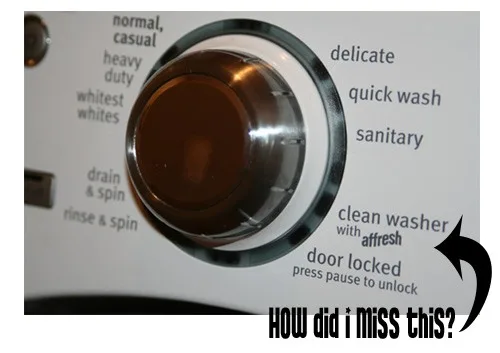 Next thing I thought when the affresh arrived was "I hope this isn't hard to do. I hate cleaning." Let me tell you – it is the easiest cleaning I've ever done. Affresh comes in the form of large tablets that I literally throw into the empty washer (not in the dispenser) and turn on the "clean washer with affresh" cycle. That is it! Easiest. Cleaning. Ever.
Whirlpool (the people who make affresh) recommends cleaning your washer once a month and I honestly might just do that. It's so easy. One package comes with three tablets so it will last me three months. The package only costs $6.99 so it would only be a little over $2 to keep my washer from ever developing an odor. Now, I still have to abide by the open door policy of my front loader after finishing my laundry for the day but Affresh will be part of my monthly laundry routine now too.
If you are interested in the specifics Whirlpool states about affresh, read on, my friend.
Only affresh® washer cleaner is proven to penetrate, dissolve, remove or reduce odor-causing residue from your washer. Compatible with all models of washers, the affresh® system was specially formulated to address the odor-causing residue that is a natural consequence of the water savings in all front-load or top-load HE washers. However, using the affresh® washer cleaner kit is a fast and simple way to keep the inside of all washers clean and fresh smelling.

Until affresh® washer cleaner, there hasn't been a way to effectively remove and prevent odor-causing residue. While liquid chlorine bleach and other household cleaners can kill the bacteria that cause the residue to smell, they don't penetrate and remove the residue itself. The residue will continue to build up in the drum, washer hoses, and door seal, causing the bacteria and odor to return after just two weeks. Bleach and other cleaners are a temporary fix, but never actually reach the root of the problem.

Running an empty cycle or the "clean" cycle on your washer can kill bacteria and rinse excess detergent from the drum and hoses, but does not have the power to bubble away built-up residue. affresh® washer cleaner works in the "clean" cycle to break up and dissolve accumulated residue.

Also, wiping out your washer or leaving the door open between loads alone will not prevent your washer from developing an odor. They both decrease the amount of moisture in the washer, reducing the smell, but don't remove the residue that causes it unless used with the affresh® washer tablet.
*Disclosure: I wrote this review while participating in a campaign by Mom Central Consulting on behalf of affresh and received product samples and a promotional item to thank me for taking the time to participate. As always, all my opinions are my own!