There is a new stroller on the block that we think you need to know about. Contours debuted their Element Stroller recently, and while it is super luxury, it is also SO versatile. It's a single. It's a double. It's a single or double travel system. Looking for a single or double pram? Yep, the Contours Element does that too! Plus, it comes standard with a great tote that works with the stroller in singles mode to give it even more storage (as if the GIANT basket underneath wasn't enough!).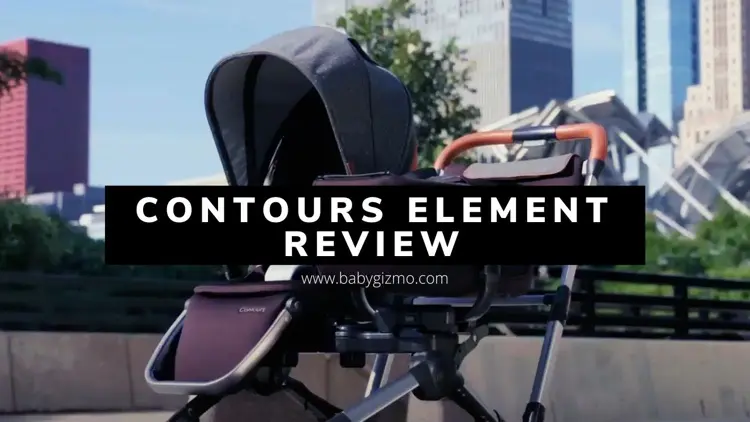 Contours Element Video
SEAT
The Element comes with a comfy stroller seat that accommodates up to 40 lbs. It sports a soft and cushy seat fabric that reminds us of memory foam and measures 12″ wide with a 20″ seat back and a back of seat to canopy measurement of 23″. The seat has an adjustable, padded, 5-point harness with an easy-to-do buckle and an adjustable leg rest. We love that the seat is a one-handed recline (no strap system here!) and has 3 positions. We all love ourselves a reversible seat and that's exactly what the Element delivers. When it's time to transform this to a double, there is a second seat sold separately ($219).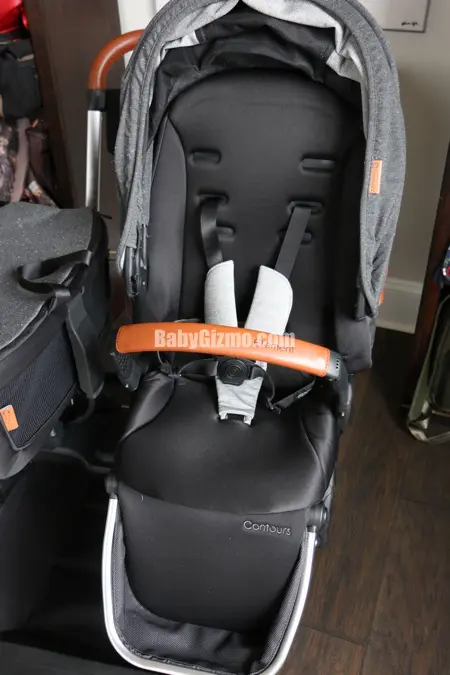 STORAGE
The Contours Element is stocked with storage! The handy parent console hangs on the handlebar and gives us a place for our keys, wallet, baby essentials (pacifier and such!) and a place for a bottle. The basket underneath is HUGE! Like we can fit FOUR diaper bags in the basket type of HUGE! Plus, the basket is easy to access which makes moms happy. It sounds like enough storage but we aren't done yet.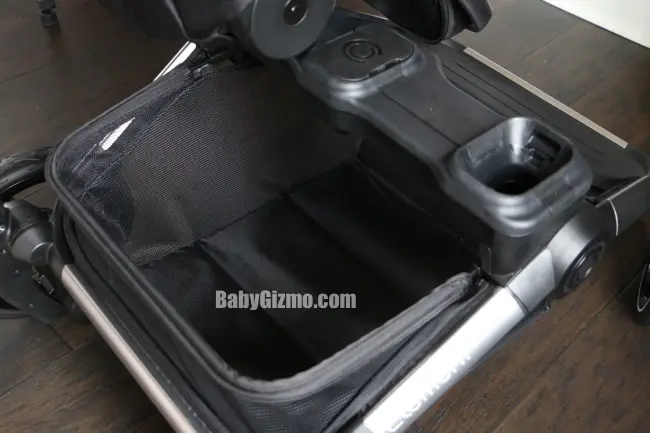 The amazing tote that comes standard with the stroller sits right on the frame next to the stroller seat (when in singles mode!) to give you a handy shopping tote. The tote has a zippered lid and plenty of space.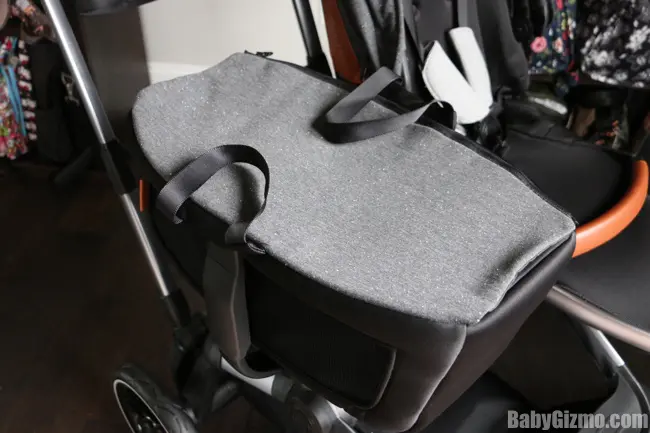 HANDLEBAR
The Element sports an adjustable faux leather handlebar that measures 40″ from ground to where you place your hands.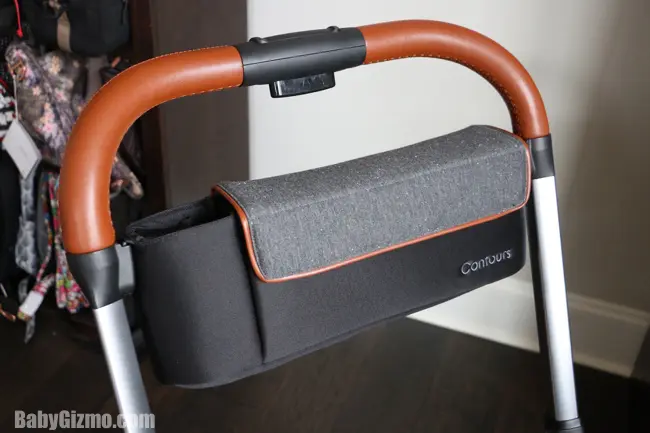 CANOPY
The two panel canopy isn't huge at first glance but when you unzip the large mesh 3rd panel, it's adequate sun coverage. We'd love to see an additional pop-out sun visor added to the canopy for the sunniest of days though.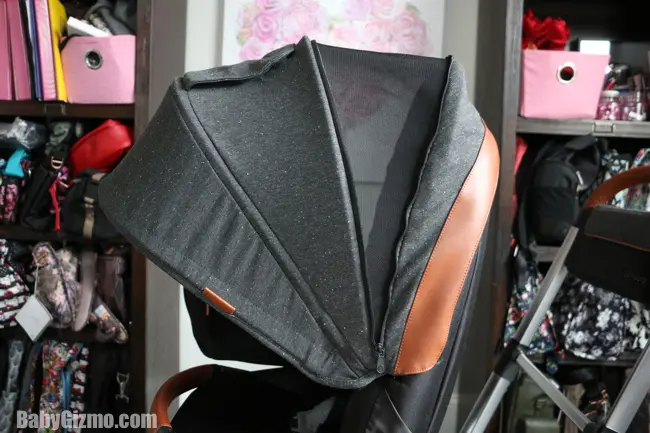 WHEELS
The stroller rolls on 11″ hard rubber wheels in the rear and 8″ hard rubber wheels in the front that swivel 360 degrees. The front wheels do not lock straight but they do pop off if you needed them too.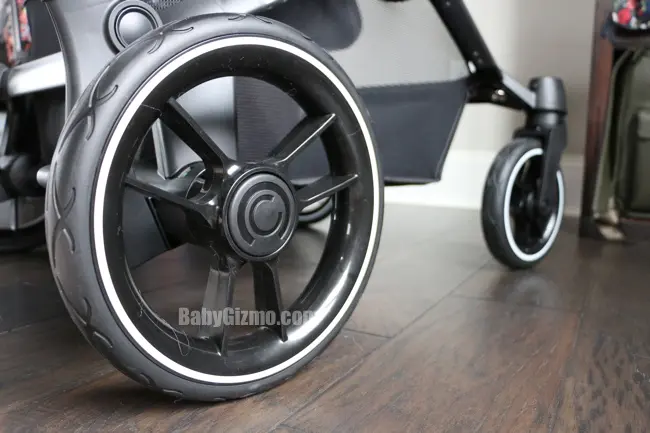 FOLD
There is no nice way to say this so here it goes – the stroller has a bulky fold. Yes, you must remove the seats and the tote (and any other adapters!) to fold the stroller. This actually isn't a bad thing because make no mistake – this stroller is heavy. The frame is obviously lighter and easier to manage into your trunk with the pieces removed but the folded frame is still a bit of a bulky package. Not that we expect anything different from a full size double stroller. Remember this is a FULL-SIZE double stroller frame even if you are just using it in singles mode! You'll need a big trunk to accommodate the stroller but most parents have that these days.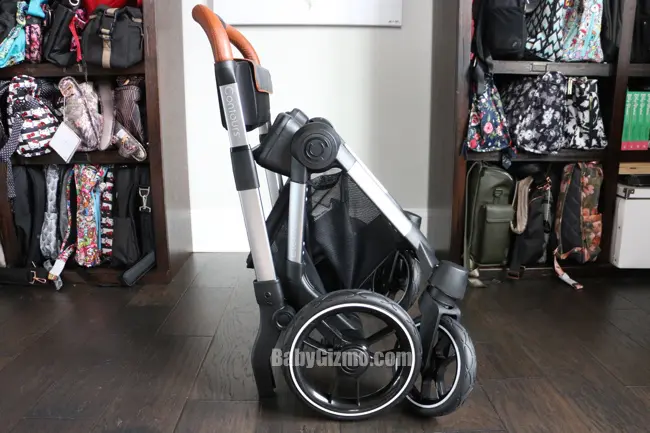 ACCESSORIES
There are many accessories sold separately to expand your use of the Contours Element. Car Seat Adapters ($59 each) turn it into a single or double travel system. The Element Bassinet ($229) turns it into a single or double pram. There is even a fun child tray ($39) that goes in the place of the baby bumper bar.
Here are just some of the configurations of the Contours Element in Singles Mode: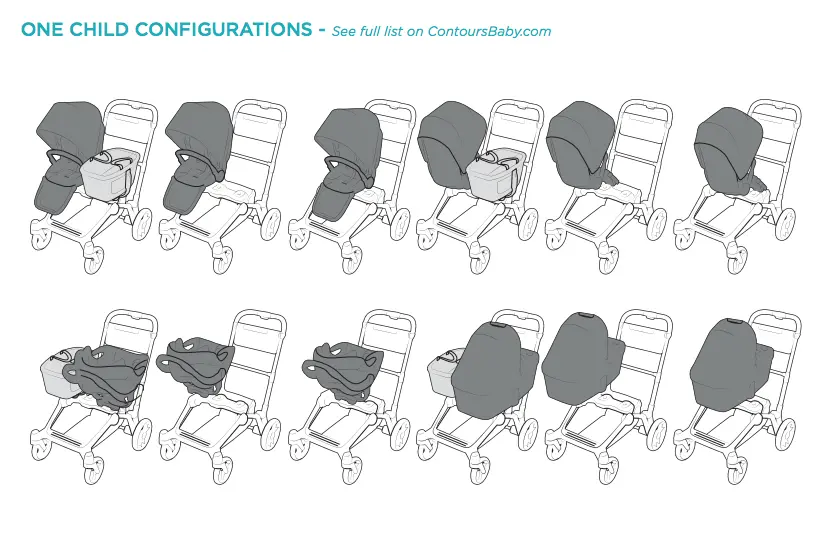 Here are just some of the configurations of the Contours Element in Doubles Mode: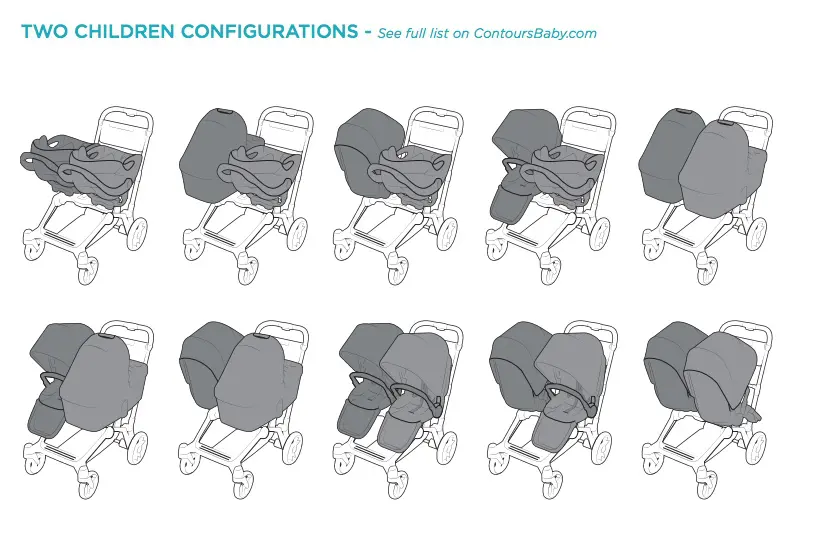 WRAP UP
The Contours Element is all about versatility. This stroller has 35+ seating configurations from singles to doubles mode to adding car seats and bassinets to reversing the seats to accommodate the pickiest of riders. We love the versatility, the storage space, the well-made wheels and the luxury look but aren't super crazy about the weight and the fold. Overall, it's a pretty special stroller and the versatility of the seating configurations wins in our book.
To find out more information or to purchase the Contours Element, visit Amazon.com.