I'm totally ready to ditch my diaper bag. It's an idea I've been toying with for a couple of months. My oldest is nearly 4 years old, and the baby is 16 months, and I don't really need to lug around a diaper bag full of supplies anymore. All I really need is a spare diaper, some wipes, a few snacks, sunscreen, and a bottle of water. And maybe a little extra room for my wallet and some lipgloss.
I tried carrying around a large purse, but it was cumbersome and I really need both hands free when I'm out with my kids. A good old-fashioned backpack is what I needed. The problem: Most of them are too sporty and rugged for my taste, or black and leathery, which isn't really my style either.
I just wanted a backpack that wasn't made for kids, and wasn't reminiscent of the "baby back pack" trend from the early 90's. Remember that one? You know you carried around a miniature backpack the size of a teacup chihuahua puppy, so don't judge.
Well, I got really excited when I came across the Baggu backpack. I was familiar with Baggu from their bright and chic line of reusable shopping bags, and they have now expanded their line to include backpacks, daypacks, and totes. How cute is this backpack?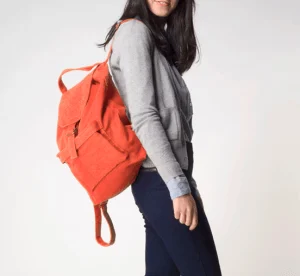 Want to know my favorite thing about the Baggu backpack? It retails for $32. That's right- $32. Here are a few other reasons I have fallen hard for my Baggu bag:
It's made from 100% recycled cotton duck.
It has a deep interior pocket with a drawstring and an outer flap with a snap closure. Nothing is escaping this bad boy.
There is also an outside zippered pocket for smaller items.
The shoulder straps are adjustable.
At just 16″ high, 10″ wide, and 5.5″ deep, it doesn't feel overly bulky.
Call me superficial, but I love the simple and modern design. Plus, Baggu has a wide range of colors to choose from. There is something for every kind of mom. Here are some of my favorites (I own the olive green):
Don't worry if you love them all, they are affordable enough to own more than one.
I am so thrilled to finally be carrying around a bag that doesn't scream, "Giant Mommy diaper bag coming through!" from across the room. I can see myself using my Baggu backpack long after my children are in diapers. Ditching the diaper bag is a new frontier for me and I couldn't be more excited to have Baggu by my side.
For more information or where to shop Baggu bags, visit their website HERE.