Gone are the days where I spend money on expensive bubble soaps. I've morphed into a bath salts kind of girl. Especially since it is so easy to make my own! I've been mixing up various essential oil blends to suite my needs and favorite scents and figured, why not keep on mixin' and bless my sisters and some friends with some this Christmas? It's the perfect DIY!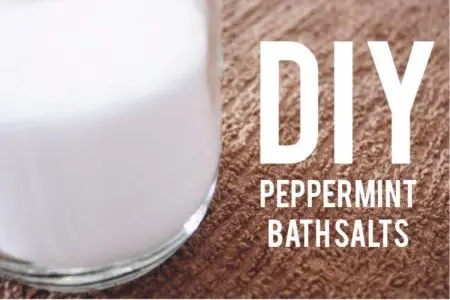 Here is what you'll need …
Glass mixing bowl
Fork and spoon
Pint size mason jars
These lids, you can use the regular metal ones, but mine have rusted due to the moisture in the bathroom so I like these plastic ones best
Epsom salt
Baking soda
Himalayan pink salt —> detox benefits!
Essential oils
First, about your essential oils … for the holidays I opted for peppermint, 15-20 drops/pint. I'm thinking of doing a second bath with something citrus because oranges also make me think of Christmas as it's our family tradition to put a mini orange in the toe of our stockings. Any mix would be lovely though: lavender is soothing and calm for bedtime and white fir has the woodsy Christmas tree scent. The sky is the limit when it comes to oils! And, if you're wondering why not make things simple and just drop oils into the bath, well, it's because oil and water don't mix well. By blending your oils with salt/baking soda it acts as a carrier and allows the oils to really mix into the bath water.
Now, how to blend up your bath salts …
In your mixing bowl stir 1 cup epsom salts, 1/2 cup baking soda and 1 tablespoon pink salt. Add about 20 drops of essential oils. Blend with your fork until fully mixed. Gently spoon into your mason jar and add your lid for storage.
To complete your gift you can type up a little tag or add this information in a card …
Add 2-3 tablespoons of bath salts and 1 cup of plain epsom salts to running water. Swish well before getting in. Recommended for adults only.