I am not what you would call a gardener. I've never grown much of anything, except for babies, but that track record is about to change, starting with this tomato planter.
We happen to be living in a rental house with enough yard to grow somethings. We've started a few seedlings, and we're beginning to transplant them in the yard to, hopefully, start our fall/winter garden.
Our garden wouldn't be complete without tomatoes. We love tomatoes in this family, especially on homemade pizzas! I was looking at our yard and trying to decide the best place to plant them, when I came up with the idea to hang them from above!
With a hanging tomato plant, there is no need for a tomato trellis, and I can save ground space for plants that don't have vines.
We are also on a limited budget, so I didn't want spend a lot of money on fancy hanging planters. That's when inspiration struck in the kitchen. I could upcycle a milk jug!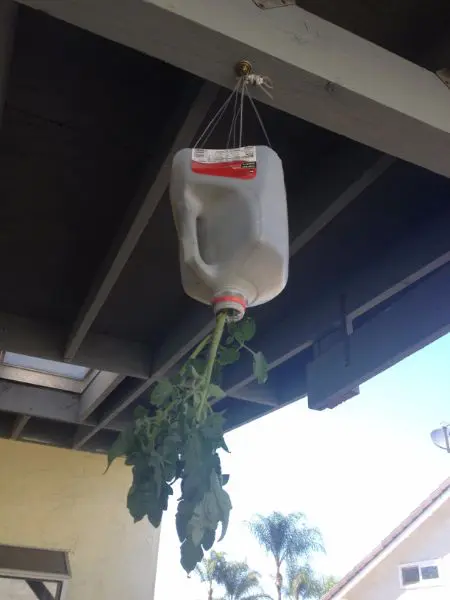 This is one of the easiest DIY projects I've ever done, and my tomato plant is flourishing. Hope you enjoy your upcycled upsided down tomato planter as much as we are loving ours!
DIY Upcycled Upside Down Tomato Planter
Supplies:
Tomato Plant or Small Seedling
Scissors
Potting Soil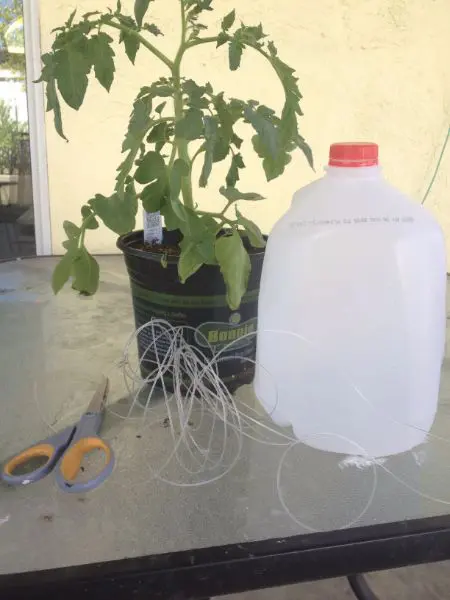 1. Cut the bottom of your milk jug out. There was a seam on the bottom of my jug, so I chose to just follow that faint line to cut out the base.
2. Pull your tomato plant or seedling out of its current pot. ** When choosing a tomato plant or seedling, make sure that it is still small enough that you will be able to fit the leaves and branches through the mouth of the milk jug.
3. Lay your milk jug on a table and begin to carefully push the leaves and branches of your tomato plant through the mouth of the tomato jug. When you are done, the plant should emerge from the mouth of the jug and the roots and soil should remain inside the body of the jug.
4. Fill the jug with potting soil around the roots and branches of the tomato plant. The body of your milk jug should be filled nearly to the top.
5. Place the now filled jug between your knees, and poke holes for your fishing line into the milk jug. I poked one hole on each of the four sides of the milk jug, about one inch down from the top.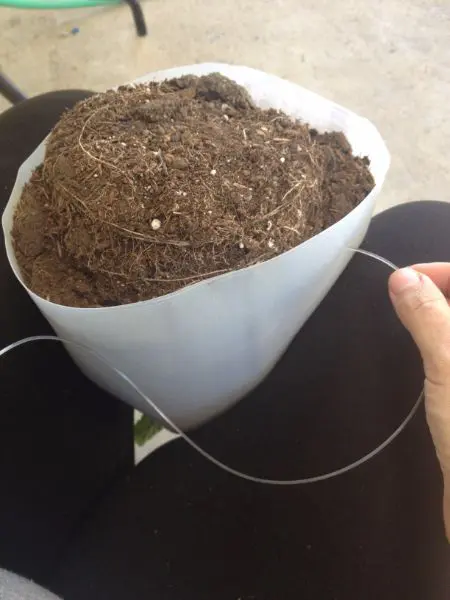 6. Take your fishing line and cut four equal lengths. Thread one length of fishing wire through one of the holes. Tie the two ends of the fishing line together. Repeat with remaining three fishing lines.
7. Take all four fishing line loops and tie together in one large knot. I chose to reinforce my knot with a little duct tape. I just wrapped it around the large knot to bind the fishing line together.
And you are DONE! Hang up your awesome upcycled upside down tomato planter and enjoy!