For a long time, my husband and I stuck to very kid specific activities in our family's free time. We went to the playground. We visited the zoo. We explored children's museums. All are wonderful, but after the birth of our last child, we decided to start bringing our kids along on activities that he and I wanted to pursue. Mainly, hiking.
Now, we aren't scaling mountains or planning overnight backpacking trips, but we are getting outdoors, breathing fresh air, and finding a lot of solace in the woods these days. It has been a blessing for our whole family – mom, dad, and kids ages 9 months, 2, 5, and 7.
Being outnumbered and packing young kids along, we've had to be pretty thoughtful with what routes we choose and what we take on our adventures. If hiking with kids is on your radar, here are some of our hiking essentials to consider!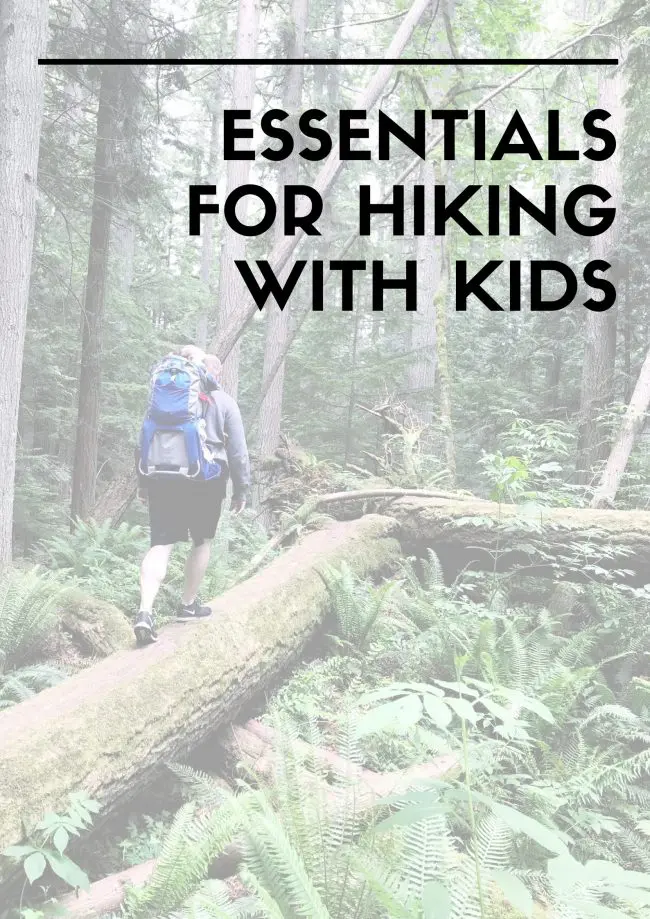 Baby Carriers
For our littlest two, we use an Osprey Poco Plus hiking backpack and a toddler size Tula. The baby rides with my husband in the Osprey and I piggyback our toddler when he doesn't want to walk. This has been a great set-up for us! Both kids are very happy and my husband and I are comfortable. We highly recommend both products.
Clothing
We're in the Pacific Northwest so our theory is to always dress in layers since no matter the season we never really know if rain will roll in. My husband and I both wear wool blend socks and ankle high boots because we need good support for toting extra weight. We all wear some kind of athletic gear with a jacket or sweatshirt we can take off and tie around our waist if we get warm. Honestly, I always try to bundle up, but my husband reminds me that I should leave the car slightly chilled because I'll naturally warm up as we hike. I always do!
Most important is a hat! For the kids, we love the Boonie Hat by Sunday Afternoons.
Supplies
Since my husband and I both have kids on our backs, our older two take turns wearing a backpack with our hiking supplies. The Osprey has a storage portion, but it doesn't hold a ton, hence the extra backpack. With 6 people in our hiking party, we need a far amount of gear!
In our backpack we take water, granola bars, diapers and wipes, sunscreen, bug spray, a whistle, sunglasses for all, lip balm, tissue, and more snacks 🙂 Our hikes keep us on well-traveled trails so the only navigation we pack is a phone snapshot of the route, usually taken from the trail head sign. If you're going more rouge, be sure to take a compass or GPS system with you too.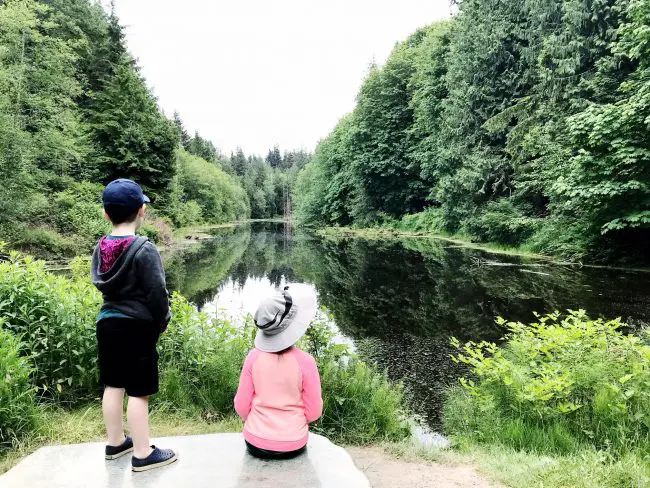 My kids love using our hikes as a nature scavenger hunt so often I'll print them a paper to take along and in that case we pack a marker too. We often conclude our hikes with a nature journal page when we get home. It's a great way to catalog what we saw and make note of what we did or did not like about a particular trail.
Bottom line, not only is hiking great exercise, it's an amazing learning opportunity! If it feels daunting to head out with kids, start small. There are many 1 mile and less routes out there. Just Google kid-friendly or family-friendly hikes in ___________ and name your city or county.
Happy hiking!