Believe it or not, sunscreen really should be your last resort when it comes to protecting delicate skin. Think of it more like an important supplement than the only go-to way to avoid sunburns. Even if you're not worried about toxins that may or may not be inside sunscreens, it's still important to employ other sun protection before resorting to the sole use of sunscreen. That stuff can wash off in pools, sweat off during exciting outdoor play, rubbed on unevenly, or forgotten completely. So here are a few ways you can protect your kids' skin (and yours) from burning, that you can try before slathering on the screen:
Plan around the sun's hottest time of day. If possible, do your outdoor activities in the morning or evening when the sun isn't at its highest point of the day.
Wear the right clothes. I'm not saying to layer and cover up like you're still in winter. I'm just saying there are a few clothing choices that will protect more skin than others (for example, a swimsuit with a shirt like THIS or THIS verses a bikini for your 8 year old). And hats! Little kid hats are so cute and will protect your little bald babies without smearing white goo into their peach fuzz hair!
Sunglasses. These aren't just accessories—they'll protect your kids' eyes from the sun's harmful UV rays. You can't rub sunscreen on your eyeballs but they still deserve to be protected so let your kids pick out a pair of sunglasses and don't forget your own!
Find and utilize the shade, or make some! Invest in a sturdy sunshade umbrella and bring it on those trips to the splash pad or park. Shade from an umbrella, tree or building won't only provide shelter from those pesky UV rays but you'll stay a little cooler, too. Win-win!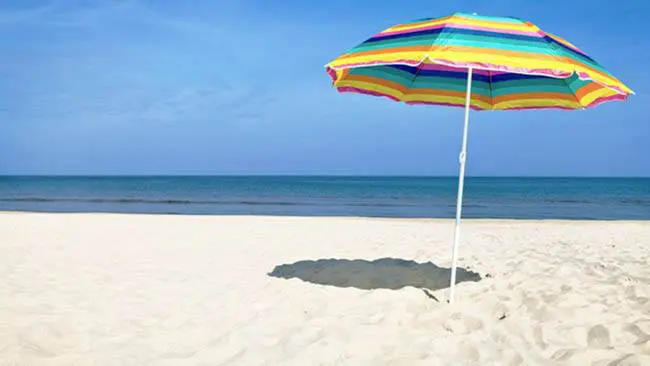 Once you've done all this, then utilize the bottle of sunscreen. Shade and clothes will only get you so far and sometimes you can't schedule activities during the times of day when the sun is lower. Just make sure you lather that stuff on evenly to capitalize on its full potential for protection.
And if you're looking for a recommendation of which sunscreen to use, we love Babyganics Mineral-Based Sunscreen Spray at our house. It sprays on easily (no mist or light layers!) but you won't forget to rub it in evenly because you can see where it is on their skin when it comes out, and it doesn't smell as strongly as other brands.
Sunscreen is still useful and important, but these other tips will help you stay safe in the sun this summer, too!