I love easy food. Recipes that call for simple ingredients and minimal mess when it comes to preparation. That means sandwiches are a big win in my menu planning. In addition, recipes that call for minimal dishes are 100% amazing. Because, let's be honest, sometimes dishes are just a headache.
The warm deliciousness of Pesto Chicken Sandwiches can be made in a 9×13 pan in the oven, but it's my preference to "grill" them in a foil pouch. No dishes and in the summertime, no heating up the house with a hot oven.
I hope you'll not only give this recipe a try, but this method as well. There are so many things you can make on the grill besides burgers and hot dogs!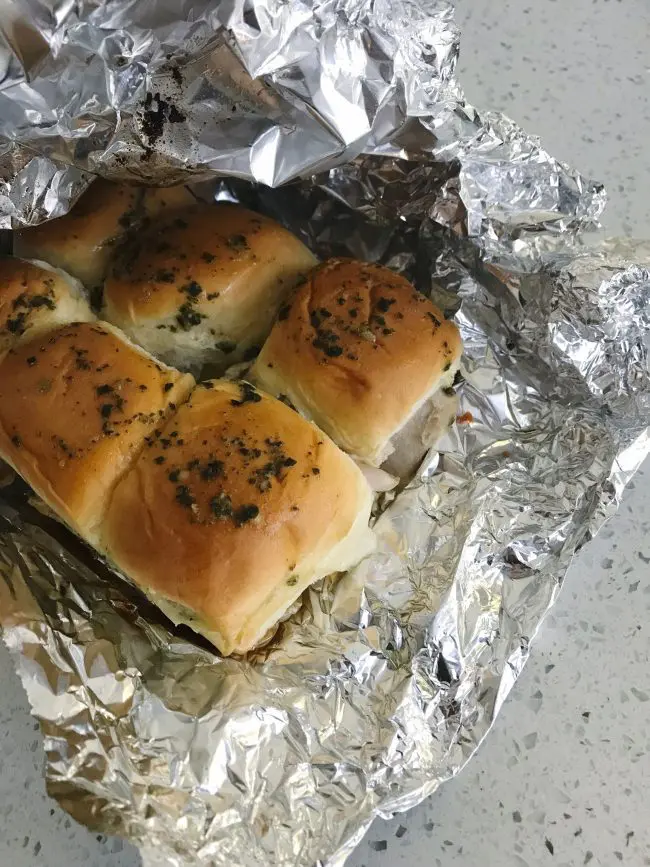 Ingredients
1 package of slider size hamburger buns, cut in half (we like the King's Hawaiian brand)
1/2 cup mayo
2 cups of shredded rotisserie chicken
1 cup pesto
2 tablespoons butter, melted
15 slices of mozzarella cheese
Directions
Get the grill up and going on medium heat or, if you're using the oven, preheat to 375 degrees.
Cut a large piece of foil, roughly 12 inches wide and 24 inches long. Slice the buns in half, you don't even have to break them apart. Place the bottoms on top of the foil.
Cover the bottom of each bun with mayo. A pastry brush works well to spread it quickly. Add a bit of chicken and one slice of mozzarella on each.
In a small bowl, mix the pesto and butter. Slather on the top of each bun, reserving a few tablespoons. Place buns on top to complete the sandwich. Dollop the remaining pesto butter on top of each bun.
Fold the foil over the top of the buns and roll the three open sides to create a enclosed foil pouch. Bake for 15-20 minutes in the oven or heat on the grill for 10 minutes. Everything is already cooked, your goal is to just melt the cheese and warm them up!
Enjoy alongside picnic foods like chips, watermelon, pickles, and macaroni salad. Or, if it's a chilly day, a warm bowl of soup!