There are a few lucky parents out there with children who love vegetables. I do not have those children; also, I was not one of those children. And it's not just green things, generally, my kids are just adverse to anything in the veggie family. The good news is… children grow up, they get brave, and they start to try new things. That's what happened with me. That's how I came about to calling asparagus my favorite vegetable of all time.
During my college years I decided to branch outside of salads doused in ranch and I discovered a tasty world full of amazing food – vegetables included! I don't love all veggies, but many have become comfortable favorites over the years. Top of that list is asparagus. Especially when prepared by my veggie lovin' mama who can make any vegetable shine!
This recipe for garlic balsamic asparagus is sure to please. It's a wonderful side dish alongside a grilled entree or a feature veggie at a holiday dinner. Give it a go and let me know what you think!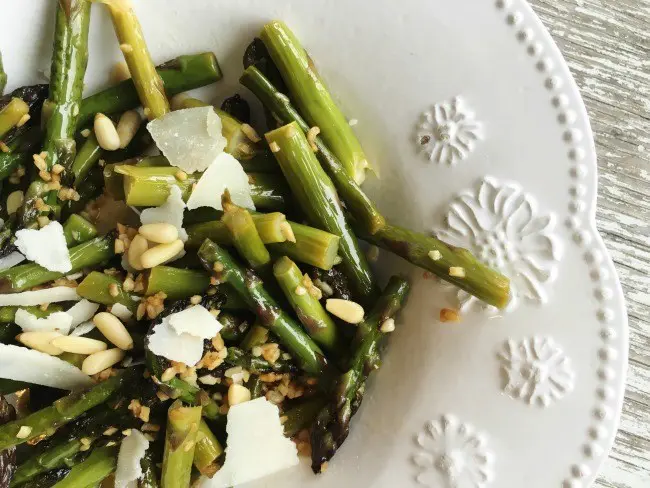 Ingredients
1 bunch asparagus
2 tablespoons olive oil
2 tablespoons butter
6 garlic cloves, pressed and finely chopped
1 tablespoon balsamic vinegar
1/3 cup pine nuts
1/3 cup shaved parmesan
Directions
Wash and prep your asparagus by trimming the bottom stalk. Cut into bite size pieces.
Heat oil and butter in a large pan that has a fitted lid. Add garlic and cook for 2-3 minutes. Add asparagus pieces and toss well. Cover and allow the asparagus to cook for 8 minutes, tossing intermittently. If the pan begins to look dry, add a splash of water and cover again to encourage steaming.
Remove from the pan, take a test bite to confirm doneness and plate. Drizzle with balsamic and sprinkle with pine nuts and parmesan before serving.