Yep, the GB Pockit is the World's Smallest Folding Stroller! So small in fact, that it is a Guinness World Record award winner!
Due to its tiny, folded size and incredibly lightweight frame, the GB Pockit is a great travel stroller for babies 6 months+ and children (up to 55 lbs) if you are looking for the smallest stroller you can find.
This stroller is a great example that not all strollers are right for all parents. Since it is missing a few key stroller features that some parents look for, such as a reclining seat or tall handles, the GB Pockit is a very niche stroller. It was designed for avid travelers or those who are super short on space. Drive a Mini Cooper? This would fit in the trunk with no problem at all! 🙂
SEAT
The Pockit seat measures 12″ wide with a tall 24″ seat back and a measurement of 24″ from back of seat to top of canopy. We had no problem fitting babies and older kids (up to 6 years old) in the seat. It sports an adjustable, padded, 5-point harness for safety and a rather easy-to-do harness buckle. The seat doesn't have an adjustable calf/leg rest and there is no seat recline. The seat is pretty much a you-see-what-you-get seat. That being said, we love that the seat fabric is removable and washable.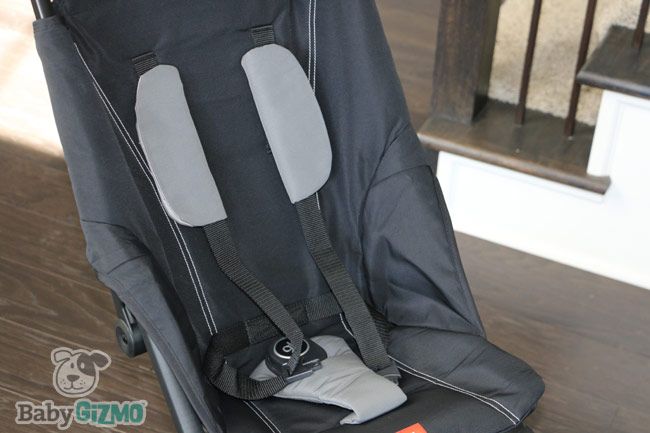 STORAGE
There is a small basket under the seat that can accommodate a few loose baby essentials or a small diaper bag such as the Ju-Ju-Be MiniBe. To keep the folded size tiny, there is no baby tray, parent tray or cup holder included on the Pockit.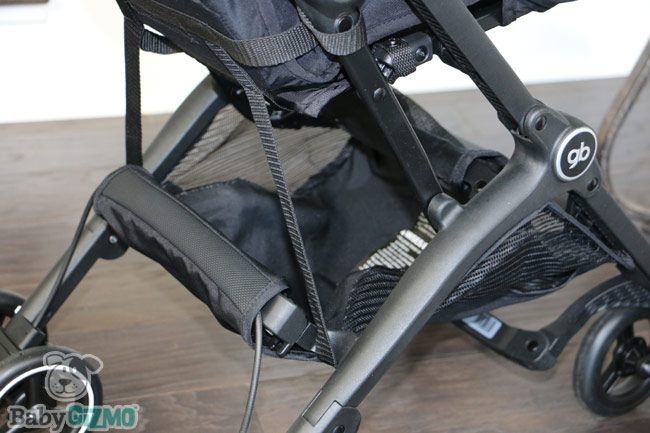 CANOPY
There is a small neoprene, flat canopy above the seat on the Pockit. It's not a huge canopy, so if you are looking for full sun coverage, some type of canopy extension would be needed.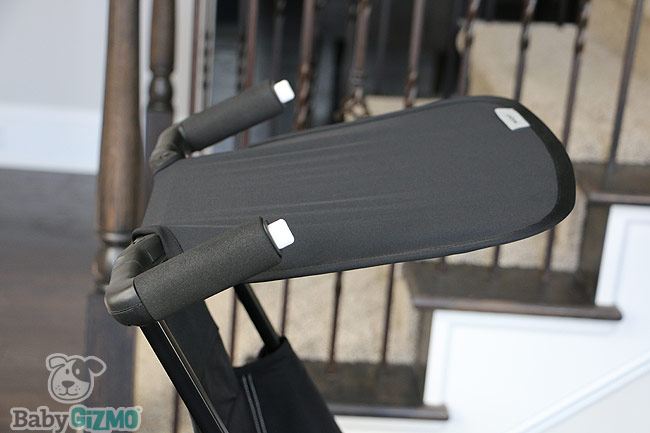 HANDLE
The separate handlebars are 39″ from the tip of the handles (where the white button is!) to the ground. If you measure from the back of the handle, it is more like 37″. If you are super tall, I would suggest trying out the push on the Pockit before committing to it. The handle height is fine for average height parents, but taller parents may find it too short.
WHEELS
The GB Pockit rolls on small 4 1/2″ wheels. The front wheels are 360 degree swivel wheels that have the ability to lock straight to handle a bit of "mom terrain" such as playground mulch, grass and gravel. This stroller is best on smooth surfaces though. I do recommend locking the front wheels if you take it off smooth surfaces, but just know, if you put a child near the weight capacity in the seat, you'll need an little extra muscle to push them on gravel, grass or mulch because of the small wheels and the lack of suspension.
There is also a one-step brake that locks the stroller into place in the back.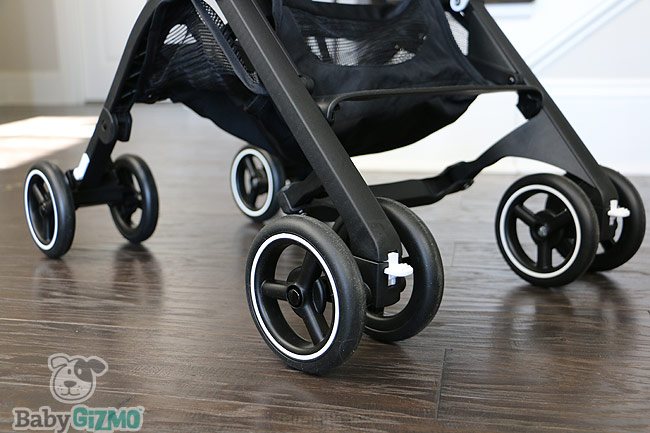 FOLD/UNFOLD
Up to this point, it was just a bare bones stroller, right? Well, the fold and the unfold are the creme de la creme of small strollers if a tiny fold is what you seek. The Pockit folds down to the size of a handbag. (Many of my bags are bigger and heavier than this stroller.) The folded stroller is so small that it can easily fit not only in the overhead compartment of an airplane but also under the airplane seat! You won't find another stroller this small!
I found that the fold is much easier to get the hang of than the unfold, but with a little practice, you'll be a pro in no time. The two-handed fold just requires you to press the two white buttons on the handlebars which push the stroller down as it folds. There is a manual lock that keeps the Pockit closed. Unfolding the stroller requires pressing those two white buttons and a flick of the wrists to get the seat to pop out. Full disclosure, it did take me about 5-8 times to get the hang of it, but once I had it, it was no problem. (You can see all of this LIVE in this video.)
The folded stroller stands on it's own and it very lightweight weighing in at just 9.2 lbs.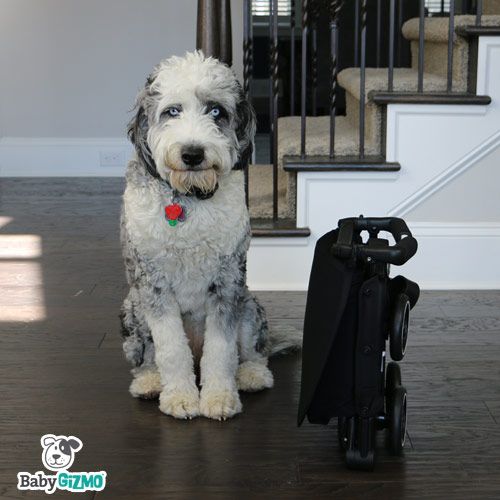 WRAP-UP
Like I said at the beginning, this is a very niche stroller. If you are an avid traveler or a parent with very minimal storage space for a buggy, then the GB Pockit might be just what you are looking for. If you are looking for a full-featured stroller with a reclining seat, tall handlebars and the ability to become a travel system, maybe not. Not all strollers are for all parents.
The GB Pockit currently is available in Monument Black with more colors (Lizard Khaki, Dragonfire Red, Sea Port Blue, Capri, Posh Pink) to come later in 2016. The stroller retails for $249 and can be purchased from BabiesRUs.