I first heard about a leather playmat from Gathre last year, when the company was still known as Let's Playground. I was a bit skeptical about the practicality of a mat made from leather, but then I spent way too much time drooling over their Instagram feed full of pictures of these rich-looking Gathre mats and eventually decided I had to have one.
Several weeks ago, Gathre offered an amazing sale on their winter line and I took the opportunity to snag a Gathre Midi mat for my very own. I let my daughter pick the color and she selected a leather playmat Wine, apparently because it was the closest color to pink. (?!)
I was so excited to open the package when it arrived, and this leather mat didn't disappoint! The Gathre mat arrived neatly folded and wrapped in a plastic bag with a card containing care instructions. I'm grateful for the extra wrapping, because the outer mailing envelope had been damaged in transit; the inner bag and mat were fine, though—whew!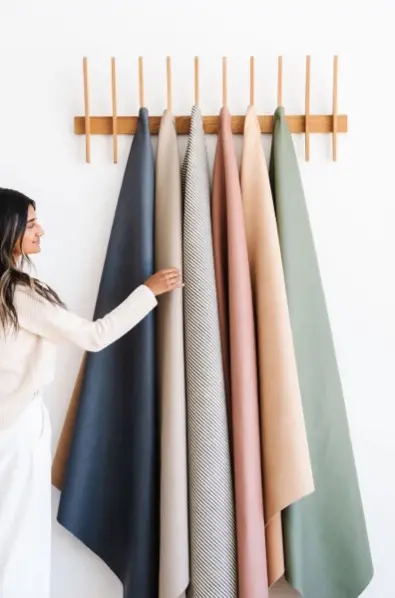 When I took the Gathre play mat out, I noticed that it is heavier than my picnic/outdoor blankets, which are fleece and nylon and terry and nylon, respectively. The weight isn't a big deal and the mat wasn't too heavy; it felt pleasantly substantial. The top is matte leather (wine-colored in my case), and the bottom is a soft beige suede.
The edges are "raw." That is, they're not finished with a bead of glue/plastic/sealant like you find one some leather things like handbag handles. "GATHRE" is stamped in the lower right corner of the mat. I'm not a huge logo or branding fan, but this is very subtle.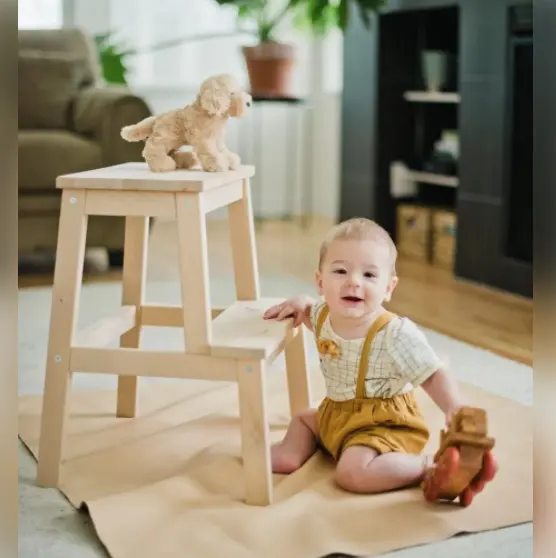 Gathre suggests multiple uses for their various sizes of mats, including Gathre changing mat, leather baby mat, high chair mat, and general mess-containment mat. We spend a lot of time during the summer at outdoor concerts and shows, so I wanted to test the mat's usefulness as an outdoor blanket.
One thing I don't like about the blankets I currently have is that I can't carry them in my bag. They both have shoulder straps, so I can carry them that way, but they're too bulky to tuck in my bag with the rest of my stuff. I was hoping the mat would fit in my bag; however, I wasn't very optimistic. Like Cinderella's shoe, though, the leather playmat fit perfectly!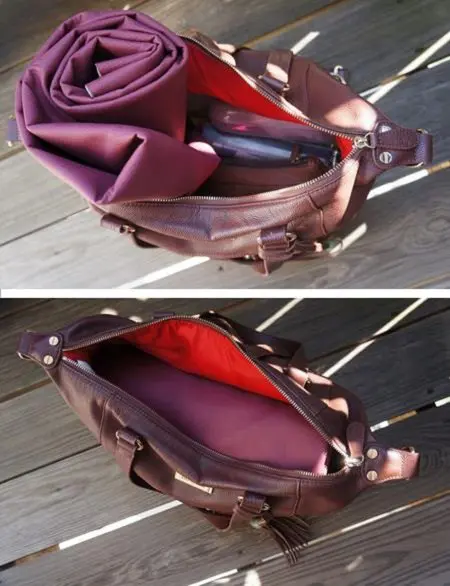 You might think that, given the lack of bulk, the mat would be uncomfortable to sit on or that dampness from the ground would come through. My daughter insisted on picnicking at the turtle pond at a local park, so I insisted on setting up lunch on the damp, rocky shore. My husband, daughter, and I were comfortable for the whole meal! While the ground was uneven, the leather was thick enough to keep rocks from poking us, and the mat didn't leech up the dampness from the ground.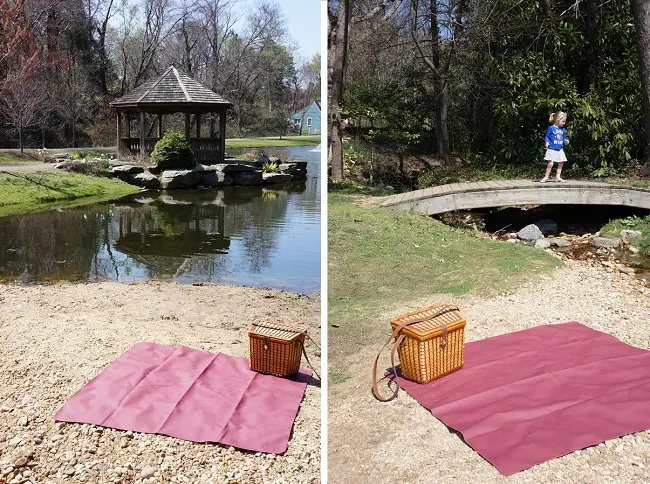 Of course, walking around the soggy ground of a pond and dining on the wet sandy shore means the leather playmat got dirty. Oh no! New mat! So sad. But so happy to report that clean-up was a breeze! I folded the mat back up for the short trip home. When I got home, I brushed off the back of the mat and then hung it over the railing on my balcony. I used a damp paper towel to wipe off the leather side of the mat, and let it stay outside until it was dry. My leather playmat is now folded up and ready to be tossed into my bag for its next adventure!
My only regret is that I wish I had gone for the Maxi mat instead of the Gathre Midi Mat. While the Maxi is more expensive at $120, I had a hard time choosing between sizes. The Midi (a generous 55"x 55" and $70 price tag) was recommended as a good fit to seat four, so I settled on that size. We had two adults and a child seated comfortably; adding a fourth person would have been pretty tight. Gathre says the Maxi mat is good for a group of ten, and at 81"x 81", is larger than a king-sized bed. Having the larger leather play mat would allow for company to join us, and would have also allowed me to set my things like my bag and picnic basket on the mat instead of on the ground. Of course, then it probably wouldn't fit it in my bag…hmm…darn those trade-offs!
All in all, I'm very pleased with my new leather playmat and I'm looking forward to creating memories on it throughout the spring and summer. (Our annual beach vacation with a perfectly smooth surface I can just brush off? Yes!) Plus there's something to be said for the luxury of spreading out a leather blanket. Take that, nylon Target picnic blanket!
The Gathre leather playmat are available in four different sizes: Micro $20, Mini $40, Midi $70 and Maxi $120, and in ten different colors. Shop their website HERE.