Last month, we finally did it! Yes, we have been talking about this for a couple years and we finally did it! We finally rented an RV to take a family camping (or shall I say "glamping"?) trip. NOTE: Thinking of taking an extended RV trip? Rent an RV FIRST for a weekend! (RV Share is great for this!) Make sure it's for you.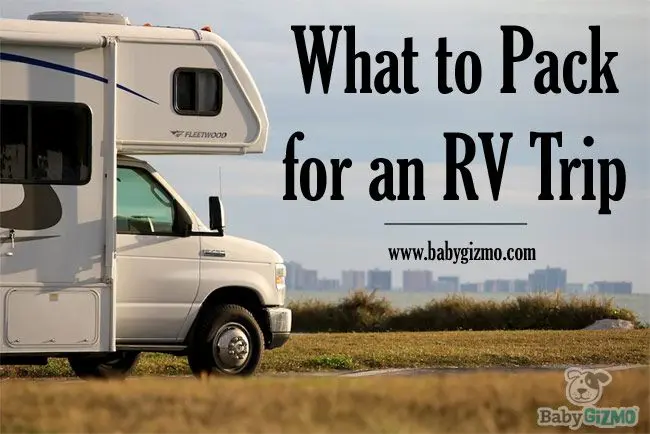 When I was a kid, my family had a pop-up camper which we traveled with many times each summer, but I had never taken an actual RV trip. While we travel frequently these days with the kids, an RV trip has always been on my to-do list. I don't know why, but it's always been something that I've wanted to do. The kids are 6, 9 and 11 and I thought this would be the best time to try it.
I have to say that after our disastrous "cabin in the woods" trip of Labor Day weekend, I was a little scared that our current "roughing it" trip idea would backfire. Okay, okay….RV travel isn't exactly roughing it but it's close. We are still talking about campgrounds, sewage tanks, public bathrooms, building fires and sleeping in very close quarters.
We decided this Spring Break was the perfect time to test out RV travel with a mini 3-day trip to see how we liked it. Neither my husband or I have ever driven an RV, so we rented a 25″ c-class RV (no special license required). This was a medium size RV that could sleep my family of five and had a bathroom, stove, and fridge/freezer.
To take you along on our first Baby Gizmo RV trip, we decided to do a little filming on our trip to share a Baby Gizmo RV Travel Video Series. In this first episode, we are sharing with you all the important things that we packed for our trip! Plus, at the last minute, I came up with a brilliant idea for the boys' sleeping bunk. You have to watch the video to find out what it is!
Remember RV travel is great family fun but make sure you rent first. You can rent RVs for reasonable rates from RV Share.
If you are planning your first RV family trip, here is a great packing list to use! We even made it a FREE PRINTABLE to make it easy for you.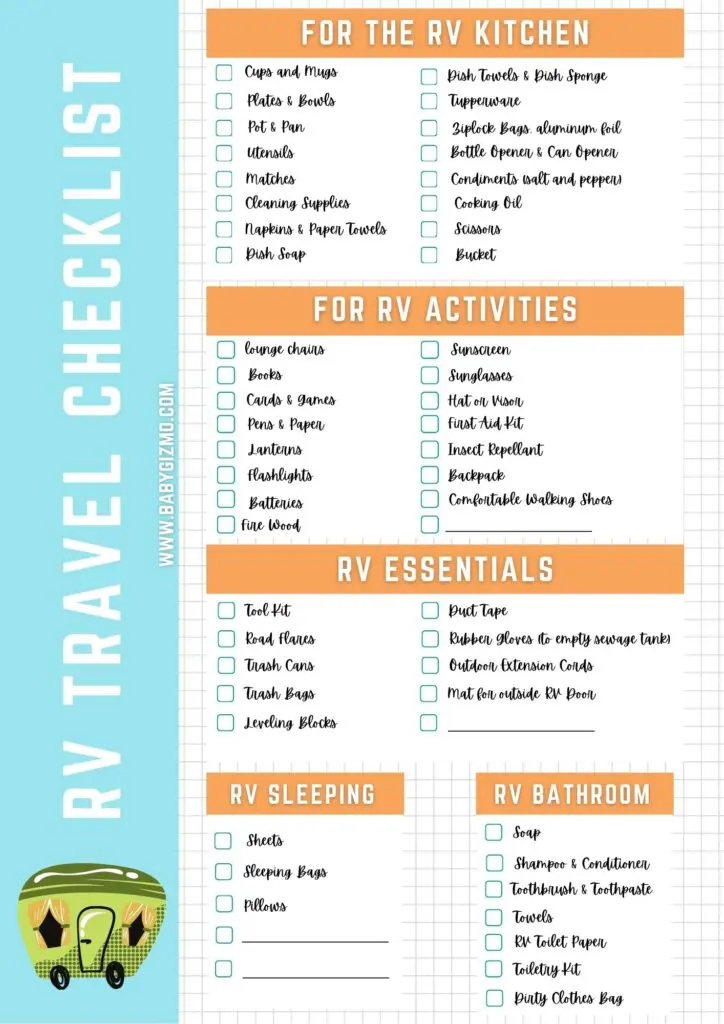 RV Kitchen
Cups and mugs
Plates and bowls
Utensils
Pot and pan
Matches
Cleaning supplies – I like took Clorox Wipes
Napkins and paper towels
Dish soap
Dish towels and dish sponge
Tupperware, Ziplocks bags, aluminum foil
Bottle opener
Can opener
Condiments (salt and pepper)
Cooking oil
Scissors
Bucket
RV Bathroom
Soap
Shampoo and conditioner
Toothbrush and toothpaste
Towels
Toilet paper
Toiletry kit
Dirty clothes bag
RV Sleeping Must Haves
Sheets
Sleeping Bags
Pillows
For Activities
Lounge chairs
Books
Cards and games
Pens and paper
Lanterns
Flashlights
Batteries
Fire Wood
Snacks
Sunscreen
Sunglasses
Hat or visor
First Aid Kit
Insect repellant
Backpack
Comfortable shoes
RV Essentials
Tool kit
Road Flares
Trash cans
Trash bags
Leveling blocks
Duct Tape
Rubber Gloves (You'll need these to empty the sewage tank!!)
Extension cord
Mat for outside the RV door
FAQs
Can you use regular toilet paper in an RV?
You really shouldn't use regular toilet paper in a TV toilet. RV-friendly toilet paper is made to disintegrate quickly to avoid clogging up your sewage system or tank. The paper has been specially formulated for RV use and will be much safer to use in an RV.
How do you pack an RV refrigerator?
Your goal should be to space your food items evenly throughout the interior of the refrigerator and to put heavy items towards the bottom and lighter items at the top. If there is any shaking in the RV, your heavy items won't crush the lighter items.
What does Boondocking mean?
Boondocking means to camp off-the-grid and far from the services and amenities that can be found at RV parks or poppular campgrounds.