Last week we gave you an entire tour of the Great Wolf Lodge in Concord, NC. The week before that, we took you inside the KidKamp Suite. Today we are taking you inside the Great Wolf Lodge Wolf Den Suite for a room tour. When booking a stay at the Great Wolf Lodge, you will be presented with a variety of different rooms to choose from. From all the choices and online photos, it may be difficult to choose the best one for your visit.
The funny thing is that when we arrived at the Great Wolf Lodge, we had booked a Wolf Den Suite. When we arrived to our room, we realized that they had instead put us in a KidKamp Suite. Hmmm…that isn't what we booked and for some reason, the kids thought the Wolf Den Suite looked cooler online so they were disappointed with what they thought they were missing.
We went in and checked out our KidKamp Suite, and while the kids liked it, they still thought the other suite HAD to be better and they were pulling a fast one on us.
We headed to the front desk to inquire about our switcharoo of rooms and to request the Wolf Den. We didn't even know what we thought we were missing but the kids kept saying, "that photo makes it look like it is a cave that you crawl into inside the room." The front desk was super accommodating in putting us in a Wolf Den Suite.
When we arrived at the new room, much to our surprise, the rooms were pretty much the exact same with the exception of different wallpaper. That is when we decided that we needed to do a room tour of BOTH rooms so that families weren't in the same predicament as we were.
We weren't missing out on anything but we didn't know that. The photos made the rooms look different and we wanted to show exactly what you'd get when you booked one room over the other.
That is where we come in! Our Baby Gizmo littles take you inside the room to give you a real representation of what to expect.
The Great Wolf Lodge has 11 locations in the US and one in Canada that provide a ton of family fun. These indoor waterpark resorts have massive indoor water fun, which is great for any weather and any time of the year, themed suites for kids, family-friendly dining and much more.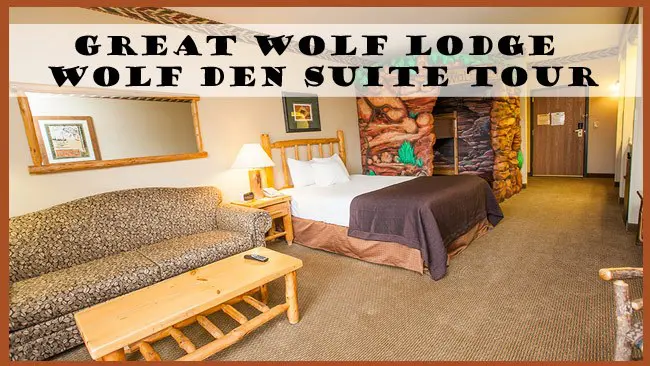 Which is you favorite? The Great Wolf Lodge Wolf Den Suite or the KidKamp Suite? Or are you like us and think they are pretty much the same?