I'm pregnant with my second child and I am doing this pregnancy a little differently. When I was pregnant with my son four years ago, I didn't do a whole lot of exercising. Unless you count making brownies and then eating the entire pan of said brownies as exercise 😉 . This time around I'm making a point to stay more active, so today I wanted to share some great exercises for Staying Fit During Pregnancy.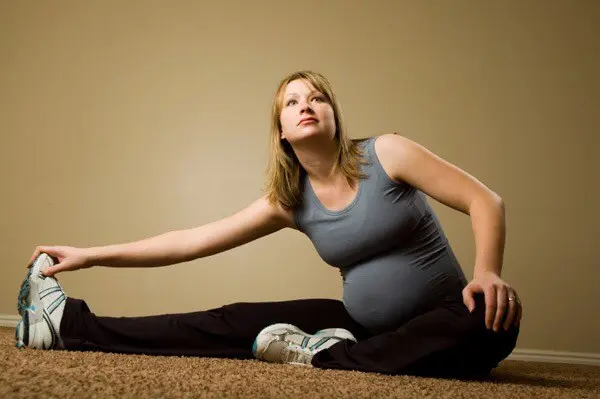 -Walking. Walking is actually one of the best cardiovascular exercises for pregnant women. It's easy to do because you can do it pretty much anywhere. Walk around your block, Disneyland, or a Farmers Market.
– Swimming. Swimming is thought to be the best and safest exercises for moms: it exercises your arms and legs at the same time, plus it's fun! If you don't have a pool at home or in your complex, join a gym or the YMCA!
– Dancing. Who doesn't like to dance? You don't even have to be good at it! If finances don't permit for you to take a class, pop in an at home work out DVD and get your groove on!
-Weights. This is recommended for pregnant women who already have weights as part of their daily routine. Most women should reduce the amount of weight they are lifting. Make sure you take the necessary precautions and keep a good technique.
– Yoga. Just stay clear of hot yoga while pregnant. Yoga helps you maintain muscle tone and keeps you very flexible. It's also very relaxing and will always help center and balance you and uplift your mood!
– Stretching. This is probably the easiest one you can do and it really does have benefits! It will keep your body limber, flexible and prevent muscle strain. It's easy to fit 15 minutes of stretching into your daily routine. Put on your favorite show and stretch away!
– Stroller exercises. Already have another little one? Check out community programs like Stroller Strides. Some groups walk around parks, playgrounds, or malls, and incorporate other safe exercises all while pushing their little ones comfortably in their strollers!
– Kegel. Don't forget these exercises, ladies! Yes, I went there! Doctors will continually tell you to do these throughout your pregnancy because you WILL notice a difference after you've given birth.
What types of exercise did you do while pregnant? We'd love to hear from you about Staying Fit During Pregnancy!