"The Grinch hated Christmas! The whole Christmas season!" I don't have to ask why. I bet I know the reason.
Ugh. If there's one thing that makes me all Grinchy this time of year, it's the waste that comes with Christmas. The trees, cards, wrapping paper, boxes, packaging, shipping, travel… oy. I can't get over the waste. In order to help minimize some of the environmental excesses of the holidays, here are some of my favorite tips for greening your Christmas. In a totally non-Grinchy way.
Holiday Lights
If you're ready to replace old Christmas lights, or you're in the market for new ones to add to your tree or display, go for LED lights rather than traditional bulbs. They save energy and
Turn your lights off during the day. Apparently there's "common wisdom" that says it's more expensive to turn your lights off and on than to leave them on all day. Not true. Whether you turn your lights off every morning by hand or you invest in something as simple as a dawn-to-dusk sensor, turn your display and tree lights off when the sun is out. No one can see them anyway.
Vehicle Wear and Tear and Gas
Okay, I'll admit that this one is hard to do—especially when everything you need is less than ten minutes from your house so running out for a forgotten item is no big deal. That being said, be planful when you're running errands! Make a list of where you need to go and what you need to get. Plan your route so you're not retracing your steps (or miles driven, as the case may be). And having a list of what you need to get at each stop saves you from going back to a place you've already been for something you've forgotten. It will also save money because we all know that each trip into a store is one more time to be tempted by impulse buys. I'm looking at you, Target Dollar Spot.
Carpool when you can! Shopping is more fun with friends, so make a day of it and travel together.
Entertaining
Avoid using disposable serving dishes, dishes, cups, and utensils. Please. And if you feel you absolutely must use disposable items, buy something that's bio-degradable and/or compostable. Over the past few years, these items have become common enough that they're even available at grocery stores and party supply stores.
Consider drink options that don't come in individual cans or bottles. If you'll be serving bottled beverages, be sure that there's a conspicuous container for recycling out for your guests to use.
Shipping
Shop small. Look for small, local boutiques or craft or vendor fairs when gift shopping or when buying decorations. You'll save on the environmental costs of shipping and wasteful packaging. I've never seen anything wire-tied into plastic clamshell packaging at a craft fair.
When you're shopping for food, try for farmers' markets and local groceries, or look for locally grown or produced items at the grocery store.
If you can't shop small, shop local. Don't have something shipped to you if you can purchase it locally. It saves the energy and resources used to ship the item, as well as extra packaging. (I just received an iron—not available locally—packed in its original box inside its original shipping box inside the retailer's shipping box.)
When placing an order with a retailer, order everything you need at one time. (Remember that whole "write a list" tip from above? It's good for online shopping, too.) It seems like no big deal to order one item at a time when shipping is free, but that's more energy, resources, and shipping packaging being used.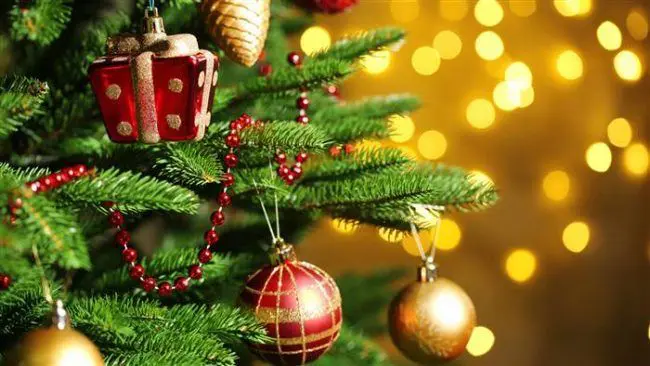 Tree
Do you use a real tree in your home? Be sure to recycle it when the season is over! In many places, this is as simple as using your community's curbside tree pick-up. Be sure to remove any decorative items that would make the tree unrecyclable.
Avoid using decorations that can only be used once, like tinsel strands or flocking. These are also likely to make a real tree unrecyclable.
If you're trying to choose between a real tree and an artificial tree, check out this article for some useful information on the environmental impact of each.
Wrapping Paper
It kind of goes without saying, but recycle everything you can!
NO. GLITTER. Glitter is non-recyclable and renders everything it touches non-recyclable. Beware the scourge of glitter.
Avoid foil-pressed cards, foil-lined envelopes, and wrapping paper or gift bags with foil prints, as those are not recyclable.
Look for wrapping materials made from post-consumer recycled materials or from sustainably grown/farmed materials.
Be creative with your wrapping material! You can use fabric gift bags, reusuable wrapping paper, or even say, wrap a gift in a t-shirt that the recipient would love to wear. If you want to do paper wrapping, consider using all that artwork your kid generates that you normally try to sneak into the recycling bin when they're not looking; the grandparents will love that!
Cards
Every year, I send and receive holiday cards and I feel terrible about how wasteful they are. But even though I see my friends' families on social media all the time, there's still nothing like getting a real, physical piece of mail with a handwritten note. So if you're sending cards, consider sending cards that have a dual purpose like ornament cards or pop-out photo cards.
Also see the first four tips above. NO. GLITTER.
Gift Cards and Old Stuff
Did you get gift cards for Christmas? When you're done using them, recycle them! Some retailers (I've always used Best Buy) have drop-off bins inside the doors for gift card recycling. You can also mail your cards to recycling companies like Earthworks.
Did you—or someone you love—get new electronics for Christmas? Your old electronics may be donatable or saleable. If not, you can recycle them. Check retailers like Best Buy, Target, and Staples, which recycle electronics for free. You can also check your local community recycling/disposal centers.
How about new clothes? If you need to make room in your closet and you're tossing out old ratty items with no wear left in them (because you should totally hand down, consign/resale, or donate the stuff in good repair!) look for places to recycle your clothing. Retailers like H&M and Levi's will take your clean clothes—and might even take shoes (Levi's) and linens (H&M), too.
(Check out some general de-cluttering tips here. Useful before or after the holidays.)
Share your favorite environmentally friendly holiday tips in the comments. Have a green Christmas, y'all!